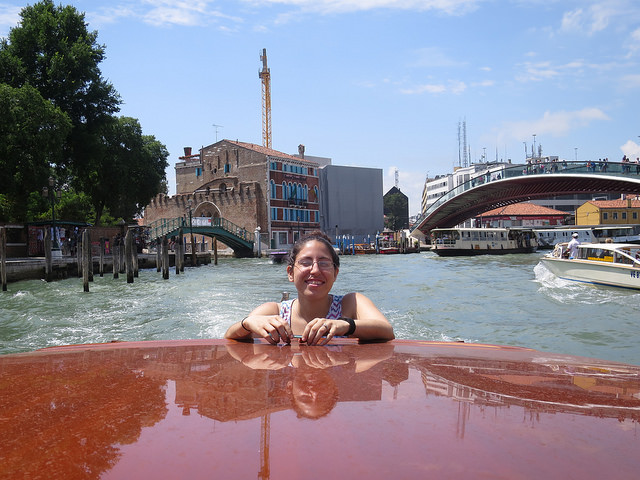 Get ready for the most picture dense post of our ENTIRE RELATIONSHIP.
Annnnnnd GO!
The.Boy and I kicked off our honeymoon in Venice!! The city of love. And canals.
For those of you who haven't been, there are no cars or motor vehicles in all of Venice. If you want to get around, you have to own a boat or walk. It's the only way.
Venice exists pretty much solely for tourism these days, so we were pretty happy to find that our hotel was located in one of the few districts that still has native Venetians. It was a little bit quieter than other parts of the city and a lot of the local restaurants served authentic, good food. Like cuttlefish (shown below) and their version of chocolate "flan" (which was really more like a lava cake).
We learned that if you really want to experience St. Mark's Square, you should get there early, before the cruise boats dock and let out masses and masses of tourists. So peaceful!
On our second day in Venice, we meandered around Murano and Burano, two of the islands off the coast of Venice that specialize in glass-blowing and lace, respectively.
Lunch that day was at a restaurant on Murano. I had the pasta primavera. Overall, I didn't LOVE the food in Venice, possibly because I don't eat seafood, but I think a lot of it was also geared towards tourists while I was really looking for something more authentic. It was tasty, just not what I was expecting.
On Sunday night, we came home from a day of sightseeing to find that everyone in our hotel's neighborhood had gathered to have a Sunday night meal! It looked like everyone brought a bottle of wine and a bowl of something to share. There was even live music! Getting to witness this was definitely one of the coolest moments of the trip. You just don't find this kind of community in NYC!
And just like that, we were off to Bologna!
Our first pasta lunch in Bologna did not disappoint. This was just a simple tagliatelle with tomato sauce but it was AMAZING. Everything I had hoped for.
The gelato was nothing to sneer at either. This was one of my favorite flavor combinations – speculoos and chai. The.Boy and I had gelato EVERY DAY and tried to seek out the best gelato places in each town we were in. We learned that "real" gelato has to be made fresh every day, and so gelaterias will only make a small amount at a time.  It is never fluffy and you will never see mounds of it on display. The places that do have mounds and mounds of each flavor actually inject air and chemicals into it to make it look that way. No good. We avoided those like the plague.
I didn't realize how much Italians LOVE their truffles! Apparently they use dogs to seek them out instead of pigs. This was tortellini in a black truffle sauce. And yes, all those black dots are TRUFFLES. I was in heaven.
The.Boy claimed that I always turn my head to the side when we take photos together, so he had to overexaggerate it to make fun of me. Goofball.
On our second day in Bologna, we went on this crazy foodie tour through Modena. We visited a parmigiano-reggiano factory, a balsamic vinegar factory, and a prosciutto factory.
A.Ma.Zing.
Our tour guide, Alessandro, absolutely made the trip for us. He was hysterical and obviously so passionate about cheese, balsamic vinegar, and prosciutto. I would highly recommend that anyone planning on going anywhere near Modena and Bologna take a tour with him (Italian Days was the name of his company).
Parmigiano-Reggiano is only made once a day, very early in the morning, so our breakfast that day was cheese and wine! Classic.
Balsamic jelly + fresh made ricotta + DOP Balsamic Vinegar of Modena. Heaven.
After this day of eating, the tour ended with a "light lunch" at a winery that consisted of an appetizer, three pasta courses, a main course, dessert, and coffee. Each with an accompanying wine pairing. Suffice it to say, we did not have room for dinner that night.
Next up, Florence!!! This was my favorite city of all. I can't really put my finger on why I loved it so much, but I just did.
I insisted that we head straight to Mercato Centrale for lunch on our first day. The bottom level is basically like a big marketplace, with vendors selling all sorts of cheeses, dried goods, spices, etc.
And the top floor is pretty much just like Eataly in NYC. BUT BETTER.
It was really hard to decide what we wanted to eat, but we went with bruschetta smothered with buffalo mozzarella and these made-to-order pizzas. Good life choices all around.
When we were planning our honeymoon, I knew I wanted us to take a cooking class, and it fit in with our time in Florence!
The.Boy almost never cooks at home (possibly because he has burned scrambled eggs on a number of occasions), so it was interesting to see him in the kitchen…
We were in Florence on the saint day for St. John the Baptist, so there was a big fireworks celebration that night!
One of the things I noticed is that you cannot get coffee to go anywhere in Italy. Also, their coffee servings are way smaller than ours are…which just meant I had to take three cappuccino breaks a day.
Stay tuned next week for Tuscany and Rome!