Whether you have it for breakfast, lunch, or dinner, this potato and red pepper tortilla is a meal to be reckoned with.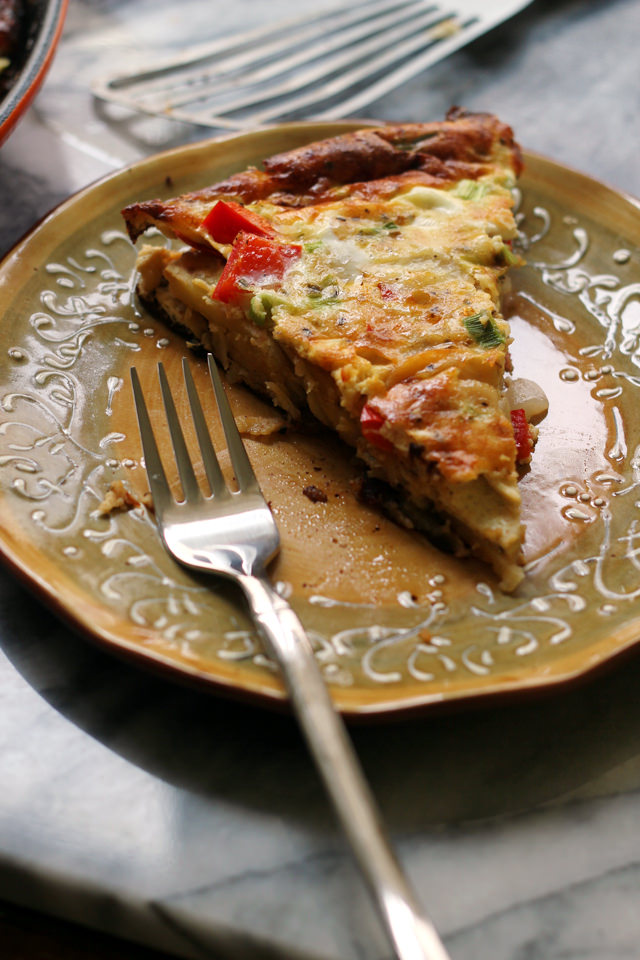 I mean, who needs brunch, right?
ME. I NEED BRUNCH.
With a cocktail on top. Pretty please?
Did you know there is no brunch in Italy?
It's just not a "thing". For a country that so cherishes it's food, I can't possibly comprehend this.
Brunch is the ultimate in everything that is right in this world! Not only does it make having dessert for breakfast socially acceptable and perhaps even required…but you can then have eggs and potatoes on top.
And maybe pizza.
And definitely bottomless cocktails.
I'm slightly struggling with my first full week back at work. Can you tell?
What gave it away? The fact that I mentioned hard liquor sixty times so far in this post?
Oh.
I won't force you to do tequila shots with me at 8AM (though, my door is always open), buuuuttt I am going to have to firmly request some group tortilla making.
It's the real deal.
With a crispy on the outside creamy on the inside potato crust, topped with sweet sauteed veggies, and filled with a parmesan egg custard this is all of our brunch dreams come true. Traditionally a Spanish dish, it can be served at any time of the day (just not during siesta time) and comes with no rules or strings attached.
Just make –> eat –> enjoy. It's as simple as that.
Potato and Red Pepper Tortilla
Whether you have it for breakfast, lunch, or dinner, this potato and red pepper tortilla is guaranteed to please!
Ingredients
2 large Yukon gold potatoes
6 large eggs
¾ cup whole milk
1 cup grated parmesan cheese
4 scallions, white and green parts, minced
3 tbsp chopped parsley
¾ tsp kosher salt
½ tsp freshly ground black pepper
5 tbsp extra virgin olive oil
1 medium onion, chopped
1 red bell pepper, seeded and chopped
3 garlic cloves, minced
½ tsp smoked paprika
Instructions
In a medium sauce, combine the potatoes with enough cold water to cover. Bring to a boil over high heat. Reduce the heat to medium and simmer until cooked through and can be easily pierced with a fork, about 20-30 minutes depending on the size and thickness of your potatoes. Drain and allow to cool slightly. Peel and discard the skins. Cut crosswise into ½-inch thick slices.
Heat oven to 450F.
In a medium bowl, whisk together the eggs, milk, cheese, scallions, parsley, ¼ tsp salt, and ¼ tsp black pepper. Set aside.
In a 12-inch oven-proof skillet, heat 1 tbsp of the olive oil over medium-high heat. Add the onion, bell pepper, and garlic to the pan. Saute for a few minutes until the vegetables start to soften. Season with ¼ tsp salt and ⅛ tsp black pepper. Transfer veggies to a bowl and set aside.
Heat 4 tbsp olive oil in the same skillet. Add the potatoes and reduce the heat to medium. Sprinkle with the paprika and remaining ¼ tsp salt. Allow to cook for 3 minutes without touching. Flip the potatoes and drizzle with the remaining 1 tbsp olive oil. Let the second side brown for a few minutes.
Remove pan from the heat and spread the cooked veggies over the potatoes as evenly as possible. Pour the egg mixture over the potatoes and veggies. Bake for 16-20 minutes, or until the egg puffs and starts to brown. The middle should be just set. Remove from the oven and let rest for 5-10 minutes. Serve warm or at room temperature.
More savory egg bakes!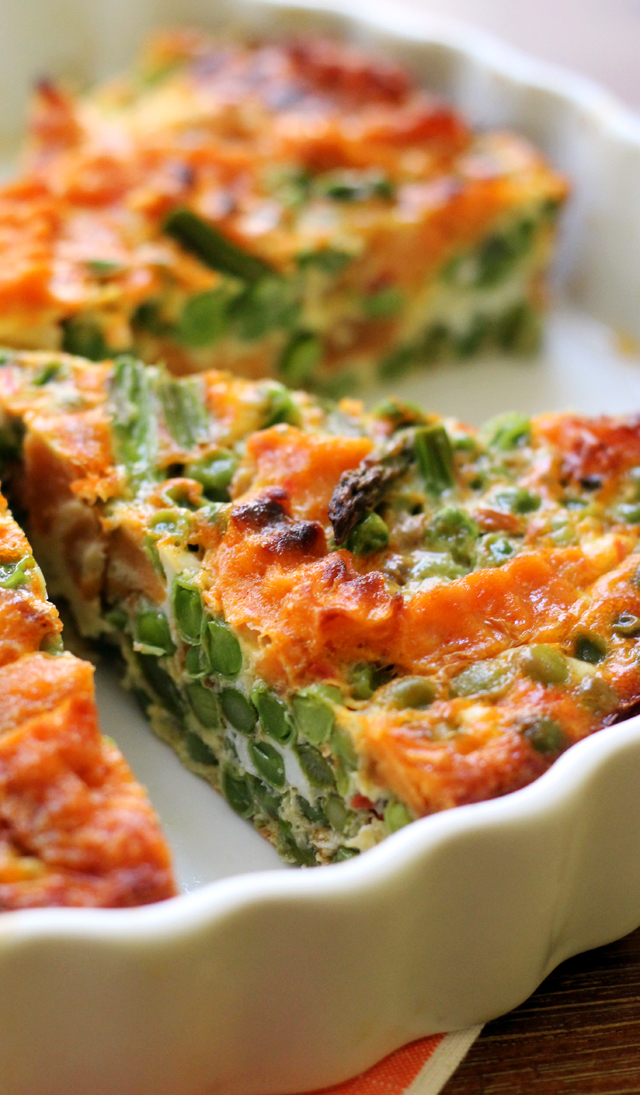 Everything But The Kitchen Sink Frittata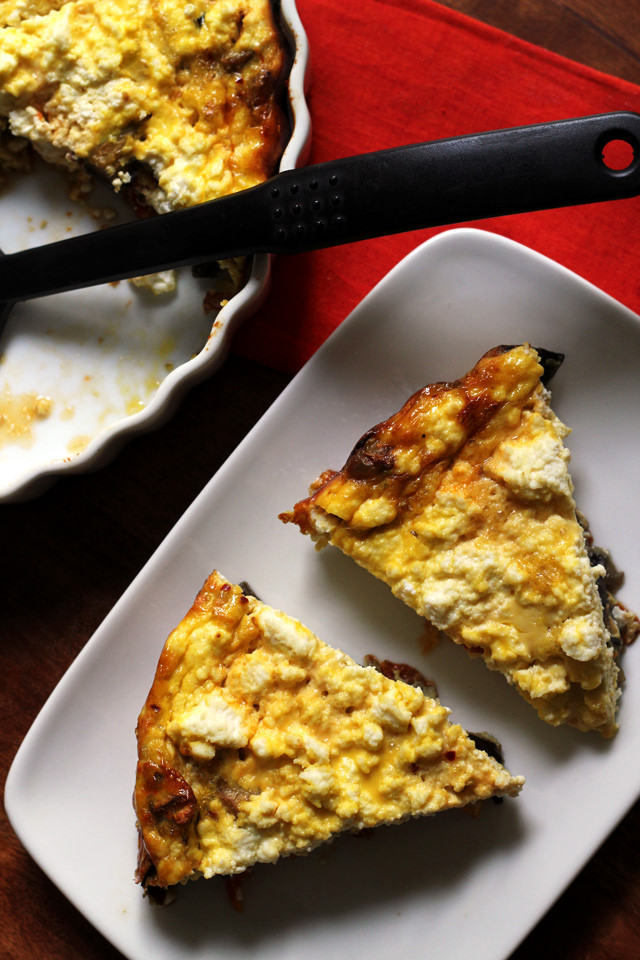 Roasted Eggplant, Tomato, and Ricotta Frittata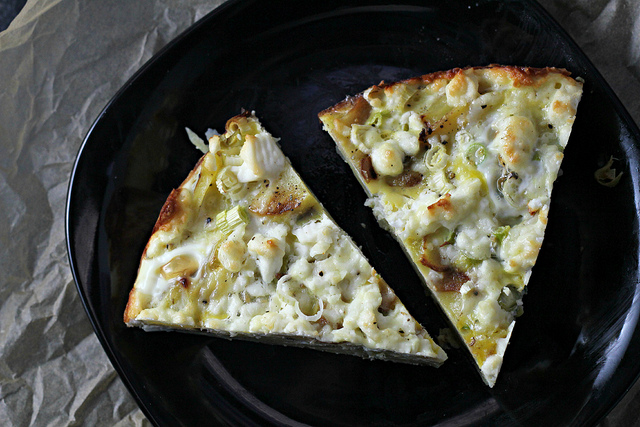 Potato Frittata with Feta and Scallions
From Around the Web:
Mexican Frittata from The Fauxmartha
Kale, Goat Cheese, and Tomato Frittata from Eat Good 4 Life
Toasty Cheddar and Vegetable Oven Frittata from Framed Cooks
Spinach, Leek, and Potato Frittata from The Roasted Root
Caramelized Sweet Potato, Red Pepper, and Feta Frittata from Cookie + Kate