The perfect party appetizer, these butternut and brie mini quiches are sweet, savory, and drizzled with a quick homemade balsamic syrup.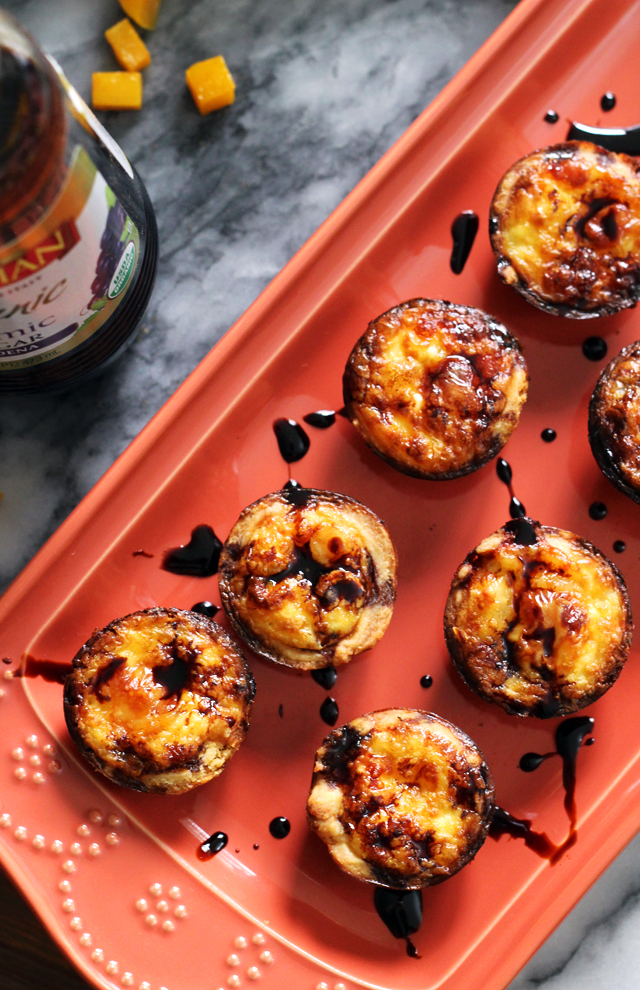 I'm sure when you think of where to go to find football food, I'm the blogger that comes to mind:
Vegetarian,
kinda "crunchy",
eats mostly organic,
has never had cheese whiz,
considers kale to be its own food group,
not willingly going to let my child eat sugar until she goes to college ==
me.
Yeeeeeaaaaahhhhh. Right.
Well, prepare yourself to be amazed, because mini quiches = TOTAL FOOTBALL FOOD.
These are, of course, a tad bit dressed up because we shouldn't have to sacrifice all of our food standards to (one of) America's favorite pastimes.
Sure, these take a bit more effort than their straight-from-the-freezer cousins, but what they lack in ease of preparation, they make up for in their don't-taste-anything-like-cardboard addictiveness.
I mean, butternut + brie +balsamic syrup. They're like the three best "Bs" of all time. Then surrounded by a creamy egg custard and buttery melt-in-your-mouth crust to bind them all together. WORTH IT.
Truthfully, the most time-intensive extra step lies in roasting the butternut squash, but let's be real – if you're reading this blog you're probably roasting your weight in squash at this time of year anyway so just set aside a few extra cubes for these quiches and you'll be good to go.
While you can buy premade balsamic syrup for this recipe, I have to put in a plug to MAKE IT YOURSELF. First of all, it's way more cost effective. Second of all, it's way more delicious! Especially when you start out with a truly great balsamic vinegar like Pompeian's Organic Balsamic Vinegar, which is made from select, organically grown grapes from Modena, Italy and harvested when perfectly ripe to get the utmost robust flavor. True to its roots, it is produced in the time-honored tradition of Modena – the grape juice is slowly cooked, then stored in barrels for refining and aging. Unlike some other balsamics out there, Pompeian's vinegar is caramel color free, naturally gluten free, and perfect for just about anything you'd want to use balsamic vinegar for (in my case, everything). To turn it into syrup, just pour a half cup into a small pan on the stovetop and let it simmer until thick (or about 5 minutes!). Sweet tart perfection is what it is, especially when drizzled over these mini quiches.
Oh. Sweet. Yes.
Butternut and Brie Mini Quiches with Balsamic Syrup
The perfect party appetizer, these butternut and brie mini quiches are sweet, savory, and drizzled with a thick homemade balsamic syrup.
Ingredients
For the pie crust:
1¼ cups all-purpose flour
½ tsp coarse salt
½ tsp sugar
½ cup chilled unsalted butter, cut into small pieces
2 tbsp to ¼ cup ice water
For the filling
1 cup roasted butternut squash cubes
4 oz brie, cut into ½-inch cubes
½ cup milk
½ cup heavy cream
2 large eggs
1 large egg yolk
salt and black pepper, to taste
½ cup Pompeian Organic Balsamic Vinegar
Instructions
To make the pie crust, in the bowl of a food processor, pulse together the flour, salt, and sugar. Add in the butter and process until the mixture resembles coarse meal, about 10 seconds. With the processor running, add in the cold water tablespoon by tablespoon until the mixture starts to come together.
Take the dough and pat it into a thin disk. Wrap in plastic wrap and refrigerate for at least an hour or overnight.
In a bowl, whisk together the milk, heavy cream, eggs, and egg yolk. Season with a dash of salt and black pepper.
When the dough is done chilling, roll it out on a lightly floured surface until it is ?-inch thick. Use a biscuit cutter to cut out circles of dough that are about 2½-inch round. Fit the rounds into a 24-cup nonstick mini muffin pan. Repeat with remaining dough until it is all used up.
Fill each pie crust with a few butternut cubes and 1 cube of brie. Pour the egg mixture into the pie crusts just to fill them. There will likely be some leftover!
Bake at 375 until puffed and golden, about 30 minutes. Remove mini quiches from tin almost immediately when they come out of the oven and place on a wire rack to cool slightly.
While they're cooling, heat the balsamic vinegar in a small pan over medium heat to bring to a simmer. Allow to cook until the vinegar has reduced by about half and is thick and syrupy. Remove from the heat and pour into a small bowl. Use a spoon to drizzle over the quiches before serving.
Notes
An Eats Well With Others Original
Nutrition Information
Serving size:
1 mini quiche
Disclosure: This post was sponsored by Pompeian. As always, my thoughts and opinions are my own. Thank you for supporting the brands that keep me inspired in the kitchen.