These bakery-style almond poppy seed muffins taste exactly like you just picked them up from the Costco bakery and are super easy to make!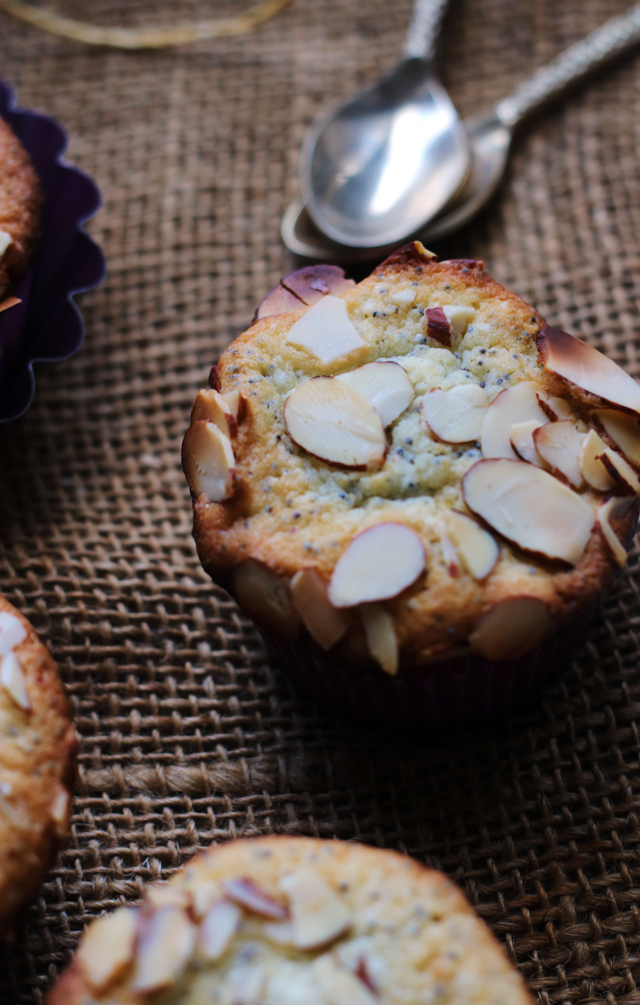 I had a Most Shocking Moment of my life this past week when I realized that my favorite favorite favorite muffins from childhood, the lemon poppy seed muffins from Costco, are not actually lemon poppy seed muffins at all.
(!!!)
THEY ARE ALMOND POPPY SEED MUFFINS.
Maybe with some lemon juice in the glaze? But otherwise there is not even a lick of lemon in the batter!
This explains so much.
Like, for instance, why I've spent my entire life trying to make them and have failed miserably each and every time.
And why no other lemon poppy seed muffin has ever compared to my Costco muffin memories.
It wasn't me! It was them!
I was just making and eating the completely wrong muffin!
I have so many wasted muffin calories to make up for.
Good thing this recipe is easy enough that I can make it in-between Remy falling asleep and me faceplanting into bed at night, allowing me to wake up to a whole lot to look forward to in the morning.
These muffins have a really almond-rich flavor and get perfectly crispy on top while maintaining a super moist interior. I forewent the sneaky sneaky lemon glaze for a simple slivered almond topping. It gets all warm and toasty in the oven as the muffins bake and since almonds have so much going for them nutrition-wise, I can almost convince myself that this is a healthy choice to start my day with. And most mornings, that's enough.
Bakery-Style Almond Poppy Seed Muffins
These bakery-style almond poppy seed muffins taste exactly like you just picked them up from the Costco bakery and are super easy to make!
Ingredients
1¾ cup all purpose flour
¾ tsp baking powder
¼ tsp baking soda
¼ tsp salt
2 tbsp poppy seeds
1 cup sugar
10 tbsp butter, room temperature
1 large egg
1 large egg yolk
2¼ tsp almond extract
½ cup whole milk
½ cup full fat sour cream
¼ cup slivered almonds
Instructions
Heat oven to 350F.
In a medium bowl, whisk together the flour, baking powder, baking soda, salt, and poppy seeds. Set aside.
In the bowl of a stand mixer fitted with the paddle attachment, cream together the butter and sugar on medium-high speed until light and fluffy, about 3 minutes. Add in the egg, egg yolk, and almond extract. Beat until combined, about a minute. Scrape down the sides of the bowl.
In a small bowl, whisk together the whole milk and sour cream until combined.
Starting and ending with the flour mixture, add the flour mixture to the batter in three additions, alternating with the milk mixture, mixing on low speed until just combined after each addition. Scrape down the sides of the bowl and give one last mix.
Line a muffin tin with 12 cupcake liners. Divide the batter among the 12 paper-lined muffin cups. Sprinkle the slivered almonds evenly over the muffins. Bake for 15-20 minutes, or until lightly golden and a toothpick inserted into the center comes out clean. Cool completely before serving.