A sumptuous caramelized onion galette made with homemade pastry dough and a layer of parmesan mascarpone cream.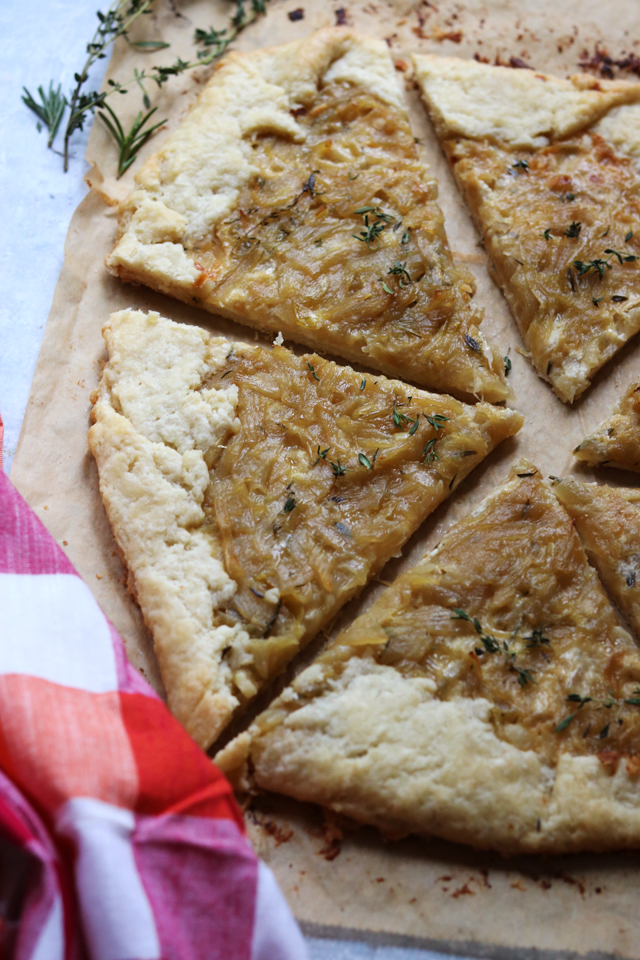 I don't know about you guys, but we are riding the Monday struggle bus in a MAJOR way this morning.
My internal clock (also known as Remy) didn't wake up at her usual 6AM-on-the-dot and then I overslept my actual alarm clock by 15 minutes. Of course then Remy did get up and so we had to go to the potty, watch her Minnie doll do a song/dance routine, and do three puzzles.
All before breakfast! And more importantly, COFFEE!!!!
Also we have no food prepped for the week because we were too busy playing all weekend. I can't really be mad about that, but it does always make me uneasy to start off the week without at least one meal ready to go.
And now I'm just sitting here like…how can I leave work at a reasonable hour so I can somehow make this galette and have it ready by dinner time because that would be the absolute best.
I mean: CARAMELIZED ONIONS and PARMESAN CREAM. Total dreamboat over here.
While this recipe will take about four hours from start to finish if you do it all in one shot, it is really amenable to prepping ahead of time. You can make the pie crust, caramelized onions, and parmesan cream up to three days in advance of baking it so that when the time comes all you need to do is assemble it and pop it in the oven.
The crust is super buttery with a hint of sweetness, as are the onions. Make sure to get them really brown – we're talking maple syrup-colored here. I could have taken mine a little bit farther but due to time constraints had to reel myself in. Then the parmesan cream is just a simple mixture of parmesan and mascarpone cheese. Layer them all on top of each other, bake, and you have yourself a decadent but delicious meal. Eat it for lunch, brunch, or dinner and you will be SET.
Caramelized Onion Galette with Parmesan Cream
A sumptuous caramelized onion galette made with homemade pastry dough and a layer of parmesan-mascarpone cream.
Ingredients
For the galette dough
1½ cups all purpose flour
2 tbsp sugar
½ tsp fine sea salt
8 oz unsalted butter, cold, cut into 16 pieces
¼ cup ice water
For the onion filling
2 lb sweet Vidalia onions, thinly sliced
4 tbsp unsalted butter
2 garlic cloves, minced
1 tsp sugar
a few sprigs thyme
1 tsp fine sea salt
freshly ground black pepper
For the parmesan cream
⅓ cup mascarpone cheese
2 tbsp milk
⅓ cup finely grated parmesan cheese
sea salt and black pepper, to taste
Instructions
For the galette dough
Pour the flour, sugar, and salt in the bowl of a food processor and pulse to combine. Toss the butter pieces over the dry ingredients. Pulse until the butter is cut into the flour. Add the ice water a tablespoon at a time and pulse until the dough starts to come together.
Turn the dough out onto a sheet of plastic wrap and bring it together into a disk. Roll it out while it is still cool (easiest to do this between two sheets of parchment paper) into a 12-inch circle. Place onto a baking sheet and refrigerate for at least 2 hours.
For the onions
Melt the butter in a large heavy-bottomed nonstick skillet over medium heat. Add the onions and garlic. Stir and cook for 5 minutes or until the onions start to soften. Stir in the sugar and herbs. Reduce the heat to low and cook, stirring frequently, until caramelized. This should take about 40 minutes. Once caramelized, season with salt and black pepper. Pick out the sprigs of fresh herbs and set aside.
For the parmesan cream
Whisk together the mascarpone, milk, and parmesan cheese. Season to taste with salt and black pepper. Set aside.
For assembly
Heat oven to 400F.
Place the dough on the counter and let rest for 10 minutes at room temperature. Peel the top sheet of parchment paper off the dough. Spread the parmesan cream over the dough in a 9-inch round circle. Spread the onions over the cream. Fold an edge of the dough over the onions. Continue to work your way around the dough, folding and pleating as you go until all of the bare edges are folded in.
Bake for 35-40 minutes, or until the crust and onions are golden. Once done, remove from the oven and transfer to a rack to cool for about 10 minutes. Serve warm or at room temperature.