A hearty white bean soup with pasta served with a drizzle of rosemary oil and shavings of parmesan cheese on top.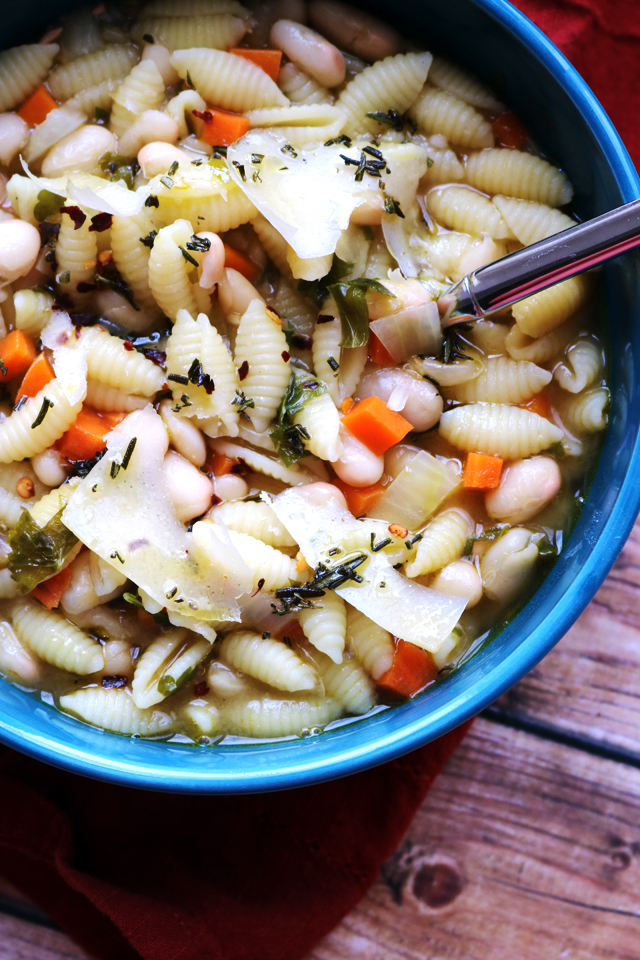 Can I convince you to join me in a weekend soup project?
AKA the best kind of weekend project because:
(a) you can do it in your pjs
(b) it involves cooking enough food to FEED AN ARMY for an entire week
(c) it will keep your apartment (and your insides) warm and cozy
(d) PJS. ALL DAY. did I mention that?
After having to work seventeen out of the last nineteen days, I have really developed an appreciation for the kind of lazy weekend that doesn't require you to put a bra on in the morning or change out of your stretchy pants.
Bonus points if it involves homemade chocolate chip cookies, but I would totally settle for a big pot of this soup and the peace of mind that comes with knowing we have enough leftovers in the fridge to supply us with dinner all week long.
It's filled with 99% of my favorite things (see aforementioned allusion to homemade CCCs), is child-approved, and is just an all around feel good food. The kind where you're amazed that something so simple can be something so wholeheartedly, unabashedly good.
You essentially start with a mirepoix minus the celery (because, blegh) and add on white beans and pasta for substance and sturdiness. It's all simmered together with some fresh herbs for a bit to allow the flavors to deepen and is then topped with a homemade rosemary oil drizzle and extra large shavings of parmesan that melt into the soup and your mouth as you eat.
White Bean Soup with Pasta and Rosemary Oil
A hearty white bean soup with pasta served with a drizzle of rosemary oil and shavings of parmesan cheese on top.
Ingredients
For the rosemary oil
½ cup extra virgin olive oil
2 tbsp minced fresh rosemary
2 garlic cloves
For the soup
2 tbsp olive oil
1 tbsp minced fresh rosemary
1 onion, diced
2 carrots, diced
5 garlic cloves, minced
⅓ cup parsley, minced
3 cups cooked white beans
6 cups vegetable broth
1 lb small pasta
parmesan cheese, to garnish
Instructions
To make the rosemary oil, heat the olive oil with the rosemary and whole garlic cloves in a small pan over medium heat until the garlic begins to brown, about 3 minutes. Remove from the heat and set aside.
For the soup, heat the oil with the rosemary in a Dutch oven or soup pot over medium heat. Add the onion and carrots, and cook until the onion is translucent and just starting to caramelize, about 10 minutes. Stir in the garlic and parsley. Cook for a few more minutes. Add the beans to the pot along with 6 cups of vegetable broth. Bring to a boil, then lower and simmer for 20-30 minutes to allow flavors to meld.
Meanwhile, cook pasta according to package directions in salted water and drain. Stir the cooked pasta into the soup. Season to taste with salt and black pepper. Ladle into bowls and top with drizzles of the rosemary oil and parmesan shavings.
Notes
Adapted from
Vegetarian Cooking for Everyone