An easy mexican vegetable quinoa casserole that tastes like a taco and is filled with zucchini and bell peppers in every bite. Perfect to bake ahead for weeknight dinners.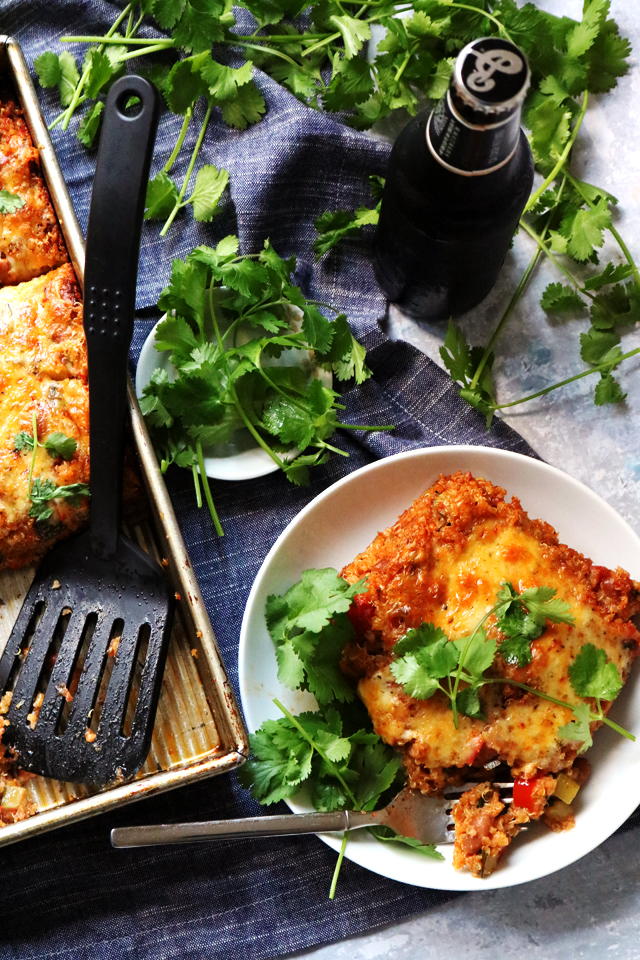 So, 2018.
We're doing this!! And we're kicking it off with quinoa, which is SO 2012, but still so good.
I don't even know what grains are trendy these days. Sorghum? Teff? Emmer wheat? Amaranth?!?! (I really hope amaranth because I got a pound of it in one of my Rancho Gordo bean club deliveries early last year and still have not opened the package yet out of cluelessness over what do with it once open. Halp.)
It makes me feel like I did while watching Rockin' New Year's Eve from my couch this year – old because I had no idea who half of the main acts were and also because I could sing along to Mariah Carey's Hero from memory. Ninety percent sure my 21 year old sister couldn't do that.
Not that I'm trying to liken this quinoa casserole with all the best taco flavors to the timelessness of Mariah Carey.
But I'm also not denying it.
If you, like everyone else with a pulse, is trying to incorporate more healthy eating/whole grains/order to your life this coming year, then you have come to the right casserole.
This is filled with veggies, whole grain goodness, AND it makes a ton of food so you can spend one evening baking it and then eat for the week. The ingredient list may look kind of long, but that's just from all of the spices! You can substitute all of them with 2 tablespoons of taco seasoning if you happen to have that on hand, but I would argue that if you plan to cook more this year, these are all staples and would be helpful to have around.
Easy Mexican Vegetable Quinoa Casserole
An easy mexican vegetable quinoa casserole that tastes like a taco and is filled with zucchini and bell peppers in every bite. Perfect to bake ahead for weeknight dinners.
Ingredients
2 tbsp olive oil, divided
2 cups quinoa, rinsed
1 jalapeno pepper, seeded and minced
1 bunch cilantro, stems and leaves separated and finely chopped
salt and black pepper, to taste
2 zucchini, diced
1 red bell pepper, seeded and diced
1 tbsp chili powder
½ tsp garlic powder
¼ tsp dried oregano
½ tsp dried paprika
1½ tsp ground cumin
1 tsp black pepper
28 oz whole peeled tomatoes, pureed
2 cups pinto beans
1 lb white cheddar cheese, grated
Instructions
Heat oven to 350F. Grease a 9x13-inch baking pan and set aside.
Heat 1 tbsp olive oil in a medium pot. Add the quinoa, jalapeno, and cilantro stems to the pot. Saute until fragrant over medium heat, about 1 minute. Add in 4 cups of water and 1 tsp salt. Bring to a boil, then reduce heat to low and cook until quinoa is tender and water has dissolved, about 15 minutes. Remove from the heat and let stand for 5 minutes, then fluff with a fork and set aside.
Meanwhile, heat the remaining 1 tbsp of olive oil in a medium skillet over medium heat. Add the zucchini and bell pepper to the pan. Saute until tender, about 5-7 minutes. Stir in the chili powder, garlic powder, oregano, paprika, cumin, and black pepper. Saute for 1 minute, or until fragrant. Stir in the pinto beans and cook just enough to warm through, about 2-3 minutes. Add the tomato to the pan and cook for 4 minutes, or until slightly reduced. Season to taste with salt.
In a large bowl, stir together the quinoa mixture with the vegetable mixture. Add in half of the grated cheese, stirring until well combined. Season to taste with salt and black pepper, then transfer mixture to the prepared pan. Top with the remaining cheese and place pan in the oven. Bake for 30 minutes, or until cheese is browned and bubbling.
Allow to cool for 5-10 minutes before serving. Serve garnished with chopped cilantro leaves.
Notes
An Eats Well With Others Original
More tasty ways to eat quinoa: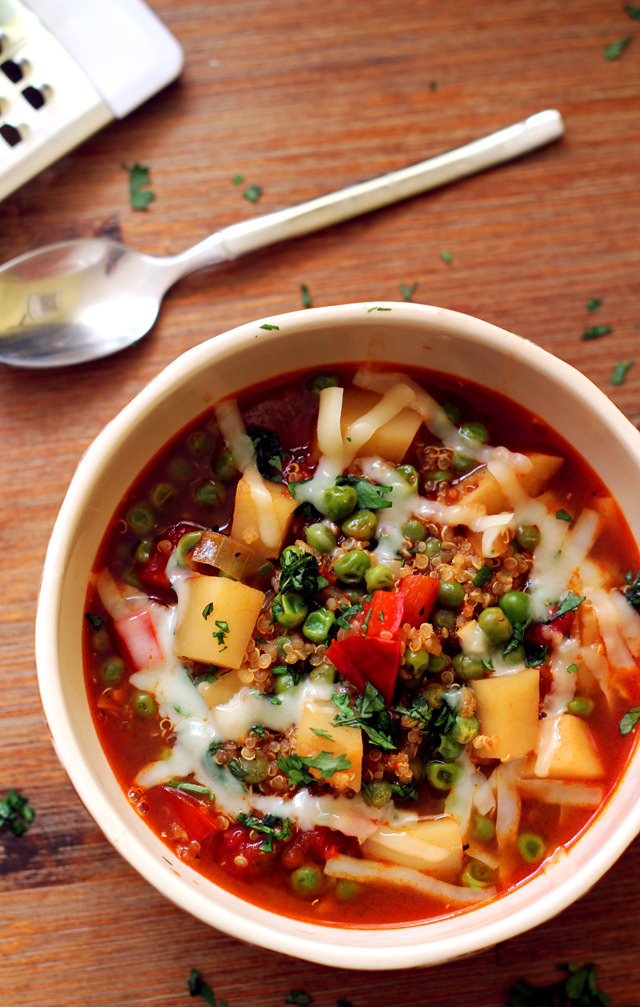 Healthy Quinoa and Vegetable Stew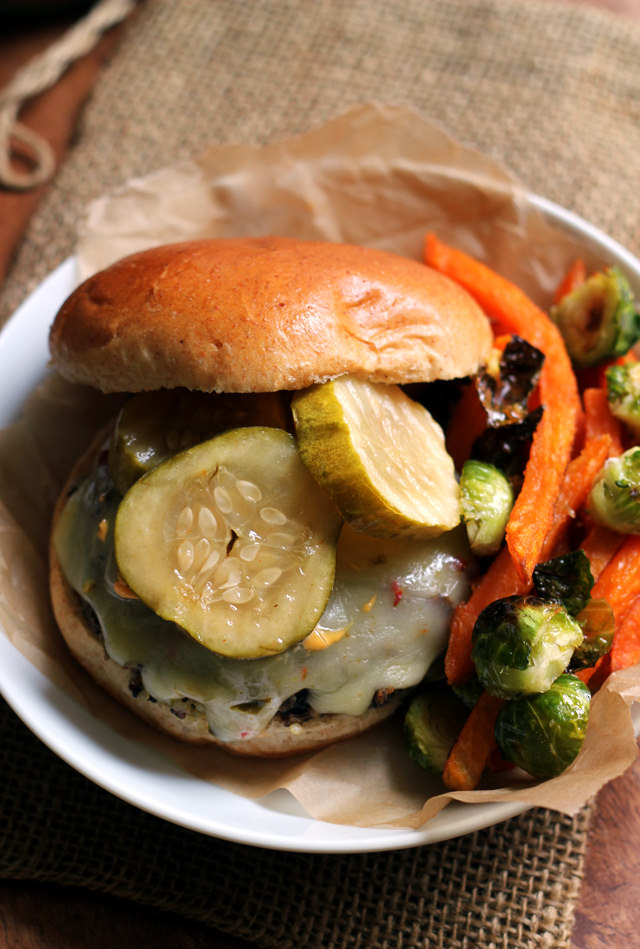 Spicy Black Bean, Quinoa, and Sweet Potato Burgers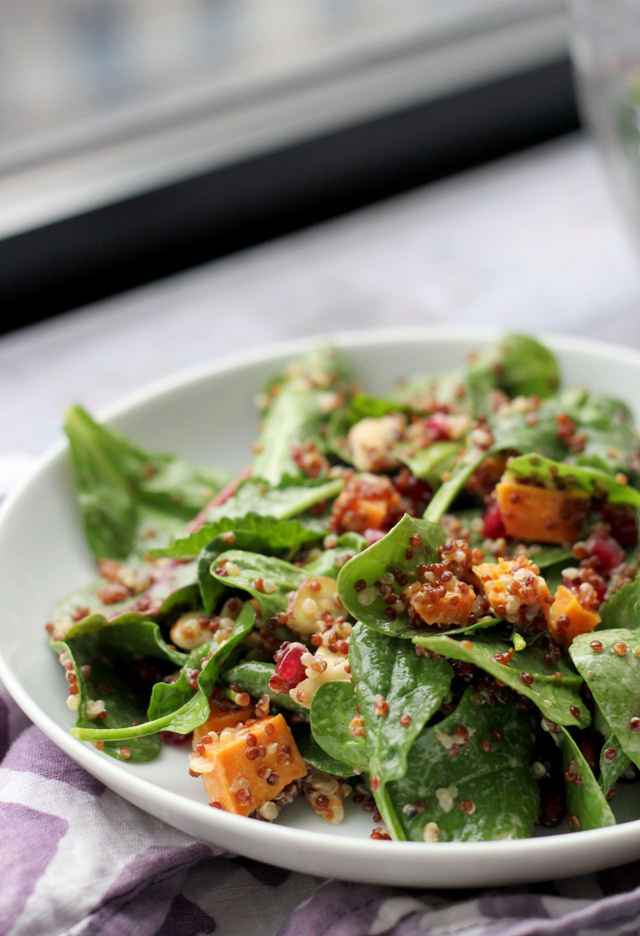 Crispy Quinoa and Power Greens Salad