Spicy and smoky summer corn, Monterey Jack, and brown rice stuffed poblano peppers.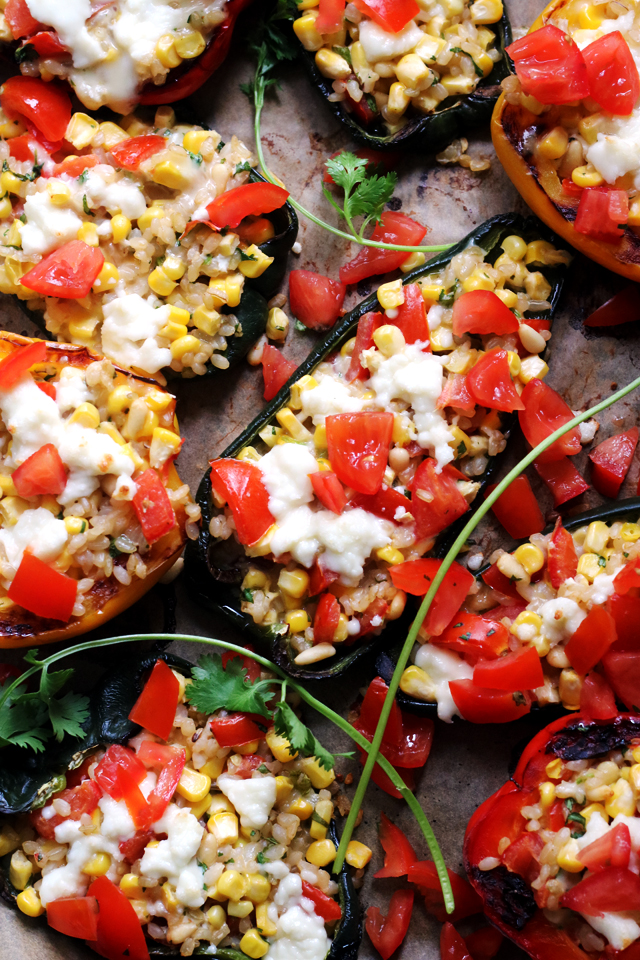 Nothing like a good game of stuffed pepper Russian roulette to get your blood flowing on a Friday morning.
The thing about poblanos is that you never know what you're gonna get.
Case in point: the first time I made stuffed poblanos for my husband, our mouths were pretty much on fire for a whole week!! I ADORE spice, so I was basically in my happy place.
He, on the other hand, was crying in a corner.
Since then, I've been petrified to do much cooking with poblanos as a main flavor element. Most of the time they're fairly mild, but when they're hot…they're HOTTTT.
Hence why you'll see these stuffed peppers are actually a mix of poblano and bell peppers. I just couldn't take the risk that they would be inedible to half of my family.
OF COURSE, because I was all prepared, they were totally mild and so I had to fight my husband for the poblano ones. Like, even Remy could have tolerated them had she actually dared to taste them. Unfortunately, she is currently on an all-food-except-yogurt strike, so she missed out.
Her loss.
These are good in so many ways, but mostly because they are stuffed with such feel-good ingredients: fresh sweet corn, hearty brown rice, CHEESE (times 3). What is there not to love?! You can even prep them ahead of time and then just bake them off in the oven twenty minutes or so before serving. Heck, I bet you could even grill them if you didn't feel like turning on the oven.
There are so many possibilities.
Summer Corn, Monterey Jack, and Brown Rice Stuffed Poblano Peppers
Spicy and smoky summer corn, Monterey Jack, and brown rice stuffed poblano peppers.
Ingredients
3 poblano chile peppers, seeded and halved lengthwise
2 bell peppers, seeded and halved lengthwise
2 ears shucked corn
2 cups chopped seeded tomato, divided
1 cup hot cooked brown rice
¼ cup chopped fresh cilantro, divided
2 tablespoons pine nuts, toasted
2 tablespoons cream cheese
2 teaspoons fresh lime juice
¼ teaspoon kosher salt
3 ounces Monterey Jack cheese, shredded
2 ounces queso fresco, crumbled
Instructions
Heat oven to 400F.
Place the pepper halves cut-side down on a parchment-lined baking pan in a single layer. Place in the oven and bake for 20 minutes.
Meanwhile, prepare the filling. Cut the kernels from the ears of corn. Toss in a large bowl with 1 cup of the tomatoes, the rice, 2 tbsp of the cilantro, pint nuts, cream cheese, lime juice, salt, and Monterey Jack cheese.
Once the peppers are done baking, remove the pan from the oven and flip over the peppers. Divide the rice mixture evenly among the chile peppers, stuffing them as much as possible. Return to the oven and bake for 7 minutes.
Remove the pan from the oven again and sprinkle the queso fresco over the peppers. Bake for 5-10 minutes, or until the cheese is melty and starting to brown. Remove from the oven and divide among 5 plates. Sprinkle with the remaining tomatoes and cilantro before serving.
More really tasty stuffed peppers: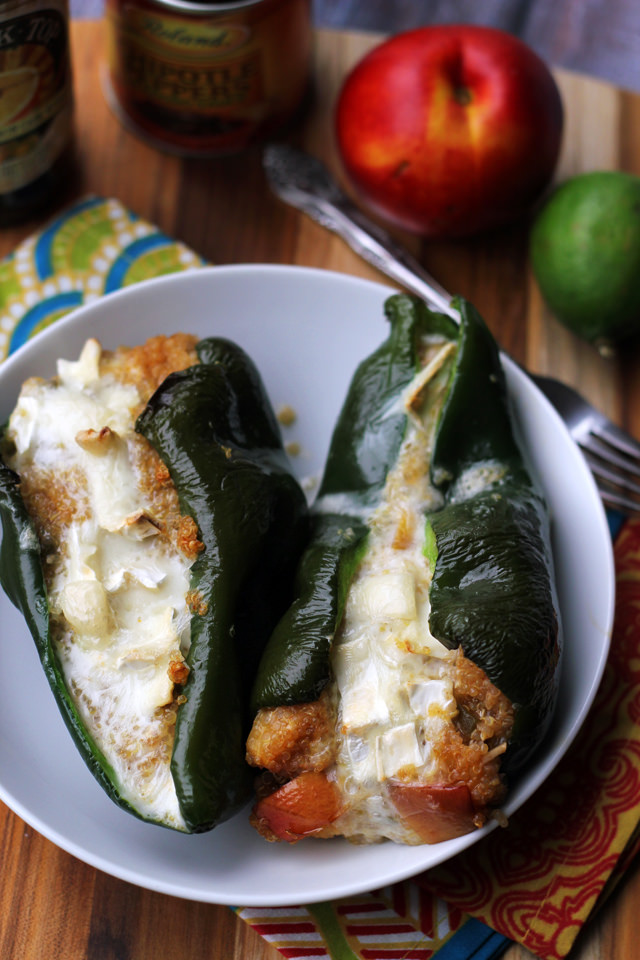 Roasted Nectarine, Jalapeno, and Brie Stuffed Poblanos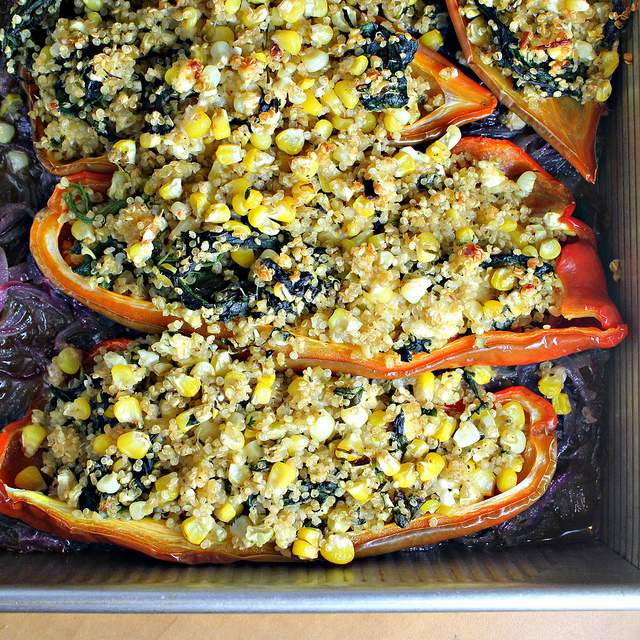 Peppers Stuffed with Quinoa, Corn, and Feta Cheese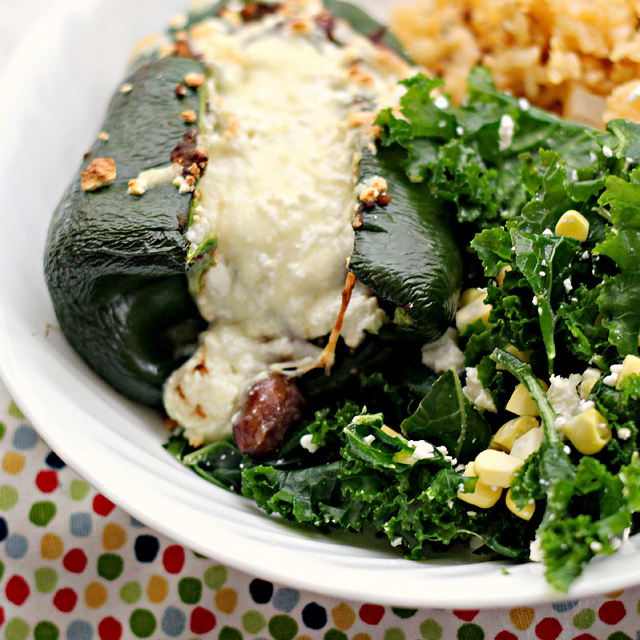 Beer, Bean, and Cotija Stuffed Poblano