From the Bravetart cookbook, these brownies are THE ULTIMATE. They are impossibly fudgy and absolutely decadent. The best brownies you'll ever have!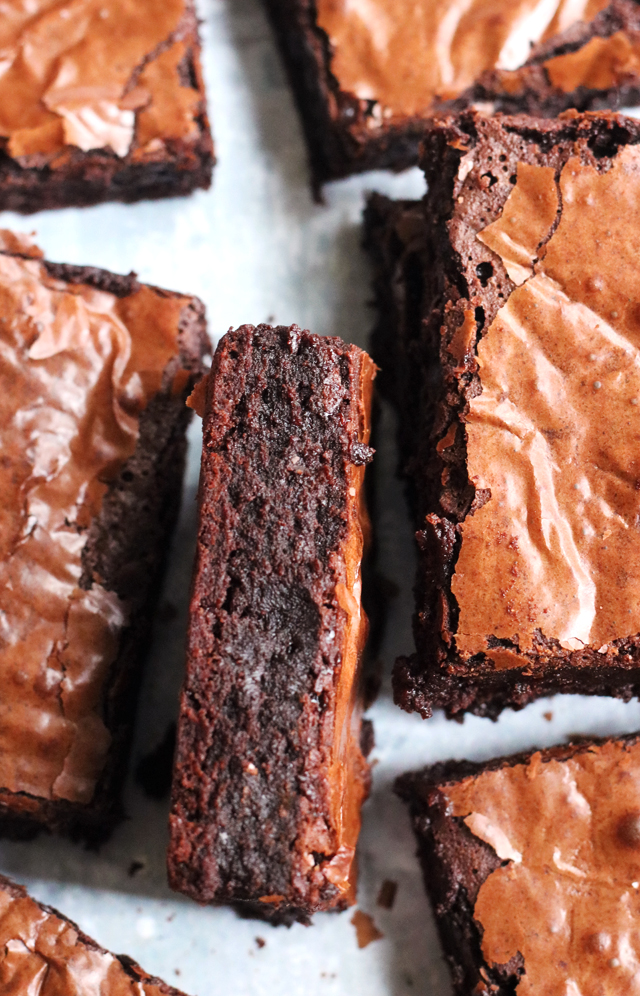 Sorry to be intrusive, but I made weekend plans for you.
They clearly involve laying on your couch in stretchy pants, watching back episodes of The Office (or catching up on This Is Us!!!!), and baking up a batch of the best brownies you'll ever encounter.
Strong words, but I stand by them.
Truth be told, I thought I had found my "ULTIMATE Brownie Recipe" years ago. The sweet and salty brownies from Baked. Have you had them? They're good.
BUT they require you to make caramel and alternate brownie/caramel layers in the pan….not ideal for the lazy Saturday we described above.
Lazy Saturdays require lazy brownie recipes!!! Nothing too involved. That's practically a rule.
While I was on nights last week I got a hankering for a brownie but just couldn't with anything too complicated.
A quick stroll through the Bravetart cookbook and I was in my kitchen quicksnap whipping up a batch of these bad boys. I mean, I literally had all of the ingredients needed to make these in my pantry. No quickie stops at the supermarket required. <– LOVE.
15 minutes to mix up the batter.
30 minutes to bake.
An hour or so to cool in the pan (IF you have that kind of self control, but I recommend you do because it's the cooling step that makes these ultra fudgy).
And I won't admit to how long it took us to demolish this entire batch.
I actually brought some to work with me to share with my co-residents (I know, that kind of altruism practically deserves a medal) and they were unanimously the best brownies we had ever tasted.
They're dense and moist and fudgy and basically the most intensely chocolate brownies EVER.
If you're looking to experience what brownie dreams are made of….these are it.
Bravetart Brownies
From the Bravetart cookbook, these brownies are THE ULTIMATE. They are impossibly fudgy and absolutely decadent. The best brownies you'll ever have!
Ingredients
1 cup all purpose flour
1⅓ cups Dutch process cocoa powder
3 sticks (12 oz) unsalted butter
6 oz dark chocolate, roughly chopped
2¼ cups white sugar
¼ cup packed dark brown sugar
1¾ tsp kosher salt
6 large eggs
1 tbsp vanilla extract
1 tsp instant espresso powder (optional)
Instructions
Heat oven to 350F. Line a 9x13-inch baking pan with two crisscrossed sheets of aluminum foil so that there are overhangs on each side. Grease with baking spray.
Whisk or sift together the flour and cocoa powder in a medium bowl. Set aside.
Melt the butter over the stovetop in a medium heavy-bottomed pan over medium-low heat. Once it is melted, increase the heat to medium and allow to simmer, stirring frequently with a spatula. Cook until it stops hissing, scraping up any browned bits from the bottom of the pan. Remove from the heat and stir in the chocolate until fully melted and combined.
Combine the sugars, salt, eggs, vanilla, and instant espresso powder into the bowl of a stand mixer fitted with the whisk attachment. Whip together on medium-high speed for 8 minutes, or until very thick and fluffy. Turn speed down to low and slowly pour in the chocolate-butter mixture. Once that is incorporated, add in the flour/cocoa mixture and mix until well combined. Fold the batter together with a rubber spatula to ensure that it is well mixed and that there are no pockets of flour hiding in it.
Pour the batter into the prepared baking pan. Bake for 25 minutes, or until the brownies are glossy and just barely firm. Allow to cool completely in the pan.
Remove the brownies from the pan. Cut into 24 squares. Store any leftovers in an airtight container for up to 1 week or in the freezer for up to 6 months.