A fresh-flavored Greek pasta salad with roasted broccoli, feta, and a lemon vinaigrette.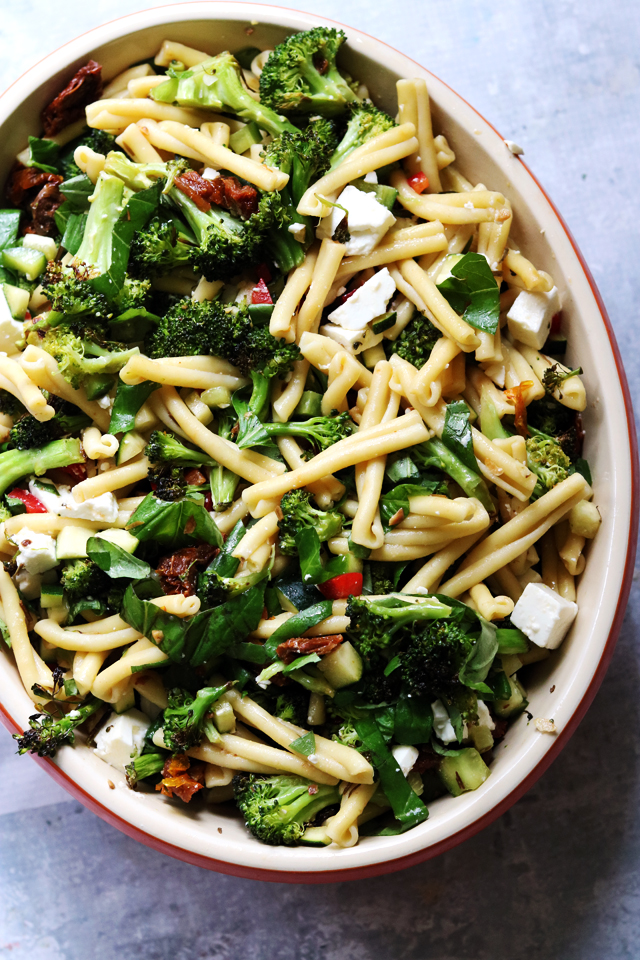 After this weekend we can wear our best pasta salads along with our white pants, and it's going to feel so good.
Are you ready??
I switched out my winter clothes for my summer clothes this week and I am NOT going back. White pants included.
And I've also got THE pasta salad to kick things off!
You'll be as shocked to hear this as I am to say it, but I served this on Mother's Day and it was the first thing to go even among my non-vegetable eating family. Remy ate seconds!!
It was a Mother's Day miracle.
But probably also it was just that this salad is really good.
It's full of fresh Mediterranean flavors, including sun-dried tomatoes, red pepper, zucchini, cucumber, and feta.
And lemon!!! So much lemon.
Fresh herbs make an appearance as well in the form of basil, as does roasted broccoli, which I had to restrain myself from eating straight from the pan.
The gang's all here – let's get this party started.
Greek Pasta Salad with Roasted Broccoli, Feta, and Lemon Vinaigrette
A fresh-flavored Greek pasta salad with roasted broccoli, feta, and a lemon vinaigrette.
Ingredients
1.5 lb broccoli florets
2 tbsp olive oil
4 garlic cloves, minced
salt and black pepper, to taste
1 lb gemelli
1 (8 oz) jar oil-packed sun-dried tomatoes
1 zucchini, cubed
1 red bell pepper, seeded and cubed
2 Persian cucumbers, cubed
2 oz basil, thinly sliced
juice of 1 lemon
8 oz feta cheese, cubed
Instructions
Heat oven to 425F.
Toss together the broccoli, olive oil,and garlic. Spread in a single layer on a parchment-lined baking sheet (or two). Season with salt and black pepper. Roast for 20-25 minutes.
Bring a large pot of salted water to a boil. Cook pasta according to package directions, or until al dente. Drain and transfer back to the pot.
Combine the pasta with the roasted broccoli, sun-dried tomatoes and the oil from the jar, zucchini, red pepper, cucumbers, basil, and lemon juice. Add in the feta and toss again. Season to taste with salt and black pepper. Serve warm or at room temperature.