Scrambled egg red shakshuka is a unique variation of this signature Middle Eastern breakfast. It is richly spiced and served with spicy marinated feta on top.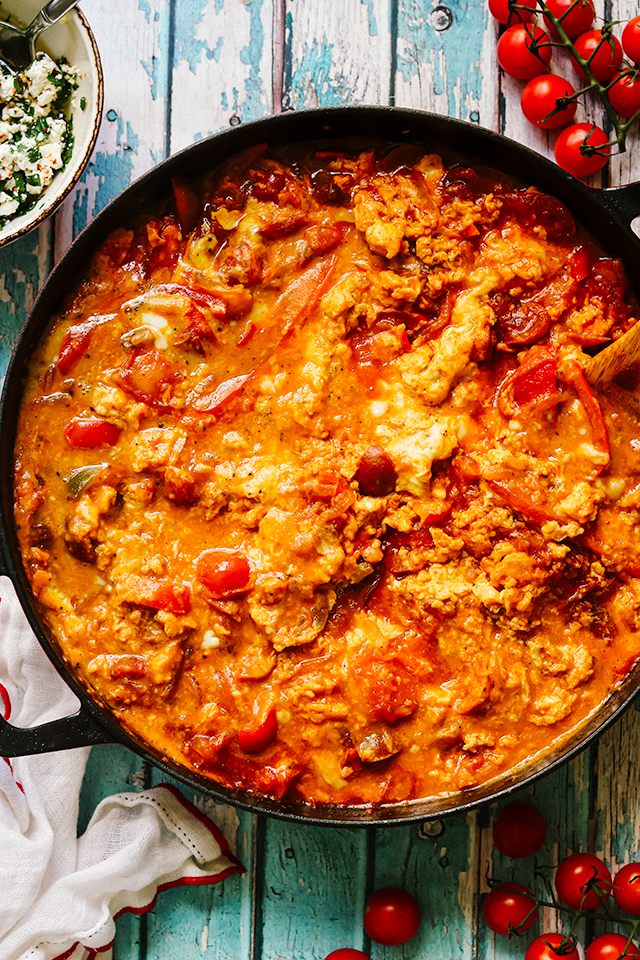 We have a little bit of a West Side Story situation going on in my house when it comes to EGGS.
Yes, you read me right. EGGS!! The great divider. 
I like them runny, my husband likes them overcooked, and Remy won't touch them with a ten foot pole no matter how I cook them (but she also refuses cake half the time so no one can trust her judgment when it comes to food).
This really complicates my life plans, which are basically to top most meals with a sunny side up or poached egg and call it a complete meal. The runny yolk serves as the perfect sauce element and (in my opinion) can really make a dish. Not to mention all of my favorite brunch dishes, which INTENTIONALLY call for poaching eggs, usually right in the sauce they're about to be served in.
Well, well, well.
It's like Sami Tamimi (of Ottolenghi Family fame) heard all of my screams of frustration every time my husband grumbled about being served a runny yolk and funneled them into this scrambled egg shakshuka, which he included in Falastin, his most recent (completely glorious and beloved) cookbook.
Or maybe it's just coincidence. We'll never know. 
Either way, this meal is pretty much the perfect Eats Well With Others family compromise – I get my richly spiced shakshuka sauce, my husband doesn't have to deal with runny yolks, and Remy continues to eat nothing. WIN / WIN / STATUS QUO!
In the headnote for this recipe, Tamimi writes (and I'm paraphrasing here) that shakshuka, at its core, is just eggs cooked in a thick sauce. The eggs are usually braised, the sauce is usually tomato-based but there are exceptions to all of these rules and this variation is one.
Closest to the Yemeni version of shakshuka, this dish has you start by making a richly spiced tomato sauce that's comprised of a mix of chopped and cherry tomatoes. There's also a whole lot of onion, red bell peppers, warm spices, and harissa. These simmer together until thickened and gloriously fragrant.
Next, you stir in a satisfying amount of lightly beaten eggs. Mix them into the tomato sauce until they're slightly incorporated, but still distinctly separate entities and then let them cook until set. 
The shakshuka is topped off with a crumble of spicy marinated feta and best served with large hunks of crusty bread and/or fresh homemade pita for scooping. 
It's hearty, comforting, and so perfect for spring/summer brunches especially if you're living in an egg divided house like mine.
Scrambled Egg Red Shakshuka with Spicy Marinated Feta
Scrambled egg red shakshuka is a unique variation of this signature Middle Eastern breakfast. It is richly spiced and served with spicy marinated feta on top.
Ingredients
3 oz (90 g) feta, crumbled
½ cup (10 g) parsley, roughly chopped
1.5 tsp aleppo pepper flakes
10 tbsp (75 ml) olive oil
3 tsp coriander seeds, lightly toasted and crushed
2 onions, thinly sliced
2 red bell peppers, seeded and cut into ½-inch slices
6 garlic cloves, minced
1 tsp cumin seeds, lightly toasted and crushed
2 tsp tomato paste
½ tsp paprika
2 lb (1 kg) tomatoes, roughly chopped
5 oz (150 g) cherry tomatoes
4 tsp rose harissa
⅔ cup water
salt and black pepper
8 eggs, lightly beaten
Instructions
For the feta, in a medium bowl, stir the feta with the parsley, 1 tsp of the aleppo pepper flakes, 6 tbsp olive oil, and 1 tsp of the coriander seeds. Mix and set aside.
Pour the remaining 4 tbsp of olive oil into a large cast-iron skillet or saute pan with a lid over medium-high heat. Add the onion to the pan and saute for 5 minutes, or until softened and lightly browned. Add in the bell pepper. Cook for another 5 minutes. Next, stir in the garlic, cumin seeds, tomato paste, paprika, and remaining coriander seeds. Cook until fragrant, about 1 minute. Stir in the chopped tomatoes, cherry tomatoes, rose harissa, water, 2 tsp salt, and black pepper to taste. Simmer over medium heat for 15 minutes, stirring occasionally.
Stir in the eggs along with another pinch of salt and black pepper. Gently fold the eggs so that they are partially mixed in, then decrease the heat to medium-low, cover the pan and cook for 4 minutes or until the eggs are set.
Remove from the pan from the heat and divide among serving bowls. Top with the marinated feta and remaining aleppo pepper flakes.