A super fruity summer peach and blueberry cobbler topped with homemade biscuits – perfect with dollops of vanilla ice cream or homemade whipped cream for dessert on a hot day.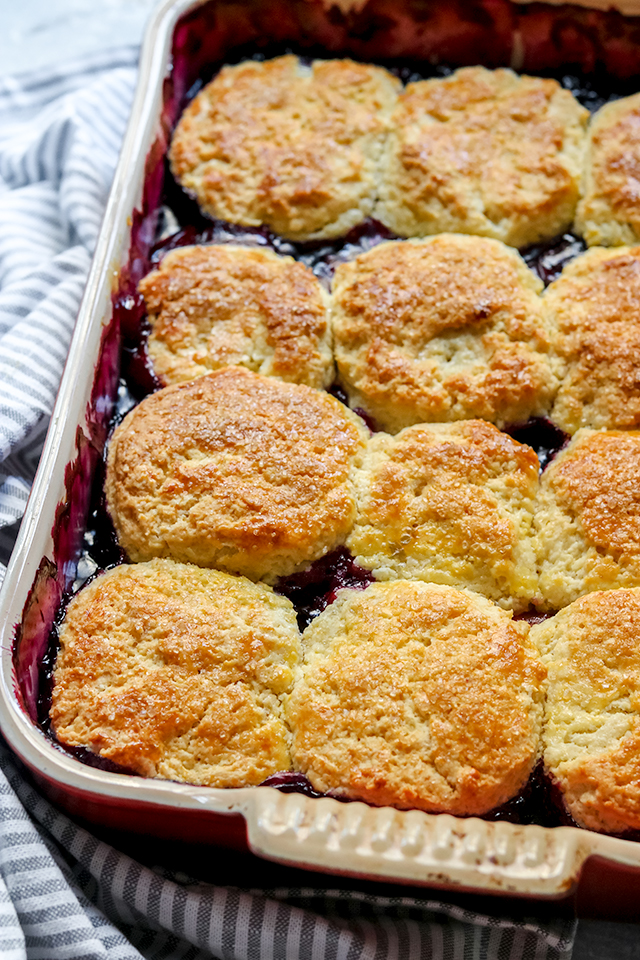 Raise your hand if you went a leeettttttllleee overboard on the stone fruit in your grocery haul this week and now have rock hard, definitely not ripe at all peaches, nectarines, and apricots on your counter?
::Raises both hands, both feet, and her first born child::
Oops.
This is why we can't have nice things! (Or, you know, trust grocery delivery apps that describe June peaches as "Bursting With Sweetness!")
On the down side: I guess I won't be basking in the sun with peach juice from a just-bitten fruit dripping down my chin any time soon.
On the bright side: TIME TO GET BAKING!!!
Pies, crisps, galettes, cobblers, crumbles are the perfect ways to turn mediocre fruit into something magical. Sugar + oven time brings out their sweetest, fruitiest, truest flavors until they become the best versions of themselves.
Pie crust / streusel / biscuit / ice cream toppers don't hurt either. 
First things first, what is cobbler?
Ah, the age old question. I don't know about you guys, but I can NEVER keep all the different fruit desserts straight and have to look them up every single year lest I name a recipe the wrong thing and have legions of internet trolls coming after me.
The cliff's notes version is that cobbler is covered with biscuits, crisps are covered with an oat-based streusel, crumbles are covered with an oat-free streusel, and then there's a whole bunch of other lesser-known fruit desserts (pandowdies, buckles, slumps, sonkers, etc) that are all basically variations on these themes. But for the sake of this recipe, the important thing to remember is that cobbler is the one with the biscuits!
And, uh, why is cobbler so great anyway?
I mean, did you hear me? FRUIT AND BISCUITS. What is there not to love?
I'm not going to say it's better than pie (because I really really really love pie) but it's definitely easier with the same essence at its core. Plus it's quicker to prepare, quicker to bake, quicker to cool, meaning it's also quicker to get into your belly. Love that.
Another cobbler benefit is that it is so, so adaptable! You can make it with almost any fruit and change it up based on what's in season or what's sitting on your counter. You may need to alter the bake time a little depending on the fruit, but you should be able to mix and match fairly easily. Here I'm using peaches and blueberries, which are such a classic, delicious combo. However, you could swap out the bluebs for another berry or the peaches for another stone fruit and it will still be really good. Pinky promise.
Okay, I'm in – how do we make peach and blueberry cobbler?
Start with the biscuits! You'll need pretty basic baking ingredients to make these: butter, flour, sugar, eggs, milk, baking powder, and vanilla. The dry ingredients get blended together in a mixer bowl and then the butter is added to the mix and quickly broken down into pea-sized pieces by the motion of mixer paddle. If you don't have a stand mixer, you could totally do this by cutting the butter into the flour mixture by hand. I would advise against using a hand mixer because it will be a bit too aggressive for this task and you will probably end up with flour/butter everywhere. Next, add in the wet ingredients and mix until just combined. Finally, roll the dough out and cut the biscuits using a biscuit cutter. You will need twelve biscuits to make this cobbler. The biscuit dough can be made ahead of time, just cover and store in the fridge (or freeze them for longer storage!) until you're ready to bake the cobbler.
Next, you'll prep the fruit. For this recipe you will pre-cook a portion of the fruit mixture (half of the blueberries and all of the peaches) on the stovetop with sugar, cornstarch, and lemon zest. This ensures that the fruit will cook down enough and thicken perfectly in the oven without needing to overbake the biscuits.
Assemble in the baking pan. Once the fruit has thickened slightly, remove it from the heat and pour it into a 9×13-inch baking pan. Top with your prepared biscuits, brush them with an egg wash, and sprinkle them with demerara, turbinado, or sanding sugar to give them that nice shiny, golden top.
Bake! Place in a preheated 350F oven and bake for about one hour or until the biscuits are golden and the filling is bubbling all over.
Cool slightly, then eat! You'll want to let this cool for at least 30 minutes so that you won't burn the roof of your mouth while eating it. Serve with ice cream, whipped cream, or just eat it standing over the pan with a spoon. There are no rules here. Enjoy!
Summer Peach and Blueberry Cobbler
A super fruity summer peach and blueberry cobbler topped with homemade biscuits - perfect with dollops of vanilla ice cream or homemade whipped cream for dessert on a hot day.
Ingredients
For the cobbler biscuits
2½ cups (350 g) all purpose flour
6 tbsp (75 g) sugar
2.5 tsp baking powder
½ tsp kosher salt
10 tbsp (140 g) unsalted butter, cold, cut into 8 pieces
1 large egg, room temperature
1 large egg yolk, room temperature
½ cup (120 g) heavy cream
¼ cup (60 g) whole milk
1 tsp vanilla
For the cobbler filling
8 cups (1 kg) fresh blueberries
3 cups (680 g) thinly sliced, unpeeled fresh peaches
¾ cup (150 g) sugar
3 tbsp + 2 tsp (30 g) cornstarch
1 tbsp grated lemon zest
¼ tsp kosher salt
1 large egg yolk, for egg wash
2 tsp demerara sugar
Instructions
For the cobbler biscuits
In a stand mixer fitted with the paddle attachment, add the flour, sugar, baking powder, and salt. Mix until just combined. Add in the butter and mix for 30 seconds on low speed to break down the butter.
In a separate bowl, whisk together the egg, egg yolk, cream, milk, and vanilla. With the mixer running on low, slowly pour in the egg-milk mixture. Mix for 15-20 seconds or until the dough just starts to come together.
Remove the bowl from the stand mixer and turn it with your hands to mix, incorporating any loose flour at the bottom of the bowl.
Pour the dough onto a lightly floured work surface and pat into a 9-inch circle. Use a 3-inch circle cutter to cut the dough into 12 biscuits, re-rolling the scraps as necessary. Set aside while you prepare the cobbler filling.
For the filling
Heat oven to 350F.
In a medium saucepan, combine half the blueberries, all of the peaches, the sugar, cornstarch, lemon zest, and salt. Cook over medium heat, stirring, until the fruit starts to break down and the mixture thickens, about 3-5 minutes. Remove from the heat and stir in the remaining blueberries. Pour into a 9x13-inch baking dish. Top with the biscuits.
In a small bowl, whisk the egg yolk and then use a pastry brush to brush it onto the top of the biscuits. Sprinkle with the demerara sugar.
Bake for 1 hour, rotating the pan halfway through, until the filling is bubbling all over and the biscuits are golden.
Remove from the oven and let cool for at least 30 minutes before serving.