A chickpea, spinach, and potato samosa pie that turns your favorite Indian appetizer into dinner!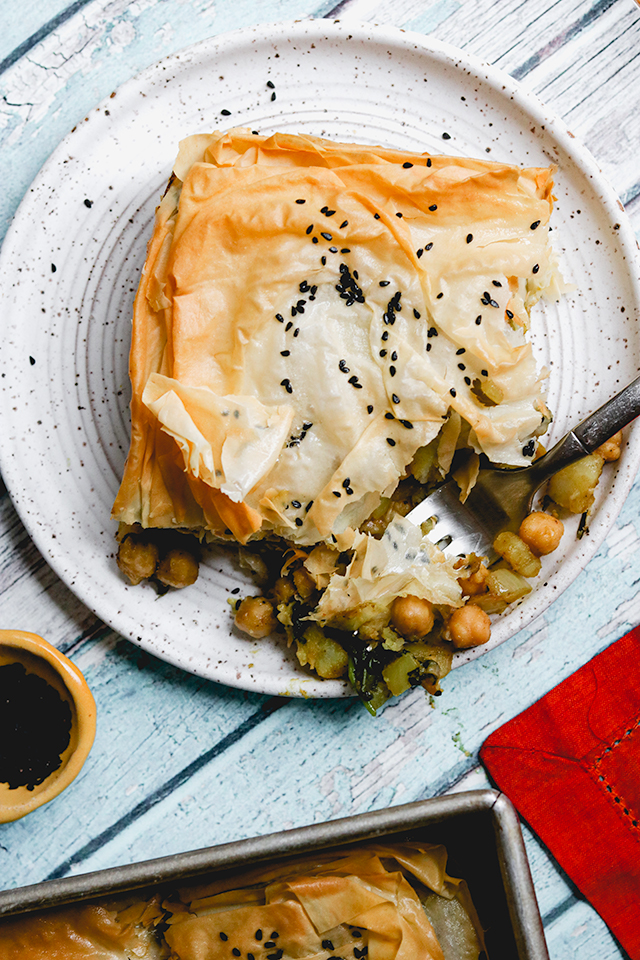 Something about this time of year makes me want to dive headfirst into Indian cooking. 
Maybe it's all the spices – warm cinnamon and cardamom, kashmiri chili pepper heat, smoky cumin, and bright coriander. They feel so comforting during these frigid days.
We order Indian food about once every two weeks and one thing I really struggle with is deciding what to order – since I basically want to eat everything. We always, always get too much food especially because I insist on getting appetizers along with multiple main dishes. 
Samosas are an especial favorite of mine with their spiced potato-chickpea filling and crispy deep fried pastry shell. Dipped in sticky-sweet date tamarind chutney, they are pretty much perfection.
As much as I would love to make them at home (on repeat, every day), I really hate deep frying so I was insanely excited to find this recipe for a phyllo-crusted samosa pie in Nik Sharma's amazing cookbook, The Flavor Equation.
Nik's recipe takes all of the fabulous flavors captured in a samosa and turns them into an easy to prepare dinner casserole! Finally, samosas every night are possible and I am into it.
The filling for this samosa pie couldn't be simpler – boiled potato cubes are cooked with onion, spices, spinach, and chickpeas on the stovetop to form and hearty and richly flavorful filling that is spicy with a little bit of tang from amchur (aka dried mango) powder. 
It is encased in a phyllo crust that actually looks better the messier it is – a major win when you're working with phyllo dough. The phyllo sheets are individually brushed with a butter-oil mixture that helps them to crisp up and adds a nice flavor to them. 
Once assembled, the samosa pie goes into the oven for about 30-40 minutes or until golden. Serve it with a drizzle of your favorite chutney on top or just enjoy it as is!
Chickpea, Spinach, and Potato Samosa Pie
A chickpea, spinach, and potato samosa pie that turns your favorite Indian appetizer into dinner!
Ingredients
For the filling
fine sea salt
2 medium russet potatoes (1 lb), peeled and diced
2 tbsp olive oil
1 medium white onion, diced
1 inch fresh ginger, cut into matchsticks
1 tsp garam masala
1 tsp ground black pepper
½ tsp ground turmeric
½ tsp kashmiri chili powder
5 oz fresh baby spinach, chopped
2 (15.5 oz) cans chickpeas, drained and rinsed
1 tsp amchur powder
2 tbsp chopped cilantro
1 jalapeno or serrano pepper, minced
For the phyllo crust
¼ cup (55 g) unsalted butter, melted
¼ cup (60 ml) olive oil
10 sheets phyllo, thawed
1 tsp nigella seeds
Instructions
Heat oven to 350F with a rack set in the lower third of the oven.
For the filling
Bring a large pot of salted water to a boil. Add the potatoes and cook until tender, about 4-5 minutes. Drain and set aside.
Heat the olive oil in a medium pan over medium-high heat. Add the onions to the pan and saute for 4-5 minutes, or until translucent. Lower the heat to medium-low and add the ginger, garam masala, black pepper, turmeric, and chili powder. Saute for 1 minute or until fragrant. Add in the potatoes and cook for 2 more minutes. Stir in the spinach and cook until the leaves have wilted, about 2-3 minutes. Fold in the chickpeas and amchur. Season to taste with salt and cook for another minute to allow the flavors to come together. Remove from the heat and stir in the cilantro and chili. Season to taste once more with salt.
For the crust
Stir together the butter and oil in a small bowl. Brush a 9x13-inch baking pan with the butter-olive oil mixture. Line with 5 sheets of phyllo, brushing each with some of the butter-oil mixture.
Top with the chickpea filling and gently spread in an even layer.
Top with the remaining 5 phyllo sheets, brushing each with the butter-olive oil mixture, pleating each phyllo sheet so that they are slightly ruffled.
Sprinkle the nigella seeds on top of the last piece of phyllo and tuck in any overhanging phyllo.
Bake until golden, about 30-45 minutes, rotating halfway through baking. Allow to cool in the pan for 5 minutes before serving.