Super simple migas breakfast tacos filled with spiced up scrambled eggs and the best taco toppings.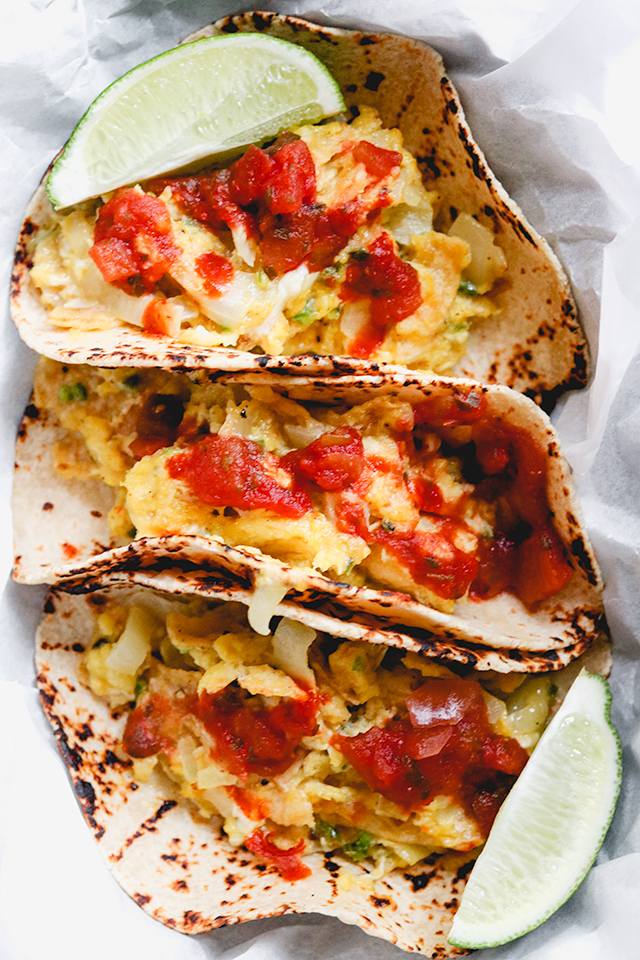 If you follow me on Instagram, then you probably know this already but: I HAD A BABY. AGAIN.
Little Nico was born on 4/9 at 11:45PM and life has been a whirlwind ever since. He is the absolute sweetest baby with a fairly calm temperament (especially compared to his sister who was a feisty little thing) but between all of the doctor's visits, his sister coming down with some sort of viral fever (non covid) sickness in his first week of life and then also being home on spring break with us for his second week of life…it's been a whirlwind. 
I've been trying to stay off my computer to give both my babies as much attention as possible but now Remy is back at school and Nico is napping in the swing (I got to eat breakfast AND pee this morning – YASSSS), so here we are! 
Someday I'll find a minute to put together his birth story for anyone interested but today is not that day.
Instead we are talking BREAKFAST TACOS aka my postpartum specialty aka what you'll find me eating for any and every meal (except, ironically, breakfast which is reserved for oatmeal topped with hearty dollops of both peanut butter and nutella, thank you very much). 
In the days, weeks, and months after having Remy I leaned heavily on breakfast tacos as a super simple, clean-out-the-fridge meal for those times when I literally could not muster up the energy to make anything else. With just a bare minimum of ingredients (eggs, tortillas, cheese) they can be whipped up in under five minutes and are simple enough that even my husband can make them in a pinch. Add in a handful of leafy greens and magical (nutritious) things are really happening.
Migas tacos take this simple concept and dress it up a bit with the addition of sauteed diced onion and jalapeno pepper, along with a handful of crumbled tortilla chips mixed into the eggs as they cook. The chips add a nice bit of crunch that your run-of-the-mill breakfast tacos are typically lacking and also help to use up those bottom-of-the-bag crumbles that seem to take up more and more chip real estate these days.
The best part, obviously, is the toppings, which can make or break the taco experience. I went with salsa and hot sauce though avocado slices, pickled jalapenos, sliced black olives, and a squeeze of lime juice are also worthy accoutrements here.
Migas Breakfast Tacos
Super simple migas breakfast tacos filled with spiced up scrambled eggs and the best taco toppings.
Ingredients
8 (6-inch) corn tortillas
2 tbsp unsalted butter
½ small yellow onion, diced
1 jalapeno pepper, minced
salt and black pepper, to taste
10 large eggs
1 cup crumbled tortilla chips
1 cup shredded Monterey Jack cheese
optional: salsa, avocado, hot sauce, lime wedges, pickled jalapenos to garnish
Instructions
Heat oven to 300F. Wrap the tortillas in foil and heat them in the oven for at least 5 minutes and up to 15 minutes. Set aside.
Meanwhile, heat a large nonstick skillet over medium-low heat. Add the butter to the pan and allow it to melt. Stir in the onion, jalapeno, and a pinch of salt and black pepper. Saute for 4-5 minutes, or until the vegetables start to soften. Spread them out evenly across the surface of the pan and turn the heat to low.
In a medium bowl, whisk together the eggs, tortilla chips, cheese, salt, and black pepper. Pour over the vegetables in the pan and stir gently until the eggs are cooked through, as you would for scrambled eggs. Remove from the heat.
Remove the tortillas from the oven and divide them among serving plates. Spoon the eggs evenly into the tortillas and serve with any desired toppings.