Fettuccine in a mascarpone cream sauce with asparagus, baby spinach, and brown buttered pine nuts – your new favorite spring dinner!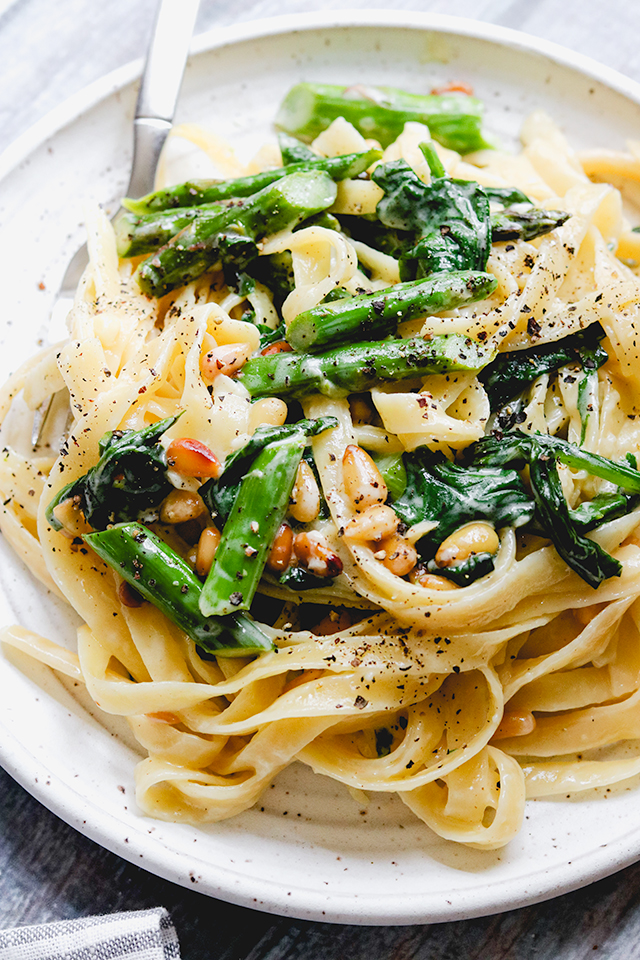 I've been sleeping on this pasta dream but we're about to blink and asparagus season will be over.
TL;DR: it's now or never.
Perhaps that sounds a bit fatalistic but the truth is that I take a hard line when it comes to asparagus consumption outside of its true season. It becomes woody, flavorless, tough and definitely not worth the excessive prices that supermarkets try to extort from you.
In-season asparagus, on the other hand, is tender with a hint of sweetness and I just can't get enough of it. 
April through June asparagus – take all my money; I'm a willing victim.
I am perfectly happy to eat asparagus with a plain salt and olive oil dressing after a ten minute stint in a 400 degree oven but it's also delicious a little more dressed up. Say, sauteed with garlic and shallots then mixed up with fettuccine in a mascarpone cream sauce and topped with brown buttered pine nuts, for instance?
Just a thought. 
A quick-weeknight-dinner-that-tastes-like-it-came-from-a-restaurant thought.
Anyone who has read this blog in the past year knows that I am basically obsessed with mascarpone cream sauce. The reason being that it is EASY and makes the most decadent alfredo-esque sauce with basically zero effort and no chance of anything going wrong. Melted down mascarpone cheese has an ideal sauce texture – it's velvety, slightly thick, and coats the tongue in the most desirable way. And it somehow does all this without being cloyingly heavy and making you feel ill after three bites. 
To make this dish, fettuccine gets cooked in well salted water according to package instructions. Meanwhile, asparagus is sauteed with garlic and shallots in a bit of olive oil until it is tender. Baby spinach is added to the pan for extra greens and cooked just until wilted. At this point, the mascarpone is added to the mix along with a touch of heavy cream and heated until slightly thickened. This is seasoned with salt and black pepper, and then tossed with the cooked pasta. I always reserve a bit of pasta cooking water as well just in case the sauce needs to be loosened a bit.
Finally, the dish is finished off with…wait for it…BROWN BUTTERED PINE NUTS. As much as I love asparagus and mascarpone sauce, these are probably my favorite part of the whole meal. To make them, butter is melted down in a skillet until just starting to brown and then the pine nuts are added to the pan and cooked until toasted. While they are cooking, the butter starts to brown and it is just heaven in a pan. They add so much richness and really great texture to the finished dish. 
I'm in love. I think you will be too.
Fettuccine with Asparagus and Brown Buttered Pine Nuts
Fettuccine in a mascarpone cream sauce with asparagus, baby spinach, and brown buttered pine nuts - your new favorite spring dinner!
Ingredients
1 lb fettuccine
2 tbsp olive oil
2 shallots, minced
4 garlic cloves, minced
1 lb asparagus, trimmed and cut into 1-inch lengths
5 oz baby spinach
8 oz mascarpone cheese
¼ cup heavy cream
salt and black pepper, to taste
¼ cup butter
½ cup pine nuts
Instructions
Bring a large pot of salted water to a boil. Cook the fettuccine according to package directions. Reserve ½ cup pasta cooking water, then drain and set aside.
Meanwhile, heat the olive oil in a large pan over medium heat. Add the shallot and garlic cloves to the pan. Saute for 4-5 minutes, or until tender and fragrant.
Stir in the asparagus and saute for another 4-5 minutes, or until tender. Add the baby spinach and cook until just wilted, then stir in the mascarpone cheese and heavy cream. Simmer for 2-3 minutes, or until the mascarpone has melted and the sauce has thickened.
Toss with the cooked fettuccine, adding pasta water as needed if the sauce is too thick.
In a small saucepan, melt the butter over medium heat. Add the pine nuts to the pan and cook until the butter has browned and the pine nuts are toasted. Remove from the heat immediately.
Divide the pasta evenly among serving plates and top with the brown butter and pine nuts. Serve warm.
Notes
An Eats Well With Others Original