Crispy paneer and roasted vegetable couscous salad is the perfect fridge salad for easy summer lunches!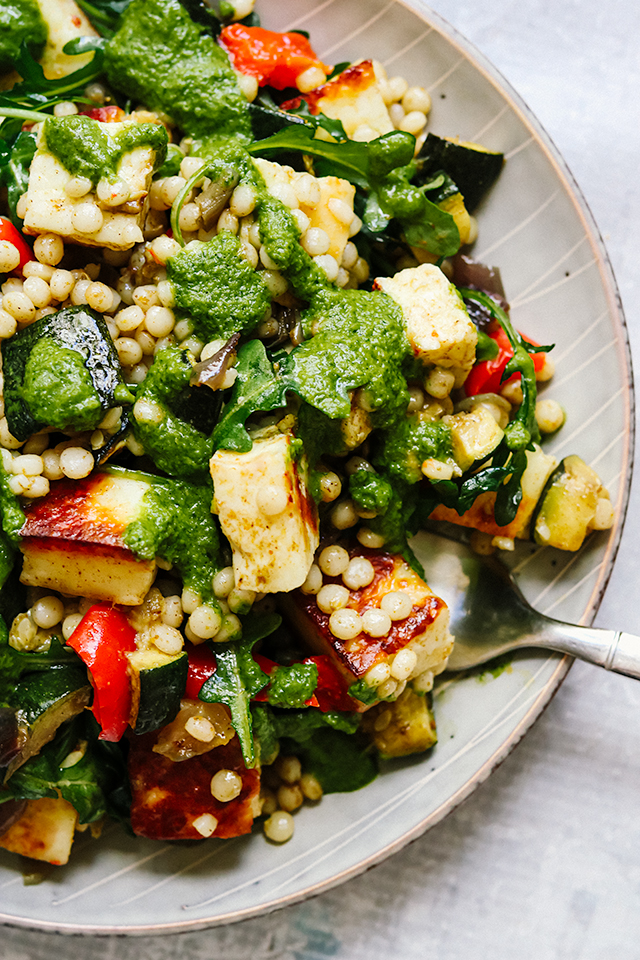 Guess who's back?! 
Not going to lie, for a hot second I did consider abandoning blogging altogether but there is nothing like a little bit of childcare to get your cooking mojo going again. After thirteen years, it will take more than a newborn to get rid of me! 
Our new nanny started at the end of last week, and having the stress of eat/play/sleep passed onto someone else has put some pep in my step, at least in the kitchen. Remy's last day of school is today, and I don't go back to work/camp doesn't start for her until after the 4th of July, so I'm hoping to use this week to spend some quality time with just her. Especially since I'm breastfeeding we haven't gotten a lot of one-on-one time together since the baby was born, so we'll be doing things we can't normally do when the baby is around (and attached to my boob). This may mean I'll be pumping all over the city, so we'll see how that goes!
One thing I still haven't gotten fully embraced since having a baby (that I really need to) is cooking in bulk. Remy was a cranky little thing for the first year of her life so the only way I could keep us fed was to make big batches of things that we could then eat throughout the week. Nico is completely the opposite – the kid rarely cries and is generally content to watch me cook for up to thirty minutes at a time, so long as I talk to and smile at him every few minutes. 
This means I've been totally lax about meal prep but now that we'll be back to "real life" in a week and I'll want to do nothing but sit on the couch and snuggle him after coming home from work, I have to get myself together. I'll be so much happier if I can just pull something out of the fridge and not have to cook every dang day.
Enter this paneer and roasted vegetable couscous salad AKA my dream salad. Don't be mad, but I actually made this a few weeks before giving birth and have totally been holding out on sharing it with you. THE TIME IS NOW.
So, what is so magical about this salad? Uh, everything.
First, it starts out with a tray full of paneer and seasonal vegetables that have been tossed with a shawarma-esque spice blend. These get popped into the oven and roasted until sweet and caramelized to bring out all of their best qualities. 
Once cooked, these are paired with Israeli couscous, fresh baby arugula, and drizzled with a super fresh cilantro chutney dressing that adds the perfect spicy herbal notes to tie the whole thing together. 
The recipe (or individual components of the recipe) can totally be made ahead of time if necessary and it honestly only gets tastier the longer it sits. I remember that when I initially made it I roasted the vegetables and paneer in the morning, cooked the couscous and made the dressing in the afternoon, and then tossed everything together right before eating. What a dream.
Paneer and Roasted Vegetable Couscous Salad
Crispy paneer and roasted vegetable couscous salad is the perfect fridge salad for easy summer lunches!
Ingredients
1 lb paneer cheese, cut into 1-inch cubes
1 red bell pepper, cut into 1-inch pieces
2 zucchini, cut into 1-inch pieces
1 red onion, diced
2 tbsp olive oil
1¼ tsp cumin
1 tsp coriander
¾ tsp curry powder
½ tsp cinnamon
½ tsp paprika
salt and black pepper, to taste
1 cup Israeli or pearl couscous
5 oz arugula
juice of 1 lime
For the cilantro chutney
2½ cups cilantro
2 tbsp lemon juice
½ tsp salt, plus more to taste
4 tbsp canola oil
4 tbsp water
2 jalapeno peppers
Instructions
Heat oven to 450F.
In a large bowl, toss together the paneer, red bell pepper, zucchini, red onion, olive oil, cumin, coriander, curry powder, cinnamon, and paprika. Season to taste with salt and black pepper.
Spread on a parchment-lined baking sheet in an even layer. Roast for 25-30 minutes, or until the vegetables are caramelized and tender.
Meanwhile, prepare the couscous according to package directions. Set aside.
Allow vegetables and couscous to cool slightly, then toss together in a large bowl with the arugula and lime juice. Season to taste with salt and black pepper.
Divide among serving bowls and top with the cilantro chutney (recipe below) before serving.
For the cilantro chutney
Combine all of the ingredients in a blender. Blitz until completely smooth. Season to taste with salt and black pepper. Refrigerate and until ready to use.
Notes
An Eats Well With Others Original