This zucchini filled spanakopita is a traditional Greek pie otherwise known as kolokithopita. Made with a flaky filo crust, it is filled with grated zucchini, feta cheese, and fresh herbs.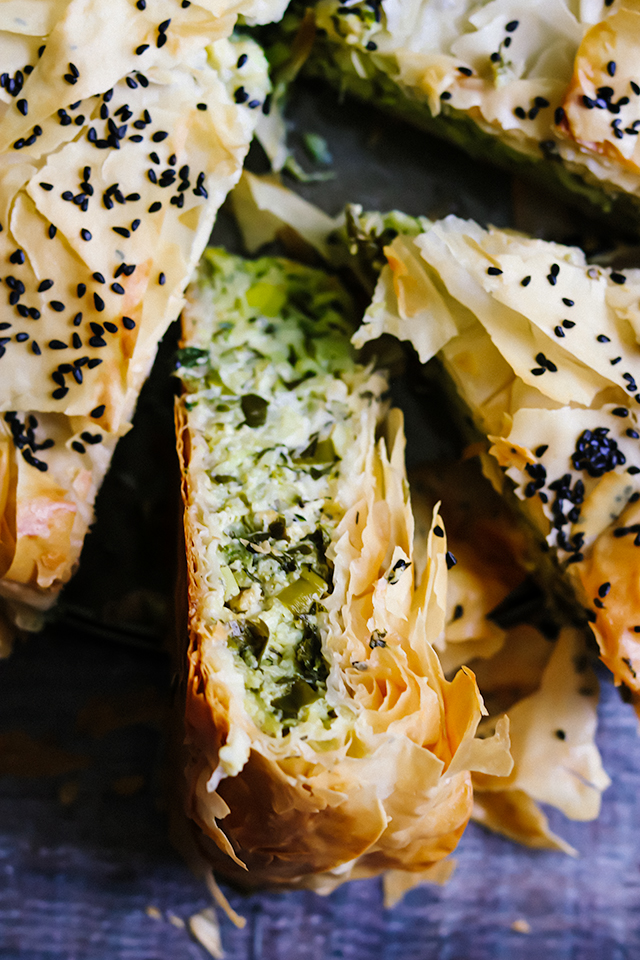 Are you fed up with zucchini yet this season?
Ready to throw any remaining gourds at the wall just so you don't have to figure out what to cook with them? 
Have I got a squash solution for you!
ZUCCHINI SPANAKOPITA.
Equally as good at using up squash excess as it is at annoying your significant other who claims to not like dill, feta, or anything with "too much" lemon.
(He claims he's Greek but, if you ask me, the evidence suggests otherwise.)
This recipe takes the flavors of spanakopita and plops them into a savory pie made with grated zucchini in place of spinach. Prior to baking, the zucchini is salted and allowed to "sweat out" all of its excess liquid in a colander. Any remaining liquid is squeezed out to avoid ending up with a soggy pie mess.
After that, the filling comes together in mere minutes with all of the remaining components (fresh herbs, scallions, eggs, cheese, lemon zest) being mixed together in a large bowl. 
The outer shell of the pie is made with filo dough. Now, before you run screaming for the hills, HEAR ME OUT. There is no reason to panic.
I, too, am often intimidated by anything that uses filo dough, but this recipe is so "rustic" that any imperfections or tears are easily forgiven. Recipes like this are actually what made me love working with filo dough, because the more "rumpled" they look, the better.
After assembly in a springform pan, the pie goes into the oven for a nice long bake. About three quarters of the way through, the sides of the pan are removed so that the edges of the pie can cook to a crisp, golden perfection.
Allow to cool and eat it slightly warm or at room temperature. This is excellent for a light lunch or cut into smaller pieces for appetizer portions.
Even the supposed Greek skeptics will approve!
Zucchini Spanakopita (Kolokithopita)
This zucchini filled spanakopita is a traditional Greek pie otherwise known as kolokithopita. Made with a flaky filo crust, it is filled with grated zucchini, feta cheese, and fresh herbs.
Ingredients
2 lb zucchini, trimmed and grated
salt and black pepper
1 oz dill, minced
1 oz parsley, minced
6 scallions, thinly sliced
2 large eggs
5 oz feta, crumbled
3 oz aged cheddar, grated
½ tsp red pepper flakes
zest of 1 lemon
3 tbsp olive oil
7 sheets filo
½ tsp nigella seeds
Instructions
In a large bowl, mix the grated zucchini with 2 tsp of salt. Place in a colander in the sink and allow to drain for 30 minutes.
Meanwhile, heat the oven to 350F.
When 30 minutes has passed, wrap the grated zucchini in a clean kitchen towel or cheesecloth and squeeze to release as much liquid as possible. Do this in batches if necessary.
Place the dried zucchini in a large bowl and toss with the dill, parsley, scallions, eggs, feta, cheddar, red pepper flakes, and lemon zest until well combined. Season with ½ tsp salt and black pepper. Stir again to combine.
Grease a 9-inch springform pan. Lay a sheet of filo over the center of the pan, allowing the edges to hang over the sides. Brush with olive oil.
Lay a second sheet of filo over the first, rotating the pan slightly so that it is at an angle from the first. Brush again with olive oil.
Repeat this three more times so that there are 5 filo sheets lining the bottom and sides of the pan.
Pour the zucchini filling into the center of the pie and spread it into an even layer.
Brush one of the remaining pieces of filo with olive oil and fold it in half horizontally. Place it on top of the filling, tucking any excess around the sides of the filling. Repeat with the last sheet of filo. Fold in the overhanging pieces of filo. Brush with any remaining oil and sprinkle with the nigella seeds.
Place the springform pan on a baking sheet and bake for 50 minutes. Remove from the oven and carefully remove the outer ring of the springform pan. Place it back in the oven and bake for another 15 minutes.
Allow to cool for 20 minutes before serving.