Fusion tacos are totally trendy right now and you'll understand why when you taste these tofu, broccoli, and kale teriyaki tacos made with homemade teriyaki sauce!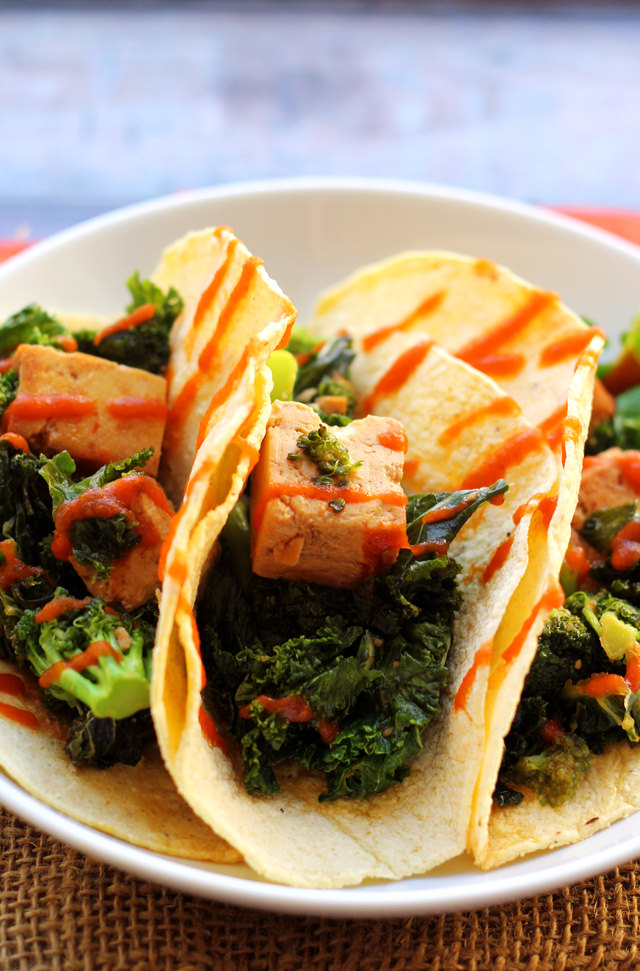 It feels like it's been too long since we've taco'ed.
I mean, according to my calculations, 99 days, 2 hours, and 3 minutes.
Give or take.
So, basically A LIFETIME.
And a lifetime without tacos is not a lifetime well-lived.
Just saying.
Fusion tacos are totally having a moment, so why not jump on the bandwagon. If we're going to be taco-ing anyway, and all.
The teriyaki flavor in these tacos comes not only from the homemade sauce, which is so easy to make that you will never buy it premade again, but also from Nasoya's new Teriyaki TofuBaked, which is pre-marinated, pre-pressed, pre-drained, and ready-to-eat straight from the container. Anyone who's ever decried tofu as being flavorless or too hard to prepare will eat their words upon biting into one of these delicious cubes.
For these tacos in particular, all you need to do is throw them together in a pan along with some crisp-tender broccoli, wilted kale, and a dash of some homemade teriyaki sauce to bring the whole stir fry together, and boom.
Trendy taco dinner in your mouth. With a drizzle of sriracha on top. (<–non-negotiable)
To get the recipe, head on over to Nasoya's website!