Every night should be taco night, especially if these crispy black bean tacos with mango pico de gallo are on the menu!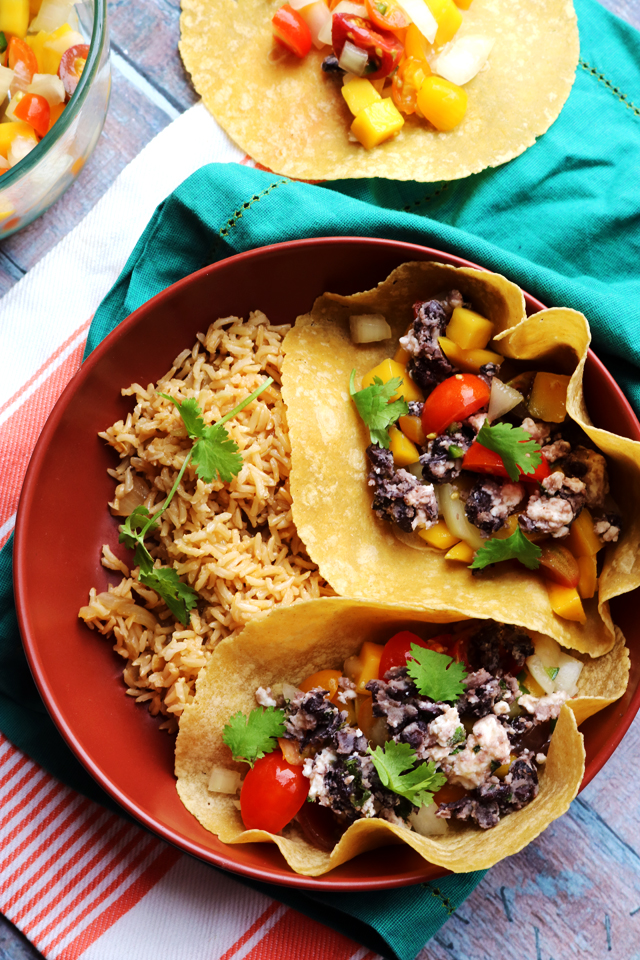 Can I please tell you about my latest "mom" win?
They are so few and far between, I really need to brag/share the little knowledge I have with the world.
Please? PRETTY PLEASE? CHERRY (TOMATO) ON TOP!?!
Okay, here goes.
Remy. Is. Not. Anemic.
Like, her hemoglobin is TOTALLY NORMAL! For an exclusively breastfed vegetarian baby who has never received an iron supplement in her life….that's all sorts of amazing.
She had her nine month well child visit on Thursday and her pediatrician was really pushing the iron vitamin liquid of eternal grossness (seriously, this stuff tastes like poop). I was like, well it's impossible to give her that because she has functional taste buds, but I DO cook all of her food in a cast iron skillet and make sure she eats beans every day. He looked at me all skeptical-like and was like, weeellllllll let's just see what her hemoglobin (<–iron measurement) looks like today, I'm sure fully expecting it to be mega low.
I have never felt so vindicated in my life.
Look, I may not be able to get my child to sleep through the night, but at least she has functional red blood cells!
#winning
These crispy black bean tacos were really the perfect way to celebrate my hemoglobin success. Not only are they just so darn tasty (and baby-approved!) but they are chock full of iron. And fruit. And veggies (kind of, if you – like me – consider tomatoes a veggie).
The black beans are fried in just a touch of oil to get all crispy on the outside/creamy on the inside and are then tossed with queso fresco crumbles while still warm so they melt and stick together. They are then stuffed into soft corn tortilla shells along with mango pico de gallo, which is tangy and sweet with just a hint of spice (feel free to go down on the jalapeno to meet your taste bud needs).
I served them alongside this rice, but they would also be perfectly satisfying on their own!
Crispy Black Bean Tacos with Mango Pico de Gallo
Every night should be taco night, especially if these crispy black bean tacos with mango pico de gallo are on the menu!
Ingredients
1 mango, peeled, pitted, and diced
1 jalapeno pepper, seeded and diced
½ sweet onion, diced
1 pint cherry tomatoes, quartered
juice of 1 lime
¼ tsp salt
¼ tsp freshly ground black pepper
1 tbsp canola oil
1½ cups canned black beans, rinsed and drained
4 oz queso fresco, crumbled
2 tbsp minced cilantro
12 (4-inch) corn tortillas
Instructions
In a medium bowl, toss together the mango, jalapeno, onion, and tomatoes. Add in lime juice, salt, and black pepper. Mix again to combine. Refrigerate until ready to serve.
Dry the black beans as much as possible with a paper towel. Heat the canola oil in a large nonstick skillet over medium-high heat. Add the beans to the pan and cook them, mashing with a spatula as you do, until crispy, turning the mixture over every minute or so, for about 5 minutes. Remove from the pan and place in a bowl. Toss with the queso fresco and cilantro.
Heat the tortillas according to package directions. Stuff with the black bean-queso mixture and the pico de gallo and serve immediately.
Notes
Adapted slightly from
Seriously Delish: 150 Recipes for People Who Totally Love Food