A less traditional holiday pie, this rosemary honey shoofly pie has a gooey center and is topped with a buttery rosemary crumble topping that crisps up in the oven. The two together make for a perfect pie bite.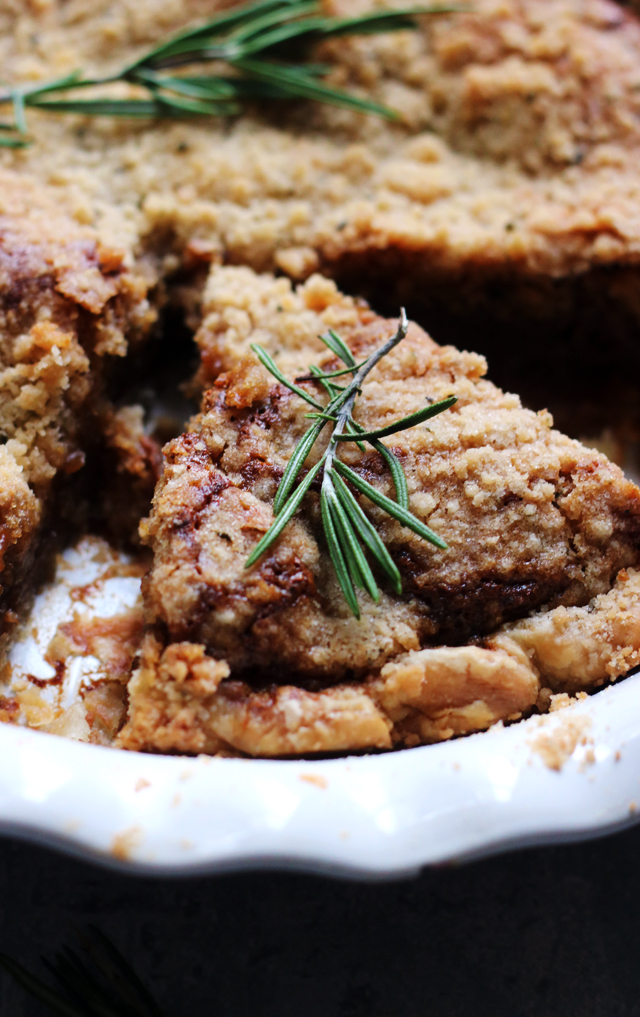 YES, I ATE THIS WHOLE PIE BY MYSELF.
No, I'm not ready to talk about it.
Actually I might have shared a tiny sliver with Remy and an even more miniscule slice with my husband.
Remy loved it a little too much and my husband barely at all. So then I pretty much ate it for breakfast for a week straight while I was working nights. Remy was at daycare so she *couldn't* partake in any of the pie-eating festivities and HEY, it has COFFEE in it and no one needs a toddler eating anything caffeinated at 6PM.
As for Mike…well it was a little bit too off the beaten path for him. He's more of a "pumpkin pie or bust" kind of guy, and this is a far cry from pumpkin pie.
It's actually WAY BETTER, if you ask me.
First, to really understand this pie we have to talk about where it comes from. Shoofly pie is a molasses-based pie or cake that is a traditional Pennsylvania Dutch treat. Basically a super gooey molasses filling (think pecan pie filling without the pecans) gets a crumb topping and is baked in a pie crust. There's a "dry-crust" version where the pie gets baked until the insides are fully set and are the consistency of cake and a "wet-crust" version where the insides remain a gooey counterpart to the crisp crumble and crust.
This pie is more of the latter and it is texture HEAVEN.
Also in this version, which is straight from The Four & Twenty Blackbirds Pie Book (my pie bible), the molasses is swapped out for honey and the crumble topping is infused with fresh rosemary. Plus there's a half cup of coffee, a light warm spice blend of cinnamon and cardamom, and a drop of lemon juice. I would have NEVER thought all of these flavors could go together but they do. AND IT IS INSANE.
It's like, you can't pinpoint what you love about it so you just keep eating it.
This is PERFECT if you're looking for something a little extra-ordinary to bring to your Thanksgiving dinner, but also if you just want to find an excuse to eat pie for breakfast for a week. And there ain't nothing wrong with that.
Rosemary Honey Shoofly Pie
A less traditional holiday pie, this rosemary honey shoofly pie has a gooey center and is topped with a buttery rosemary crumble topping that crisps up in the oven. The two together make for a perfect pie bite.
Ingredients
For the crust
1¼ cups all purpose flour
½ tsp kosher salt
1½ tsp sugar
¼ lb (1 sticks) cold unsalted butter, cut into ½-inch pieces
½ cup cold water
2 tbsp cider vinegar
½ cup ice
For the pie filling
¾ cup sugar
1 tbsp rosemary leaves
1 cup all purpose flour
¼ tsp kosher salt
½ tsp ground cinnamon
⅛ tsp ground cardamom
6 tbsp butter, cut into ½-inch pieces
¾ cup honey
2 large eggs
½ cup whole milk
½ tsp kosher salt
2 tsp cider vinegar
½ tsp baking soda
½ cup brewed coffee, warm
Instructions
For the crust
Whisk together the flour, salt, and sugar in a large bowl. Add the butter to the flour mixture and toss to coat. Using a pastry blender, cut the butter into the flour until only pea-sized pieces of butter (or smaller) remain.
In a separate small bowl, combine the water, cider vinegar, and ice. Sprinkle 2 tbsp of the ice water mixture over the flour-butter mixture. Toss with your hands until fully incorporated. Add more of the ice water, 1-2 tbsp at a time, using your hands to mix. Add just enough of the water mixture so that the dough comes together into a ball. Wrap in plastic wrap and refrigerate for at least 1 hour.
Roll out the pie disc into an 11-inch round. Use this to line the pie plate and crimp the edges as desired. Freeze for at least 30 minutes.
Heat oven to 425F and place a baking sheet in the oven to preheat..
Remove the frozen pie from the freezer and use a fork to prick it all over the bottom and sides, about 15-20 times. Line the pie tightly with aluminum foil, making sure the edges are completely covered. Fill with pie weights or a pound of beans and place on the preheated baking sheet. Bake for 20 minutes. Remove from the oven, lift out the foil and pie weights, and allow to cool for a minute. Return to the oven and bake for an additional 3 more minutes. Remove and allow to cool completely while you prepare the filling.
For the pie
Heat oven to 350F.
Combine the sugar and rosemary leaves in the bowl of a food processor and process until the rosemary is broken down into fine pieces. Add in the flour, salt, cinnamon, cardamom, and butter. Process until it is the texture of wet sand. Remove from the food processor to a small bowl and refrigerate until ready to use.
In a large bowl, whisk together the honey and eggs until well combined. Mix in the milk, salt, and cider vinegar. Stir the baking powder into the coffee and slowly pour it into the honey mixture, whisking constantly.
Place the prebaked pie shell onto a foil-lined baking sheet. Remove the crumb mixture from the fridge and spread one cup of it over the bottom of the pie shell in an even layer. Gently pour the honey mixture into the crust and then sprinkle with the remaining crumb mixture.
Bake for 45-55 minutes, rotating about 30-35 minutes into baking, once the edges are beginning to set. You'll know the pie is done when the edges are completely set and puffed slightly, though the center may still be a bit loose. Allow to cool completely on a wire rack for 2-3 hours. Serve slightly warm or at room temperature.