A quick saute of sweet and sour corn with cherry tomatoes and fried tofu – perfect for weeknight meals!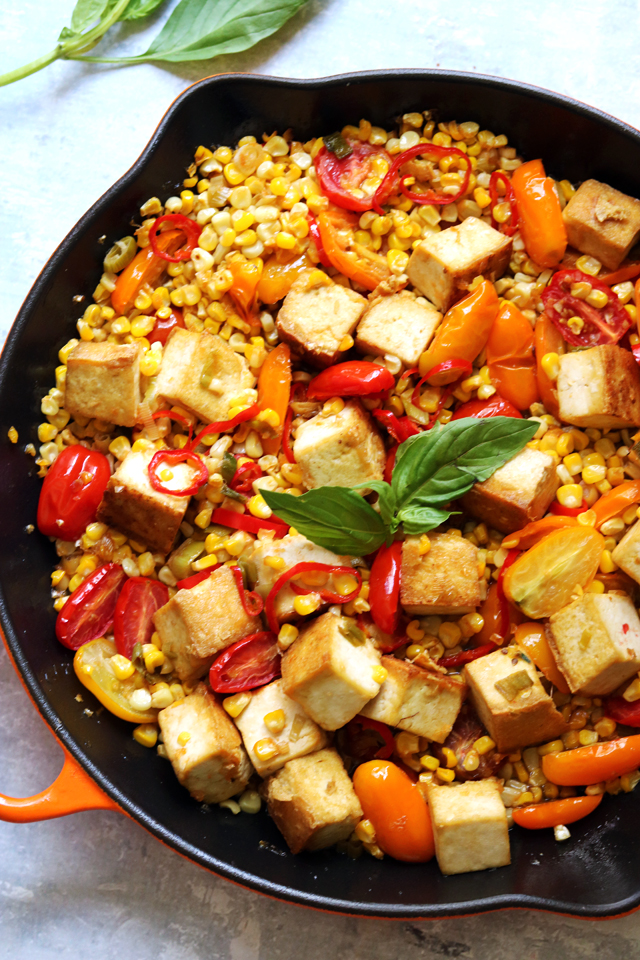 We experienced a true toddler sleep miracle this weekend when Remy took it upon herself to sleep in until NINE AM.
I mean, yeah, it was in our bed probably with one or both of her feet in one or both of our faces.
But still. NINE AM.
I can't remember the last time I felt so rested.
It's really a good thing too because I had felt so exhausted and unmotivated the rest of the weekend and hadn't cooked a thing! It's funny because in my pre-Remy life I basically never slept in and thrived on only five hours of sleep. I don't know how I did it, but I was NEVER tired. Now I could sleep for twelve hours and it would still feel like not enough!
In my newly energized state yesterday, I basically hunkered down and did ALL THE COOKING. It was pretty gloomy and rainy outside so it's not like I sacrificed a beautiful day or anything.
This sweet and sour corn and tofu stir fry is one that I first made earlier in the summer but will continue to be on repeat until corn stops tasting like candy. There's so much to love about it:
the best crispy shallow-fried tofu
sweet and sour sauce that you'll want to slurp off your plate
super summer sweet corn
the perfect feel-good burn from spicy jalapeno peppers
AND, maybe most importantly, it can be made in less than ten minutes. So perfect for those less-than energized days (or just a busy weeknight).
Sweet and Sour Corn with Cherry Tomatoes and Tofu
A quick saute of sweet and sour corn with cherry tomatoes and fried tofu - perfect for weeknight meals!
Ingredients
4 large garlic cloves, grated
2 red chili peppers, thinly sliced
1½ tbsp soy sauce
1½ tsp grated ginger
1½ tbsp fresh lime juice
1½ tsp toasted sesame oil
1½ tsp fish sauce
1 tsp honey
2 tbsp peanut oil
1 lb extra firm tofu, patted dry and cut into 1-inch cubes
sea salt, to taste
2 cups fresh corn kernels (from 3 ears corn)
3 scallions, thinly sliced
1 cup cherry tomatoes, halved
Instructions
In a small bowl, whisk together the garlic, chiles, soy sauce, ginger, lime juice, sesame oil, fish sauce, and honey. Set aside.
Heat a large nonstick skillet or wok over high heat for 5 minutes. Add the peanut oil and allow it to heat for 30 seconds, then add the tofu. Let the tofu cook for 2-3 minutes to allow it to sear. Toss and fry for another 2-3 minutes, or until the tofu is browned on most sides. Transfer the tofu to a plate and season with sea salt, to taste.
Add the corn, scallions, and tomatoes to the skillet. Stir fry until they start to soften, 1-2 minutes. Stir in the soy sauce mixture and cook for another minute to allow the flavors to meld. Add the tofu back to the skillet and spoon the sauce and corn over it.
Serve over a bed of brown rice or your choice of whole grains.