A tender and moist apple and olive oil cake topped with maple cream cheese frosting.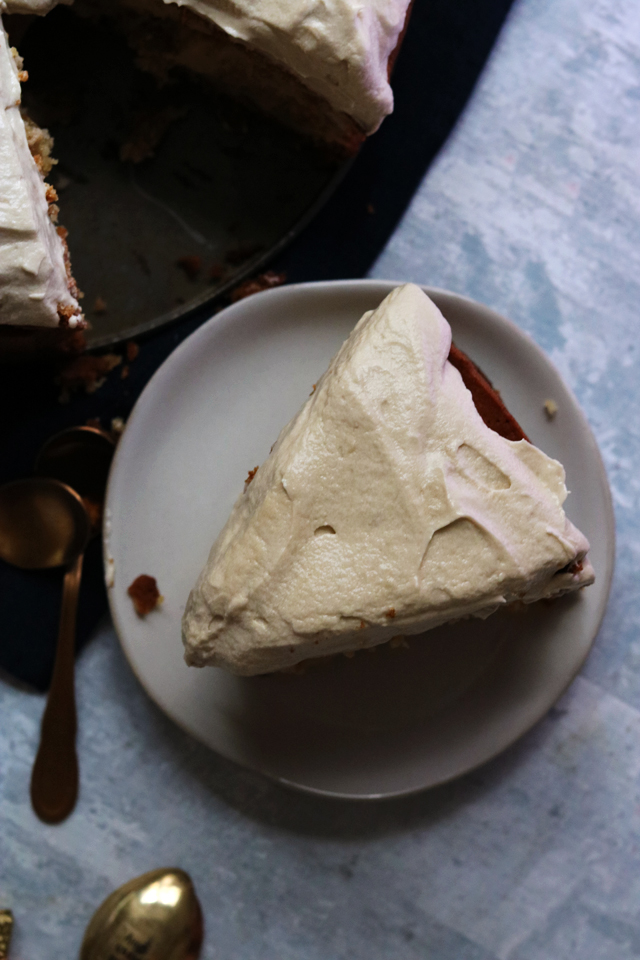 I was in a bit of a funk yesterday, just feeling super tired, lethargic, apathetic towards all things and I'm realizing now that these feelings almost exactly coincided with running out of this cake.
Coincidence? I think not.
This apple cake has a hold on my heart like NO OTHER.
I was so good this summer about not eating pie or ice cream or whatever sweet thang was hanging around (at least not every night)  only to have this apple cake come along and, whoosh! All willpower went out the window.
Every night after working out, I was basically running to the fridge to cut myself a slice.
I'm kind of enamored with it, to put it bluntly.
So what is it about this cake?
Maybe it's the fact that it's the first fall-ish thing I've baked this season. Or that it's jam packed with apple chunks and golden raisins and olive oil so much so that you can convince yourself it's basically health food.
Probably it's the thick layer of maple cream cheese frosting on top. (I DARE you not to lick the bowl clean. Or just lick it off the top of the cake, like certain three year olds were wont to do.)
Whatever the reason, I implore you to dive into fall baking with me this weekend and make it! And then invite me over so that I can get my mojo back. K thanks bye.
Apple and Olive Oil Cake with Maple Cream Cheese Frosting
A tender and moist apple and olive oil cake topped with maple cream cheese frosting.
Ingredients
⅔ cup golden raisins
1 cup water
2⅔ cups all purpose flour
½ tsp ground cinnamon
1½ tsp baking soda
1½ tsp baking powder
½ tsp salt
3 large honeycrisp apples
1 cup sugar
⅔ cup olive oil
2 large eggs, lightly beaten
2 large egg whites
scraped seeds of ½ vanilla pod
finely grated zest of 1 lemon
For the maple frosting
7 tbsp unsalted butter, room temperature
½ cup + 1 tbsp dark brown sugar
⅓ cup maple syrup
8 oz cream cheese, room temperature
Instructions
Heat oven to 350F. Grease a 9-inch springform pan with baking spray. Set aside.
Combine the raisins with ⅔ cup of the water in a medium saucepan. Bring to a simmer and cook over low heat until the water has been absorbed by the raisins. Set aside.
In a large bowl, whisk together the flour, cinnamon, baking soda, baking powder, and salt. Set aside.
Peel and core the apples. Cut into 1-inch dice. Set aside.
Combine the sugar, olive oil, whole eggs, vanilla seeds, and lemon zest in the bowl of a stand mixer fitted with the paddle attachment. Beat for 6-7 minutes on medium speed or until thickened and doubled in size. Remove the bowl from the mixer and fold in the apples, sultanas, and remaining ⅓ cup water by hand with a large spatula. Add the flour mixture to the batter and fold to combine.
In a separate clean bowl, whisk the egg whites to soft peaks. Gently fold into the cake batter and then scrape the batter into the prepared baking pan. Smooth into an even layer. Bake for 55 minutes, or until a toothpick inserted in the center comes out clean. Allow to cool in the pan.
For the maple frosting
Combine the butter, brown sugar, and maple syrup in the bowl of a stand mixer fitted with the paddle attachment. Beat until light and fluffy, then add in the cream cheese a quarter at a time. Beat for 2 minutes, until smooth and thick.
Once the cake is completely cool, remove it from the baking pan. Spread the frosting over the top. Slice and serve.