Smoky blistered asparagus topped with a spicy, nutty, and completely addictive gunpowder masala.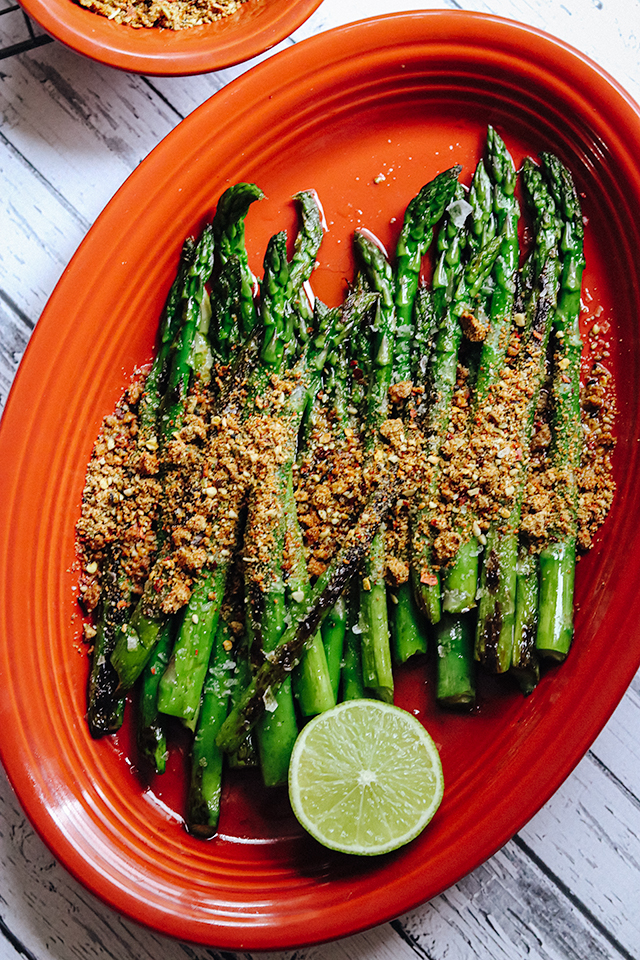 Are you ready to be wow-ed?
Like, jaw-dropping, mouth on the floor but also LICKING YOUR PLATE CLEAN wow-ed?
That's what this recipe is about to do to your asparagus game. Seriously, it should be illegal for something to taste this good.
You start with blistered asparagus, which is pretty excellent in it's own right.
It's cooked simply in a hot cast-iron skillet or grill pan with a little bit of olive oil. Just pop it in there and let it get all smoky and charred.
For something that only takes about five minutes to do, it has a pretty high flavor-to-effort payoff. SO GOOD.
Honestly, you could stop there and be pretty happy with the results but then you'd be missing out on my new favorite thing in life, which is GUNPOWDER MASALA.
AKA the secret to making everything in life taste better. My husband asked, while literally licking the remains off of his dinner plate, what was in it, to which I replied "crack". I was not wrong. 
If you've never heard of this magical spice blend before, you are not alone. Prior to making this dish, I think I had vaguely heard the phrase somewhere but had certainly never tasted it, and now I can't stop putting it in everything. Brace yourselves.
Traditionally made with a mix of toasted lentils, some spices, and a whole bunch of dried chilies, it's one of those recipes that varies greatly in content from family to family, region to region. This version, from Nik Sharma's The Flavor Equation, bucks tradition in that it dispenses with the legumes, replacing them instead with a mix of toasted nuts and seeds. It's hard to describe the resulting flavor profile, other than to say it's nutty and toasty with a heck of a lot of spice.
The recipe below makes an extra-large batch (way more than you'll need for the asparagus), which is just fine because you'll find yourself putting it on everything. It is a surefire way to elevate just about any vegetable dish, as well as salads, stews, dals (probably meat but I am decidedly not the expert on this). Store it in the refrigerator in an airtight container to keep it tasting fresh for as long as possible. 
Blistered Asparagus with Gunpowder Masala
Smoky blistered asparagus topped with a spicy, nutty, and completely addictive gunpowder masala.
Ingredients
For the gunpowder "nut" masala
3.5 oz (100 g) raw cashews
½ cup (35 g) raw pepitas
1 oz (30 g) dried red chilies de arbol
20-25 fresh curry leaves
2 tbsp white or black sesame seeds
½ tsp asafetida
For the asparagus
4 tbsp olive oil
1 lb asparagus, woody ends trimmed
1 tbsp fresh lime juice
sea salt flakes
1-2 tbsp gunpowder masala
Instructions
For the gunpowder masala
Heat a small skillet over medium heat. Once it is hot, add the cashews, pepitas, dried chilies, curry leaves, and sesame seeds. Toast them, stirring occasionally, for 4-5 minutes or until the seeds are starting to brown and the curry leaves are starting to curl.
Transfer to a bowl and cool to room temperature. Once cool, grind in a food processor or blender along with the asafetida to a coarse powder.
Pour into an airtight container and store in the refrigerator.
For the asparagus
Heat a cast iron skillet or grill pan over medium-high heat. In a large bowl or on a sheet pan, toss the asparagus with 1 tbsp of the olive oil. Add the asparagus to the pan and cook for 5-6 minutes, turning occasionally, until blistered on at least 2 sides.
Transfer the cooked asparagus to a serving platter. Drizzle with the remaining olive oil and lime juice. Sprinkle with the salt flakes and gunpowder masala. Serve immediately.