Nutty and decadent brown butter hazelnut cake topped with fresh berries and whipped cream – perfect for Mother's day or any spring celebration!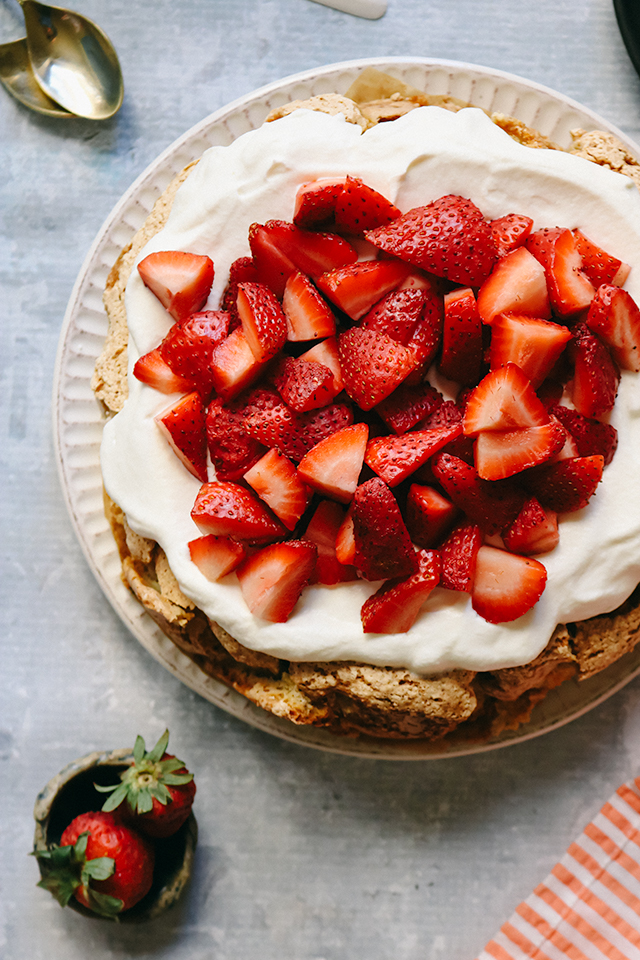 A little over a month ago, I did something truly devilish (but also a little bit amazing?, as many devilish things are) and, unless you've been following me on Instagram Stories where I share all my deepest darkest secrets, I've been keeping it from you all this time.
Why am I telling you this now, you may be wondering? Well, today is as good a time as any to lessen your opinion of me (or for you to pat me on the back for this stroke of genius I'm about to impart) but also it has everything to do with this cake, so I can't tell the story of one without also telling the other.
Are you ready? Brace yourselves.
Here goes:
This year, this horrible awful year when parents were, more than ever, deserving of accolades and awards just for surviving each and every day, I got myself a present (okay, presentS) for my husband's birthday. They were not one, not two, but FOUR cookbooks that I pretended were for him (because, obviously, he will get to ingest the benefits) but really were for me. 
Is this mean? Selfish? Rude?
Considering that I spent the following weekend making this cake from one of them, which my husband ate for dessert and then breakfast and then dessert again, I think not. 
If anything these were the ULTIMATE gifts! They are gifts that keep on giving (and giving and giving until however long it takes for me to cook/bake my way through them) and what could be better than that???
So here is my premier bake from the first book I dove into, which was the Zoë Bakes Cakes book written by Zoë Francois, who shares her amazing confections over on her blog and Instagram and now in this magnificent tome, which focuses primarily on the magic of CAKE. 
As Zoë shows us in her book. cake can come in all shapes, forms, sizes, and levels of difficulty, including (but definitely not limited to) quickbreads, bundts, layers, loaves, sheets, and rolls. They can be any number of flavors, fruit-studded, light, dense, fluffy, and everything in-between.
When deciding what first to bake from the book, I wanted something on the easier side. First, because I had just baked an insane layer cake for my husband's birthday the week before, but also because this was the same weekend I was making this slab pie, and I couldn't handle two complicated baking projects at once. 
I don't know why, but this brown butter hazelnut cake jumped out at me and I am oh so glad it did. 
This is a cake that I could (and will) make and eat forever and ever and never be sad about it. It has a rich, nutty flavor that comes both from brown butter and a strong presence of hazelnut flour, that is complimented by a barely sweet whipped cream topping and tart fresh berries. It has a crackly top and a fudgy moist (sorry) interior that reminds me of the inside of a macaron, in the best way. That being said, if you don't like hazelnuts or can't eat them for whatever reason, then I think that any nut flour would work well here, including almond flour or pistachio flour. 
This recipe is in the "light-as-air" chapter of the book and, yes, that means what you fear it means, which is that you will need to separate and whip your egg whites. I know, I know – this is my least favorite thing to do in the kitchen – but it is critical here and not quite as onerous as it sounds. 
Part of what I hate about whipping egg whites is that so often recipes make it so that you need to clean your mixer bowl in-between steps, but that is not the case here. Rather, you'll mix up all of the other ingredients by hand in a separate bowl so that your mixer bowl is free (and clean) for egg white whipping.
Zoë has you mix the whipped egg whites into the rest of the batter in four additions, which helps to protect it from deflating since you're not vigorously trying to mix it all in at once, and thus de-stresses the whole process. The end result is one of those cakes that is perfect in its simplicity and something that you'll find yourself craving all spring and summer long.
Brown Butter Hazelnut Cake with Fresh Berries and Whipped Cream
Nutty and decadent brown butter hazelnut cake topped with fresh berries and whipped cream - perfect for Mother's day or any spring celebration!
Ingredients
1.25 cups (250 g) sugar, divided
½ cup (60 g) all purpose flour
½ cup (60 g) hazelnut flour
6 tbsp (85 g) brown butter, melted
2 tbsp honey
1 tsp vanilla extract
pinch of kosher salt
4 large eggs, separated, at room temperature
berries, cherries, figs for topping
For the whipped cream
1 cup heavy cream
1 tbsp powdered sugar
Instructions
Heat oven to 375 F. Line an 8-inch cake pan with ungreased parchment paper so that it comes all the way up the sides of the pan. Set aside.
In a medium bowl, whisk together ¼ cup (50 g) of the sugar, both flours, the brown butter, honey, vanilla, salt, and egg yolks until well combined. Set aside.
In the bowl of a stand mixer fitted with the whisk attachment, add the egg whites. Beat on high speed until starting to become foamy, then turn the mixer speed to low and slowly pour in the remaining 1 cup (200 g) sugar. Once all the sugar has been added, increase the mixer speed to high and beat until medium- stiff peaks form, about 1-2 minutes.
Stir 1 cup of the meringue into the egg yolk-flour mixture to loosen it up. Carefully fold in a third of the remaining meringue, mixing just until there are no more streaks of white left. Add the remaining meringue in two additions, folding gently and mixing just until it is fully mixed and there are no streaks of white.
Pour the batter into the prepared baking pan. Smooth the top into an even layer with an offset spatula.
Place in the oven and bake for 20 minutes. Decrease the oven temperature to 350F and bake for another 20 minutes, or until a toothpick inserted in the center comes out clean. Allow to cool completely in the pan, then turn out onto a serving plate. Remove the parchment paper.
For the whipped cream
Combine the cream and powdered sugar in the bowl of a stand mixer fitted with the whisk attachment. Mix until thick - the whisk should be leaving a trail behind it as it turns. Remove the bowl from the mixer and whisk by hand for a few more seconds or until the cream reaches the desired consistency.
To serve
Top the cake with the whipped cream and fruit, as desired. Slice and serve.