A warm and spicy recipe for Indian roasted chickpea and sweet potato curry.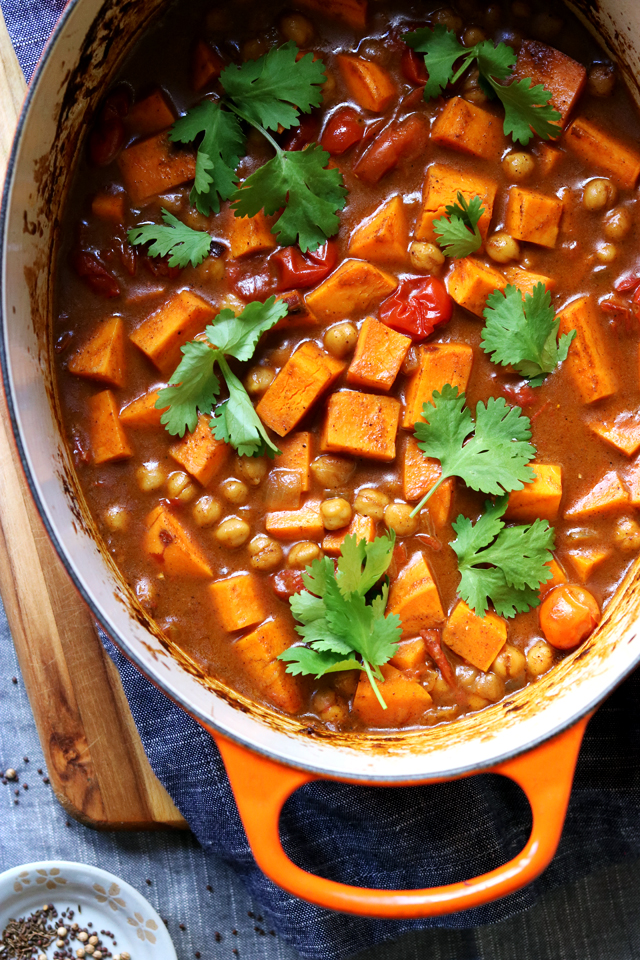 There has been so much sweater weather happening and I can't really say that I LOVE it, but I do love an excuse to crank up my oven and get my whole house smelling like curry. It's one of the coziest smells!!!
The beauty of this curry is that it is mostly made in one pot, meaning less time spent cleaning up and more time spent curled up on the couch under a blanket after dinner.
You do need to dirty a small saute pan and a spice grinder or small food processor to make the curry paste BUT that can totally be done a few days ahead of time when you have a little bit more time and stamina. The homemade curry paste is so rich in spice and flavor that I highly advocate against just using a premade blend. The rest of the curry is so simple that it's deliciousness really does hinge on a good curry paste to flavor it.
Otherwise, the curry-making process here is super simple and straightforward. You basically start the dish on the stovetop, cooking down the onions and garlic just to get a little extra flavor into them. Add the rest of the ingredients to the pot and then pop it in the oven.
Then you pretty much have thirty minutes to do some more couch lounging, Instagram perusing, whatever. It's a glorious thing.
Indian Roasted Chickpea and Sweet Potato Curry
A warm and spicy recipe for Indian roasted chickpea and sweet potato curry.
Ingredients
For the spice paste
1 tsp black mustard seeds
1 tsp black peppercorns
1 tbsp cumin seeds
1 tbsp coriander seeds
1 tsp garam masala
½ tsp ground turmeric
¼ tsp ground cinnamon
2 red chili peppers, halved and deseeded
3 garlic cloves, grated
1-inch piece of ginger, peeled and chopped
2 tbsp malt vinegar
1 tbsp peanut oil
For the chickpeas
2 tbsp peanut oil
1 large onion, diced
3 garlic cloves, finely grated
15 oz canned cherry tomatoes
1 tsp brown sugar
15 oz coconut milk
2 (15 oz) can chickpeas, drained and rinsed
1 lb sweet potatoes, peeled and cut into 1-inch cubes
cilantro, to garnish
Instructions
Heat oven to 400F.
To make the spice paste, cook the mustard seeds in a small pan over medium heat until they start to pop, then stir in the peppercorns, cumin seeds, coriander seeds, garam masala, turmeric, and cinnamon. Cook for two minutes, then remove from the heat.
Pour the spices into a spice grinder or mini food processor. Add the chili peppers, garlic, ginger, malt vinegar, and oil. Process until it turns into a fine paste. Set aside.
Heat the olive oil in a Dutch oven or oven-safe pot over medium heat. Saute the onion until it is translucent and just starting to brown, about 3-4 minutes. Stir in the garlic and spice paste. Cook for 2 minutes. Add in the tomatoes, sugar, and salt, to taste. Cook for 4 minutes or until the sauce has reduced slightly. Pour in the coconut milk and bring to a boil. Stir in the chickpeas and sweet potatoes, stirring to combine and make sure they are coated in the sauce.
Place the pot in the oven. Bake uncovered for 20 minutes. Stir and then cover the pot. Cook for an additional 10 minutes.
Season to taste with salt and black pepper. Divide among serving bowls and top with cilantro leaves to garnish with rice or naan on the side.