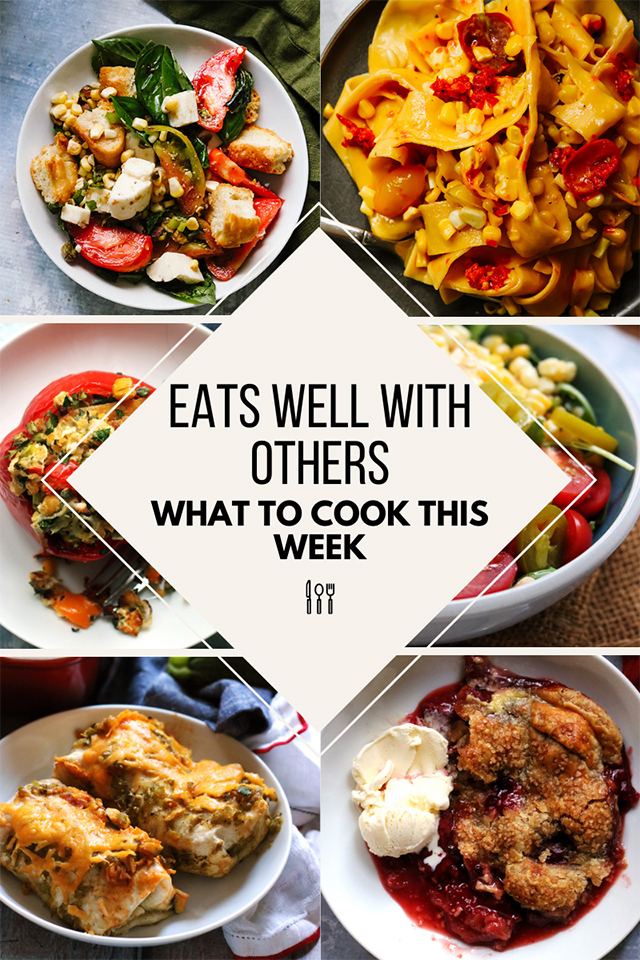 Anyone else spend their week researching KN95 masks for kids and buying every brand available on the market? Anyone? Just me?? On that note, WELCOME TO MY BRAIN. It's fun here, really.
The world has been a crazy place this week (even crazier than usual, which is basically unfathomable) and I'm leaning hard on good food to get me through. Perhaps not the most rational / healthy coping mechanism, but there are way worse things.
Here's what we're cooking this week:
Starting off the week with a summer grain bowl that is so perfect for meal prepping and that you will be thankful to have ready to go for easy lunches and dinners throughout the week. It sounds really simple (and it is) but the dressing is something pretty magical and ties the whole meal together.
Next up – corn, tomato, and crispy bread salad! This is everything I want to be eating right now. EVERYTHING.
Stuffed peppers with chickpeas, goat cheese, and herbs are a really fresh take on what is usually a heavier meal. Bonus that peppers are in season right now and taste their sweetest!
Pappardelle with corn, cherry tomatoes, and parmesan is our little bit of carb and cheese indulgence for the week. We deserve it!
Finally, we're ending the week with my smothered salsa verde burritos. These are filled with a chipotle zucchini and pinto bean mixture, covered in salsa verde and cheese, then baked until they're a little crispy on the outside. Amazing.
For dessert, we're making a strawberries and cream pandowdy. A pandowdy is basically a deep dish pie made with only a top crust. Make sure to serve this still warm with big scoops of vanilla ice cream!
Happy eating!
SUNDAY
SUMMER GRAIN BOWLS WITH CORN, BLACK BEANS, CHILES, AND ARUGULA
Prep Ahead Tip: Cook the farro ahead of time.
Vegan Substitutions: Recipe is already vegan.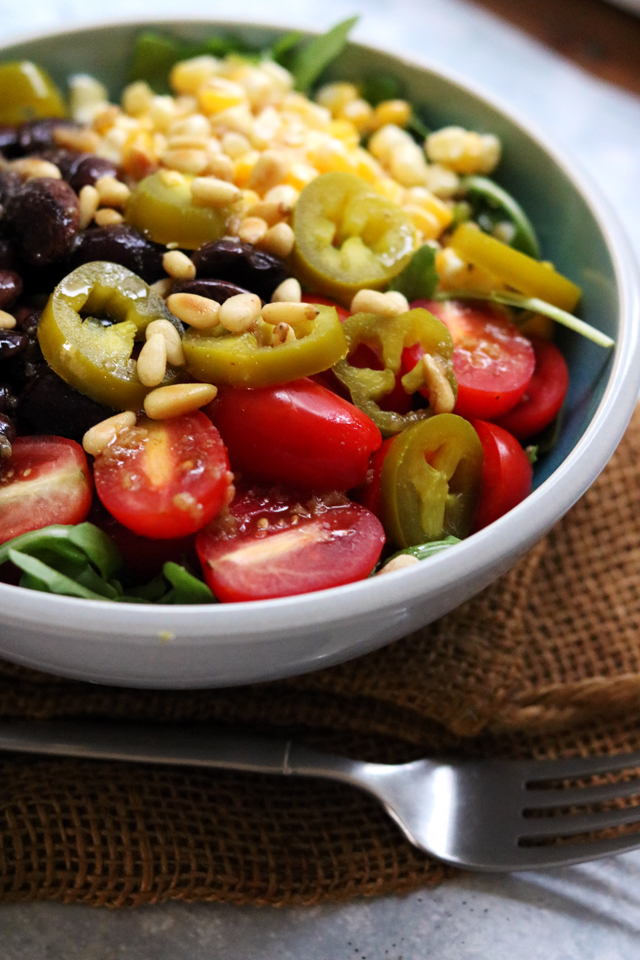 MONDAY
CORN, TOMATO, AND CRISPY BREAD SALAD
Prep Ahead Tip: Recipe comes together quickly, no need to prep ahead.
Vegan Substitutions: Replace the mozzarella with a dairy-free alternative.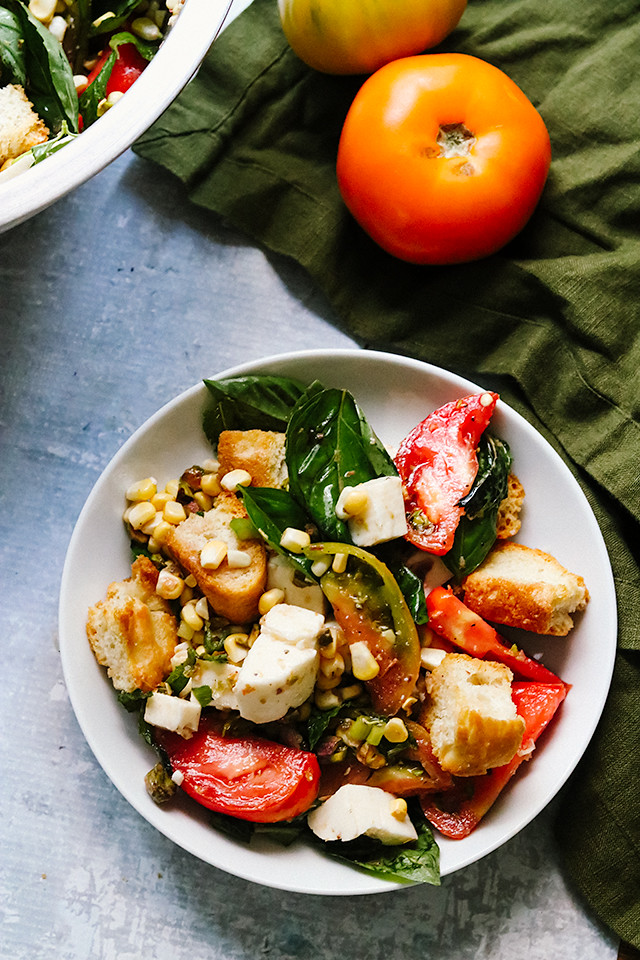 TUESDAY
STUFFED PEPPERS WITH CHICKPEAS, GOAT CHEESE, AND HERBS
Prep Ahead Tip: In this recipe the peppers are roasted twice – for twenty minutes before stuffing and then twenty minutes after stuffing. The pre-stuffing roast can be done ahead of time. The filling can also be prepared in advanced and refrigerated until the peppers are ready to be stuffed.
Vegan Substitutions: Replace the goat cheese with a spreadable dairy-free cheese alternative.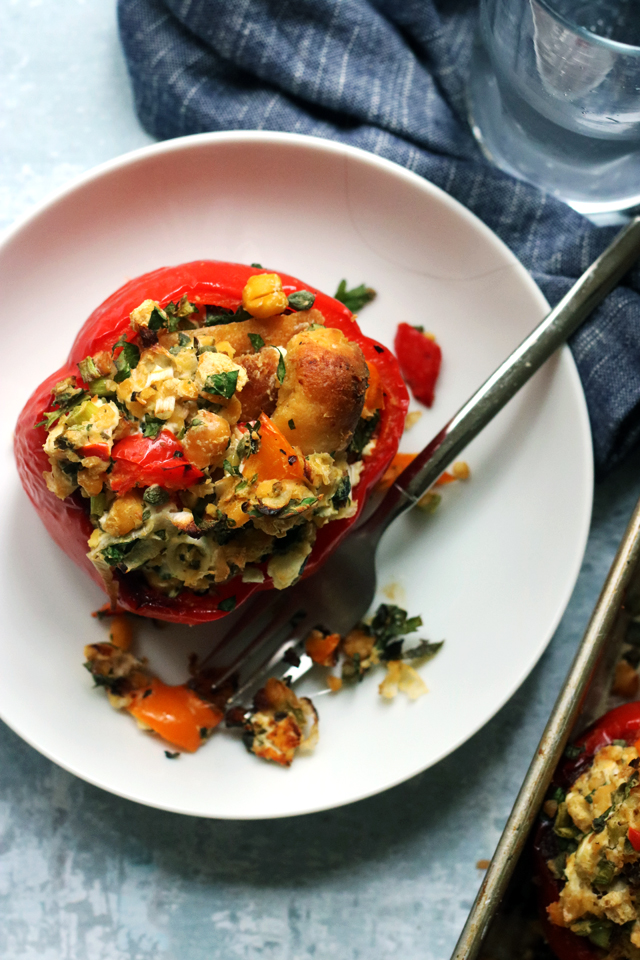 WEDNESDAY
PAPPARDELLE PASTA WITH CORN, CHERRY TOMATOES, AND PARMESAN
Prep Ahead Tip: Recipe comes together quickly, no need to prep ahead.
Vegan Substitutions: There is a lot of cheese in this, so it will be difficult to veganize. You can try using a dairy-free cream cheese to replace the mascarpone and nutritional yeast to replace the parmesan.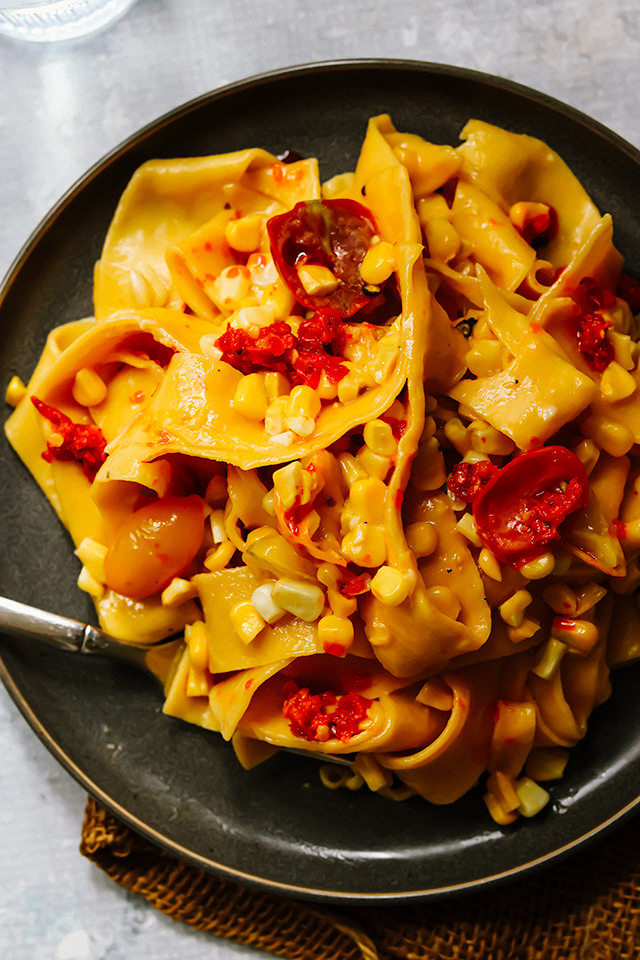 THURSDAY
SMOTHERED SALSA VERDE BURRITOS
Prep Ahead Tip: Cook the brown rice and prep the burrito filling ahead of time so that when it's time to cook, you can just stuff the burritos and bake them.
Vegan Substitutions: Use dairy-free cheddar cheese.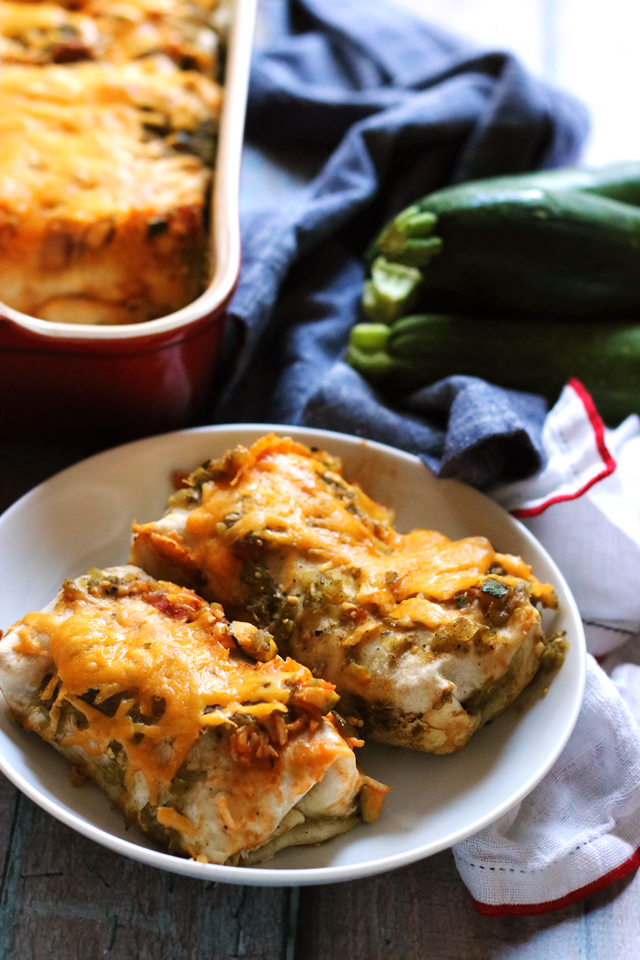 DESSERT
STRAWBERRIES AND CREAM PANDOWDY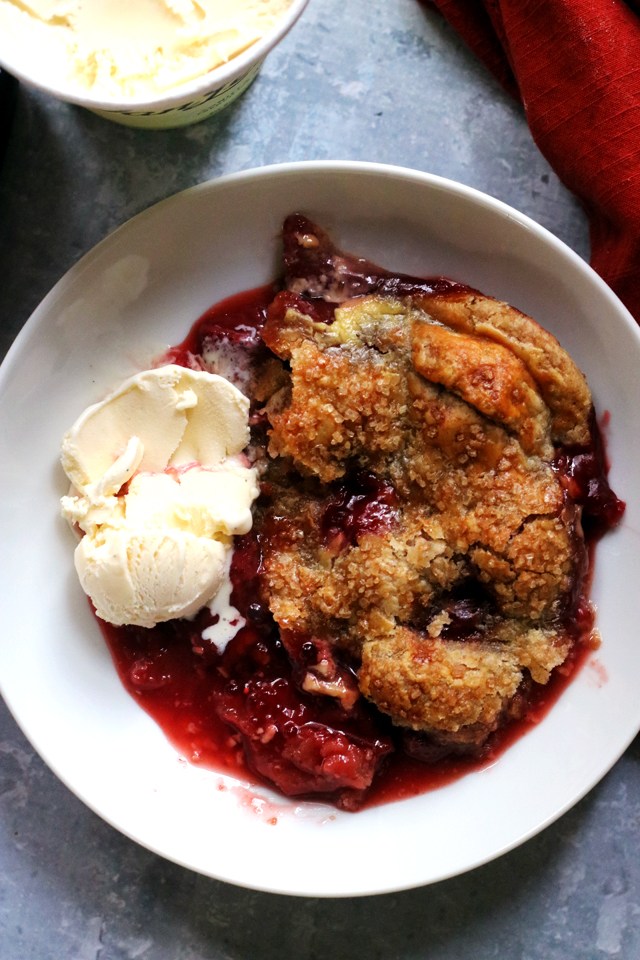 SHOPPING LIST
For a printable shopping list, click here.