Caramel crunch Swiss roll made with a caramel-infused whipped cream, light and airy Chinese sponge cake, and a buttery toffee crunch on top.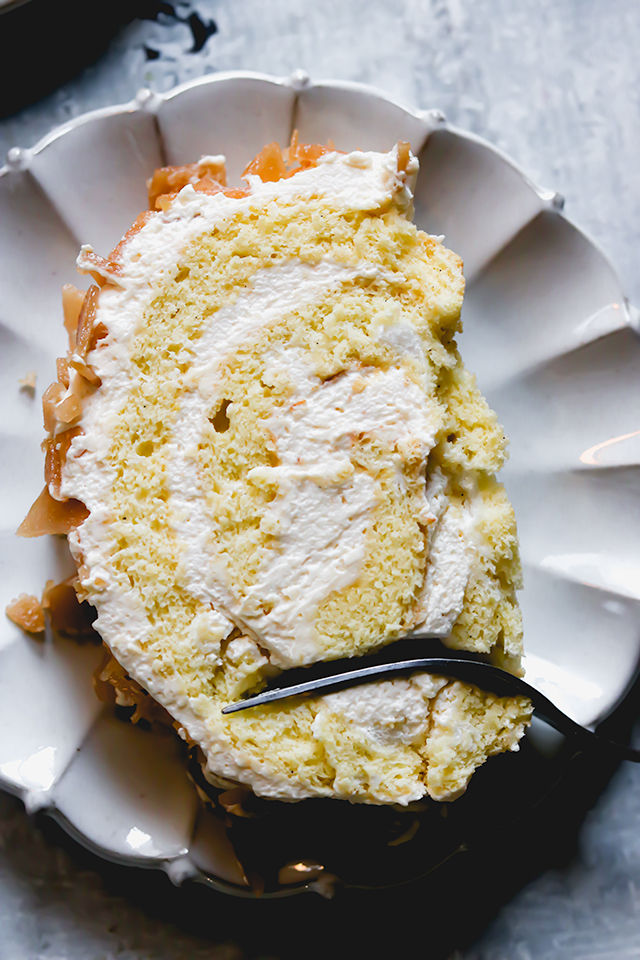 Apparently we're going to be getting some bomb cyclone blizzard polar vortex apocalypse weather "situation" this weekend (and you guys thought I was hyperbolic) bringing with it anywhere from 2 to 20 inches of snow. 
If anyone can explain to me what exactly that means (and, like, maybe narrow down the snow forecast just a tad), I'm all ears, but until then I'll be comfort baking until further notice.
Starting with this caramel crunch Swiss roll cake!! 
It's the perfect snowed in activity in my (completely biased) opinion in that it's a little bit challenging, extremely comforting, and so delicious that you'll find yourself cutting "just one more slice" every time you pass by.
This cake was inspired by a coffee crunch Swiss roll cake from the Mooncakes and Milk Bread cookbook by Kristina Cho, a gorgeous book that is filled with authentic sweet and savory Chinese bakes made simple enough for the home baker. If you've ever salivated over the baked goods in the windows of Chinese bakeries or stuffed your face full of steamed buns at dim sum OR if you're just looking to expand your baking repertoire, then this is a book you need to check out.
All of the recipes are completely approachable and most use ingredients that are easily found in a standard American supermarket. There are a few that require more specialty items but these are the exception and not the rule.
Personally, I'm excited to dive into it more this year and introduce some new flavors and techniques into my baked goods!
When skimming through the book, the coffee crunch Swiss roll immediately stuck out to me both for its gorgeous appearance and the alluring combination of flavors and textures in every slice. While the original recipe uses a coffee-infused whipped cream as the filling, I was wary of how that would go over in my house with my coffee-hating husband and child, so I opted to go with a caramel filling instead. I figured the slightly bitter, sultry flavor of salted caramel would mimic the coffee flavor slightly while making it more palatable to my picky family members.
The good news? I was right.
The bad news? I was right, AND HAD TO SHARE.
This cake roll is comprised of three components – Chinese sponge cake, caramel whipped cream filling, and a toffee crunch topping.
If you've ever had a cake from a Chinese bakery before, then you've probably had Chinese sponge cake because it forms the base for many of their traditional confections. It is light and airy with just a hint of sweetness. 
To make this cake, egg whites are whipped to stiff peaks along with sugar and cream of tartar to help stabilize them. They are then gently folded into an egg yolk batter, alternating with dry ingredients, in batches so as not to deflate them. The batter is then spread on a half baking sheet in an even layer and baked until set and golden.
The real trick of a roll cake like this one is to fold it into the roll shape while it is still warm and pliable. This creates the memory of the roll shape in the cake and will prevent it from cracking later once it is cool and filled.
The remaining components of the cake are super easy to prepare and can be made while the cake is cooling (or prepped ahead of time if you so desire). 
First up is the caramel whipped cream, which is essentially just homemade whipped cream with salted caramel beaten into it. I happened to have homemade salted caramel lurking in my fridge (DO NOT ask me how long it's been there, let's just say more than six months and leave it at that) but jarred caramel will work here as well. I would avoid caramel syrup as it is much more sweet and liquidy than actual salted caramel.
Finally, the TOFFEE, which was actually crazy easy to make considering how petrified I was to actually attempt it. This toffee is basically just homemade caramel that is cooked on the stovetop until it reaches 285F and then spread in a thin layer on a parchment or silicone-lined baking sheet. It's left to cool until hardened and then broken into very small pieces that are used to decorate the cake exterior (and some for snacking, obviously).
With the fluffy cake and whipped cream inside and sweet and salty crunch from the toffee on the outside it is a glorious mix of flavors and textures – truly a joy to eat!
Caramel Crunch Swiss Roll
Caramel crunch Swiss roll made with a caramel-infused whipped cream, light and airy Chinese sponge cake, and a buttery toffee crunch on top.
Ingredients
For the Chinese Sponge Cake
¾ cup + 2 tbsp (100 g) cake flour
2 tbsp (20 g) cornstarch
1 tsp baking powder
pinch of salt
6 large eggs, separated
½ cup (100 g) sugar, divided
¼ tsp cream of tartar
⅓ cup (65 g) canola oil
1 tsp vanilla extract
For the Caramel Cream Filling
2 cups heavy cream
¼ cup salted caramel
¼ cup (30 g) powdered sugar
pinch of salt
For the Toffee Topping
½ cup (100 g) sugar
½ tsp coarse sea salt
4 tbsp unsalted butter, cut into small cubes
Instructions
For the Chinese Sponge Cake
Heat oven to 350F. Line a baking sheet with parchment paper.
In a medium bowls, whisk together the cake flour, cornstarch, baking powder, and salt. Set aside.
In the bowl of a stand mixer fitted with the whisk attachment, whisk the egg whites on medium speed until foamy, about 1-2 minutes. Add in ¼ cup (50 g) of the sugar and the cream of tartar. Increase the speed to medium high and whisk until stiff glossy peaks form, about 5-7 minutes.
Meanwhile, add the remaining ¼ cup (50 g) of sugar to the egg yolks in a large bowl. Add in the canola oil and vanilla. Whisk for 3 minutes, or until pale and smooth.
Once the egg whites are whipped, scoop about 1 cup of the egg white mixture into the egg yolk mixture and mix until fully incorporated. Add the remaining egg whites into the yolks in three additions, alternating with the flour mixture, and folding gently to not deflate the egg whites too much.
Pour the batter onto the prepared baking sheet and gently smooth into an even layer that reaches to the edges of the sheet pan. Bake until set and golden brown, about 10-12 minutes.
Allow the cake to cool for 10 minutes. Run an offset spatula around the edges of the pan to release the cake. While still warm, gently roll the cake with the short side facing you into a spiral log. Let rest for 10 more minutes. Unroll and allow to cool completely.
For the Caramel Cream Filling
In the bowl of a stand mixer fitted with the whisk attachment, whip the cream to soft peaks. Add in the salted caramel, powdered sugar, and salt then mix until medium-stiff peaks form. Refrigerate until ready to assemble.
For the toffee topping
Line a large baking sheet with parchment paper or a silicone baking mat. Set aside.
Combine the sugar and salt in a medium saucepan. Heat over medium heat until the sugar melts and turns a light amber color. Stir in the butter, mixing to combine. Continue cooking until the mixture reaches 285F on an instant thermometer.
Pour the caramel onto the prepared baking sheet and quickly spread into an even layer. Allow to harden at room temperature for 30-45 minutes, then break it into small pieces.
To assemble
Using an offset spatula, spread about ⅔ of the caramel cream filling onto the cake in an even layer. Roll up the cake as tightly as possible with the short side facing you. Place the cake seam side down on a piece of parchment paper or serving plate. Refrigerate until firm, about 30 minutes to 1 hour. Frost with the remaining whipped cream and sprinkle with the toffee pieces. Serve immediately.