In these hearty vegetarian tofu bowls, tofu is baked in the oven until crispy and then paired with whole grains, grapes, arugula, feta, and a honey-ginger vinaigrette.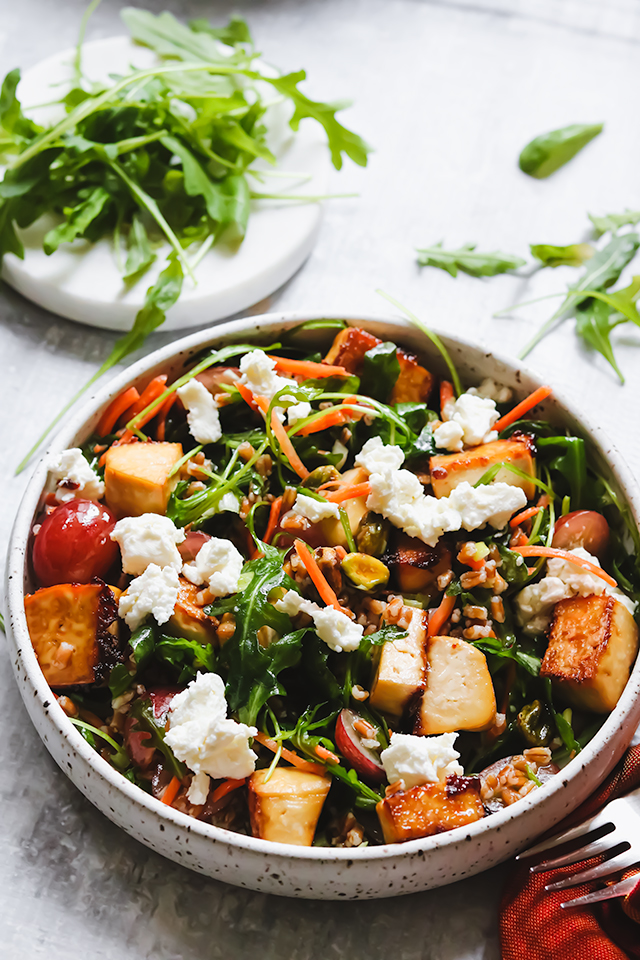 Living that bowl food lifestyle and WHO IS WITH ME.
Maybe you haven't noticed, but about half of the recipes I've posted so far in the new year have been for "bowls" of some kind or another. Call me an addict (because I am), but there's just something very satisfying about piling a bunch of different flavors and textures together in one serving vessel and calling it a meal. 
Plus I think it's just really fun to come up with new sauce / vegetable / protein / grain flavor pairings based on what we have stocked in the pantry or lurking in the farthest corners of the fridge. 
It's, like, my best party trick. (I'm so much fun, I swear.)
Well, today's tofu bowls are taken from another recent obsession of mine and that is The Weekday Vegetarians cookbook by Jenny Rosenstrach, author of the Dinner: A Love Story series (and blog of the same name). 
It is THE vegetarian cookbook for easy weeknight meals that actually taste really good and like you spent way more time on them than you did. As a pregnant working mom going into year three of a pandemic, it is exactly the cookbook I needed at this point in life, and I'm willing to bet that most of you do too. 
So far the vast majority of the recipes I've made from it have been kid-approved by my picky eater and she has declared every tofu recipe I've made from it the "best ever", with these bowls being no exception. Let's discuss!
Let me just start out by saying that if you skim the ingredient list, these bowls seem like they have a lot of components and stuff going on but only two of them require actual cooking (most of it hands off). The rest are just chopping / mixing / pouring things from a bag or jar into a bowl. We can do this!
The first thing you're going to want to do is get your grains cooking. This recipe calls for wheat berries, which are a fiber-packed nutritious whole grain, albeit one that can take a really long time to cook. They have a great chewy texture and I love the way that they soak up dressings in salads or bowls without getting mushy. I actually found quick cooking (par-boiled) wheat berries at my local supermarket that only took about 15 minutes, but the regular grains can take up to an hour to cook. They are fairly similar in texture to farro, barley, or brown rice so one of those can be easily substituted for the wheat berries here if you can't find them or are looking for a quicker option. They can also be cooked ahead of time (no matter which grain you're using) and stored in the fridge until you're ready to use them.
Next, we'll cook our tofu. For this recipe, we are tossing extra firm tofu cubes in a mix of oil, soy sauce, and cornstarch and then baking them until they get the most perfect crispy, golden edges. My advice is to find tofu that is sold in a vacuum-sealed bag (think Hodo or Wildwood brands) rather than a carton because they tend to be more structurally sound and contain less liquid, which makes for a better texture once cooked. 
While all that's happening, we'll prepare the remaining ingredients. Basically this entails: whisking dressing, halving grapes, chopping scallions, crumbling feta, and pouring pistachios out of whatever storage container they're in.
Everything will be tossed together just before eating and then get ready for the flavor explosion that is your first bite. There's sweet and savory and chewy and nutty and crunchy and creamy. It's just everything, in the best way.
Crispy Tofu Bowls with Grapes, Arugula, and Honey-Ginger Vinaigrette
In these hearty vegetarian tofu bowls, tofu is baked in the oven until crispy and then paired with whole grains, grapes, arugula, feta, and a honey-ginger vinaigrette.
Ingredients
For the honey-ginger vinaigrette
1 tbsp honey
¼ cup white balsamic vinegar
1 tsp finely grated peeled fresh ginger
salt and black pepper, to taste
⅓ cup olive oil
For the bowls
1 cup uncooked wheat berries
kosher salt
2 (10 oz) blocks extra firm tofu, drained and cut into ½-inch cubes
3 tbsp olive oil
2 tbsp soy sauce
1 tbsp cornstarch
5 oz arugula
4 oz feta, crumbled
2 cups halved red seedless grapes
½ cup grated carrot
1 bunch scallions, white and light green parts only, minced
¼ cup whole shelled pistachios
Instructions
For the honey-ginger vinaigrette
In a medium bowl, whisk together the honey, vinegar, ginger, salt, and black pepper. Slowly pour in the olive oil, whisking constantly, until creamy and emulsified. Season again to taste. Set aside.
For the bowls
Heat oven to 425F. Line a sheet pan with parchment paper and set aside.
Cook the wheat berries according to package directions. Drain and rinse, then drain again. Transfer to a large bowl and set aside.
Meanwhile, to prepare the tofu toss it with the olive oil, soy sauce, and cornstarch. Spread on the prepared sheet pan in a single layer. Bake for 20 minutes or until golden and crisp around the edges. Set aside to cool slightly.
When ready to eat, add the tofu to the bowl with the wheat berries. Mix in the arugula, feta, grapes, carrot, scallions, and pistachios. Add the vinaigrette and toss to combine just before serving.