Sticky spicy green beans and farro with gochujang butter and topped with a fried egg.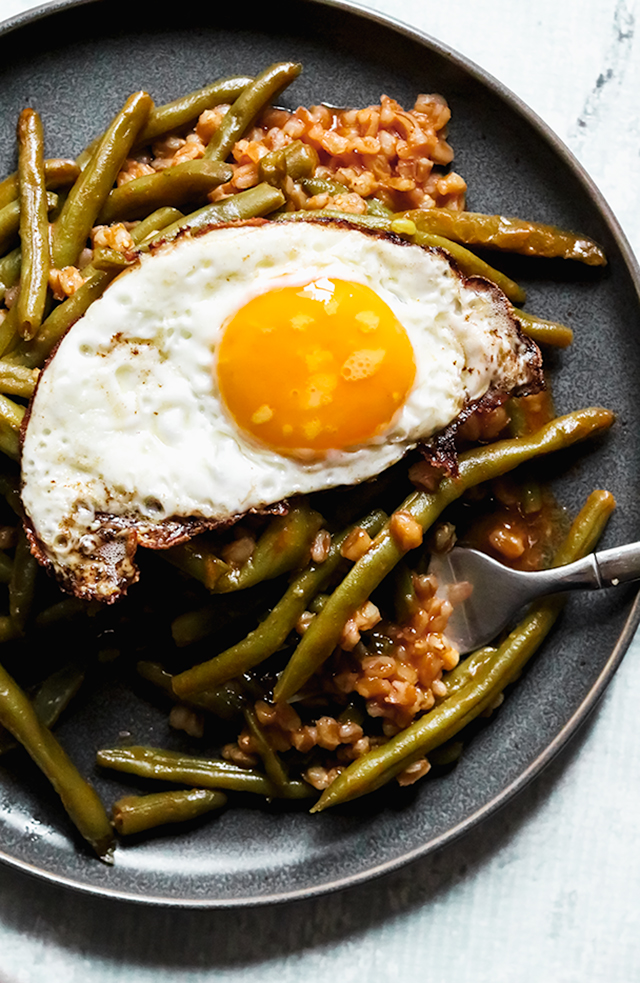 Here we go, here we go, here go now. First recipe of 2023 and it embodies everything I want food this year to look like!
Sticky spicy salty saucy sweet with a hint of wholesomeness and so much flavor that you can't help but lick the plate clean. If this is any indication of how the rest of the year is going to go, then I know that we have good things headed our way.
Honestly, this is not a meal that I would have ever thought to make if it weren't for two obsessions in my life: gochujang and Ali Slagle's latest cookbook "I Dream of Dinner", both of which have broken me out of cooking ruts more times in the past few months than I'd care to admit.
Starting with the former, gochujang is a staple ingredient in Korean food that I have developed a real taste for recently. For the uninitiated, it's a spicy, sweet, and slightly funky fermented Korean chili paste that punches up whatever dish it is added to. Because it contains glutinous rice flour along with gochugaru (Korean chili powder) and fermented soy beans, it is thick and sticky, helping to add body and a really nice mouthfeel to any recipes that use it. I love it as a component of stir fry sauce, in a marinade for salmon bowls, and in a vinaigrette that I've been dying to share with you if I can ever find the self control to restrain myself from using it all before I have the chance to photograph it.
It is also really fabulous in these green bean and farro bowls from Ali Slagle, which brings me to the latter! If you have not yet obtained a copy of her I Dream of Dinner cookbook, then run, please, and get one. I have cooked maybe twenty recipes from it since getting it in September and to say that I am in love is an understatement.
This book is a true godsend for anyone with young children or a busy schedule (or both!) who wants to eat really good food but doesn't want to spend hours in the kitchen. The ingredient lists are intentionally short and the recipes are streamlined to minimize the number of pots, pans, and dishes that are used. On my first flip through I wasn't so sure about it (just being honest!) but after really diving in and trying a few things, I was sold. Even the most simple-sounding recipes are big on flavor and they all contain little tricks and tips that make you question how you've never thought to cook food this way.
These green bean and farro gochujang bowls are a prime example of that!
To make them, you first start by quickly charring the green beans in a hot Dutch oven or enameled cast iron pot. This helps add a little bit of a smoky flavor to the final dish.
Next, the farro is added to the pot along with a mixture of water, gochujang, rice vinegar, garlic, and ginger and the whole gang is simmered until the farro is cooked through and the green beans are fabulously tender. By cooking these all together, both the green beans and the farro really become infused with flavor that seeps into their every pore and crevice. Additionally, the gochujang sauce thickens as it cooks into a silky emulsion that coats every grain in a really satisfying way. Stir a few tablespoons of butter in at the end for added richness and to round out the flavor profile.
These bowls are served topped with perfectly fried eggs, which add protein to the final dish. The luscious contrast of the fatty yolk against the tangy spice of the gochujang sauce is really nice and makes for that perfect bite.
While I used farro in these bowls, Ali maintains that really any whole grain can be used. Since the green beans end up on the softer side after the long cook, I would advocate for using chewier grains (think farro, barley, or brown rice) and shying away from softer grains like quinoa, bulgur, or amaranth.
Green Beans and Farro with Gochujang Butter
Sticky spicy green beans and farro with gochujang butter and topped with a fried egg.
Ingredients
¼ cup gochujang
¼ cup rice vinegar
2 garlic cloves, grated
2-inches of ginger, grated
1.5 lb green beans, trimmed
3½ cups water
1 cup farro
3 tbsp neutral oil
4 large eggs
salt and black pepper, to taste
2 tbsp butter
Instructions
In a medium bowl, whisk together the gochujang, rice vinegar, garlic, and ginger. Set aside.
Heat a large Dutch oven over medium-high heat. Once hot, add the green beans and cook, tossing once or twice, until charred in places. Add water, farro, and the gochujang mixture. Bring to a boil and then lower to a simmer. Cover and cook on low until the beans are tender and the grains are cooked, about 40 minutes, stirring occasionally, adding water as needed.
When the beans and grains have about 5 minutes to go, heat the oil in a large nonstick skillet over medium-high heat. Crack 4 eggs into the skillet and cook without moving them until the edges are golden brown and starting to crisp, about 2 minutes. Tilt the pan toward you and scoop up some of the hot oil with a spoon. Pour it over the uncooked whites. Repeat until the whites are completely set. Season to taste with salt and black pepper and remove from the heat.
Add the butter to the green bean-grain mixture and stir to combine. Season to taste with salt and black pepper.
Divide the green bean-grain mixture among serving bowls. Top each with a fried egg.