A hearty brunch of stewed herby spinach eggs made by simmering eggs in a cream and spinach mixture that gets topped with a spicy herb and pickled onion garnish. Best served with smoked salmon and a hunk of bread for soaking up all the creamy liquid.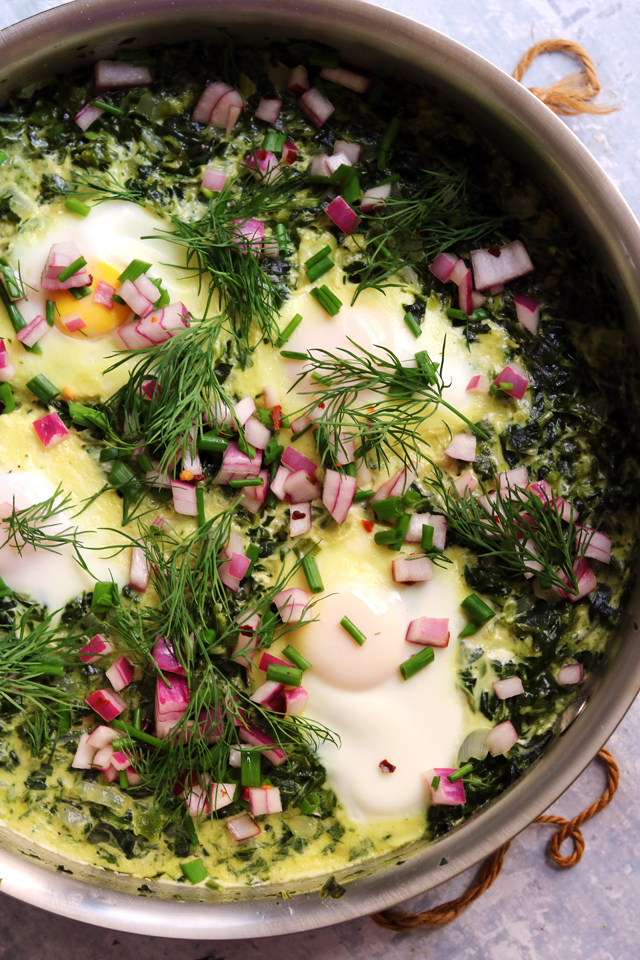 Back, back way back in the BR (Before Remy) era when I had free time and energy (not that I appreciated any of it, oh how I could smack my former self) I really thought I would write a vegetarian cookbook on brunch.
It was a total pipe dream, I didn't have a publisher or an offer or anything like that. But it's my favorite meal of the day and as far as I know there's really no vegetarian brunch bible out there, so I went with it and let my imagination run wild. I made lists and lists of recipe ideas, even tested some of them out, came up with a name for the imaginary book. But then, you know, life happened including: morning sickness, internal medicine residency, 24 hour calls, having a child who hates sleep, etc etc and suddenly working on my imaginary cookbook just seemed like less of a priority compared to, say, showering.