A brunch classic collides with Middle Eastern flavors in this recipe for za'atar eggs benedict made with harissa hollandaise, sumac spinach, and a drizzle of za'atar on top.
Disclosure: This post was sponsored by Mina Harissa. As always, my thoughts and opinions are my own!!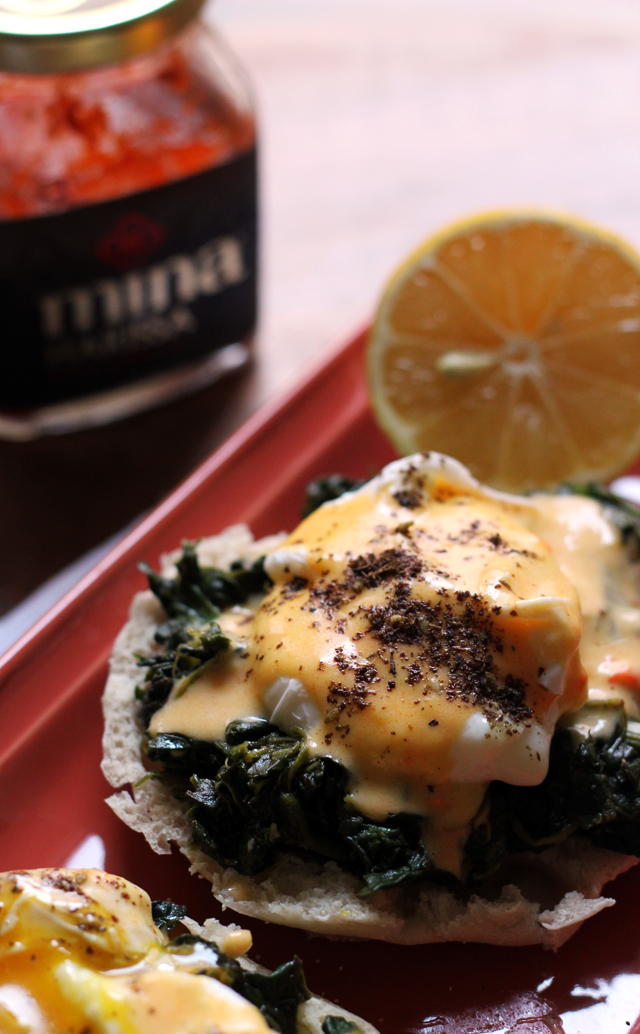 Three day weekend hangovers are THE WORST.
Not the alcohol kind, but the living life, having fun, not being held down by The Man kind.
I mean, it's always hard when Tuesdays are Mondays are Tuesdays and, I think I probably don't speak for myself when I say that we were just getting the hang of this sleeping in thang!
6AM wake-up calls HURT. Why do we do this to ourselves?
Although the symptoms of this type of hangover are more psychological than physical, I still maintain that we need food to get us through these despairing times.
Sooooo…..let's do brunch.
FOR DINNER.
Because as much as I would be totally fine with peacing out of work at noon to get my eggs benny on, I'm not sure my boss would be too thrilled with it.
(I can't imagine why.)
(Maybe the bottomless midday mimosas have something to do with it? Hmm.)
To me brunch is not brunch unless there are runny yolks involved, and eggs benedict is always what I want to be eating except for the fact that it almost always features a slab of Canadian bacon and hollandaise that is nothing to write home about. I mean, if you're going to make a sauce that's comprised almost entirely of butter, it had better be akin to liquid gold. Otherwise, WHY?!
I've found that what so many hollandaise drizzles are missing is FLAVOR. Sure, they're fatty and salty and creamy, but they're missing that oomph that makes the all calories worth it in the end.
That's where harissa comes in.
Not only does it bring the heat (literally), but along with the spice comes a whole slew of Middle Eastern flair – hints of garlic, touches of vinegar, backsplashes of olive oil – it's a flavor explosion. I stirred it into a batch of homemade hollandaise on a whim, and haven't stopped bathing in it since.
Then, because I'm incapable of leaving well enough alone, I swapped out the Canadian bacon for tart and garlicky sumac spinach, layered it along with a poached egg and a harissa hollandaise drizzle atop a toasted English muffin. And called it brunch. Dinner. Brinner?
Whatever our Tuesday-Mondays bring our way. We're gonna need this.
Soooo many people ask me where they can find harissa in their grocery stores and I always tell them to look for the Mina!! I've tried a few different harissa varieties and this is by far my favorite. As I said earlier, it brings flavor to the spice table so when you slather it all over all the things, you're not just getting something hot – you're getting something delicious. You can order Mina harissa online on their website, but I have been able to find it in most grocery stores lately. Whole Foods should certainly carry it, and if you live in NYC, you should be able to find it at Fairway also!
Za'atar Eggs Benedict
A brunch classic collides with Middle Eastern flavors in this recipe for za'atar eggs benedict made with harissa hollandaise, sumac spinach, and a drizzle of za'atar on top.
Ingredients
For the spinach
2 tbsp olive oil
1 lb chopped frozen spinach, thawed
2 cloves garlic, minced
2 tsp sumac
salt, to taste
For the hollandaise
12 tbsp unsalted butter, softened
6 large egg yolks
½ cup boiling water
2 tsp lemon juice
2-4 tbsp harissa
salt, to taste
For the eggs benedict
4 large toasted English muffins
8 poached eggs
za'atar, for sprinkling
Instructions
For the spinach, heat the olive oil in a large skillet over medium heat. Saute the garlic until lightly browned, about 1 minute. Stir in the spinach and sumac. Cook until spinach is warmed through and any liquid has evaporated, stirring frequently, about 5-6 minutes. Set aside.
For the hollandaise, whisk the butter and egg yolks in a large heat-safe bowl set over a medium saucepan filled with ½-inch of simmering water. Slowly add the boiling water to the bowl and cook, whisking constantly, until thickened and the sauce registers 160F, about 7-10 minutes. Remove from the heat and stir in the lemon juice and 2 tbsp harissa. Season to taste with salt and harissa.
For each individual, prepare 2 toasted English muffin halves. Top each half with a scoop of spinach, a poached egg, and a drizzle of hollandaise. Sprinkle with za'atar.
Nutrition Information
Serving size:
¼ of recipe
 More recipes with Middle Eastern flair: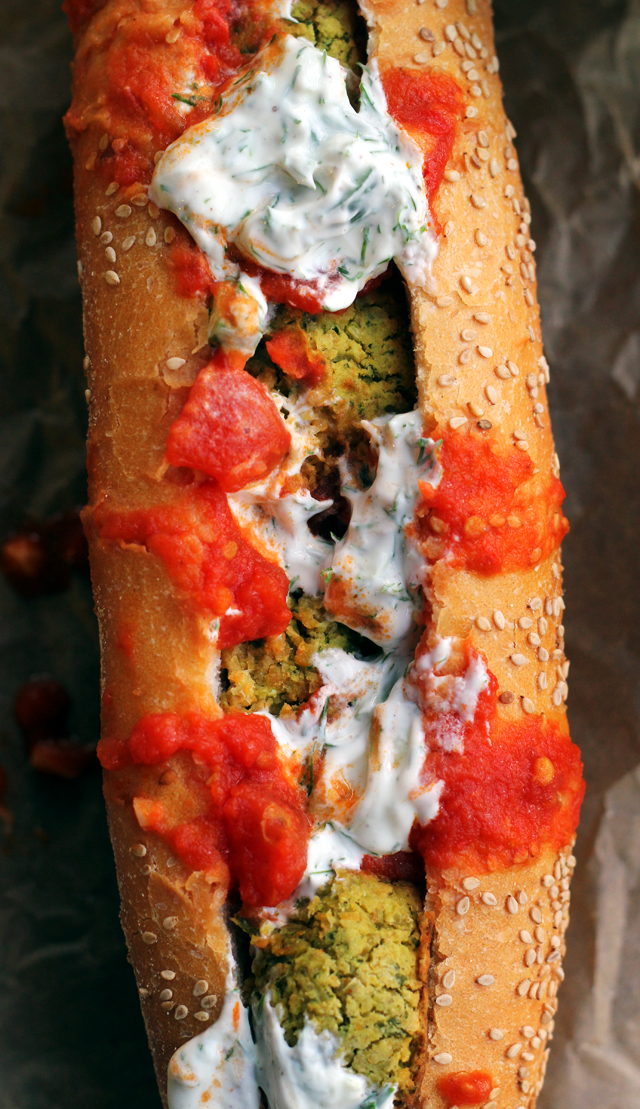 Baked Falafel Hoagies with Harissa Tomato Sauce and Tzatziki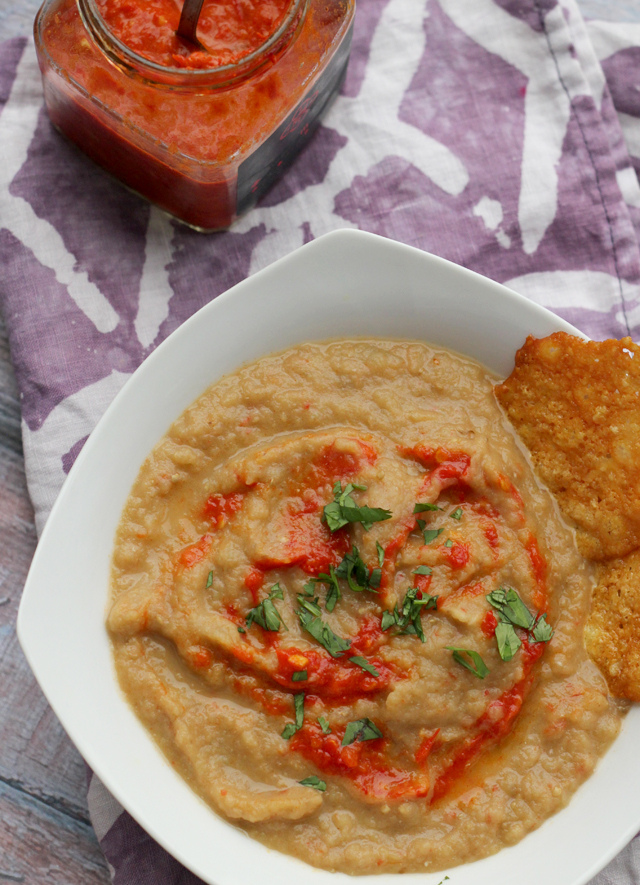 Roasted Eggplant Bisque with Harissa and Parmesan Crisps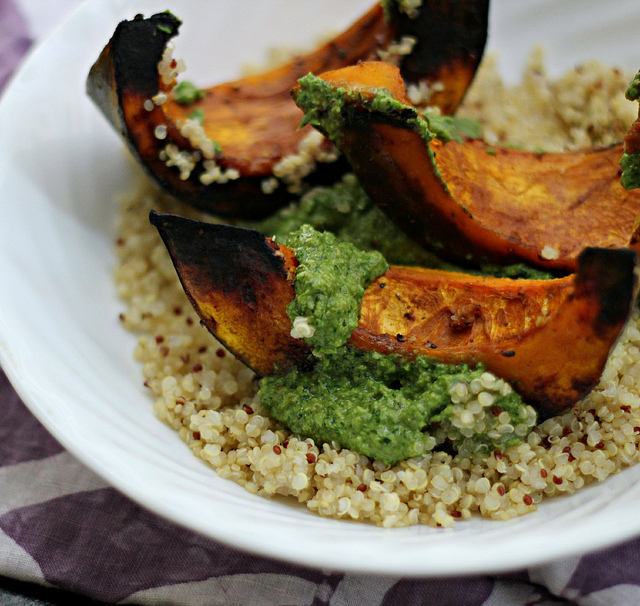 Spice-Roasted Squash with Walnut Green Harissa
From Around the Web:
Crispy Eggplant and Harissa Flatbread with Greens from The First Mess
Winter Squash Tamale Pie with Harissa from Climbing Grier Mountain
Harissa-Mango Paneer from Food Fashion Party
Freekeh Bean Burgers with Harissa Onions from Oh My Veggies
Falafel Patties with Harissa Yogurt from A Couple Cooks