These tahini and halva brownies are insanely rich with a gooey chocolate filling that is mixed with nutty halva chunks and a tahini swirl on top.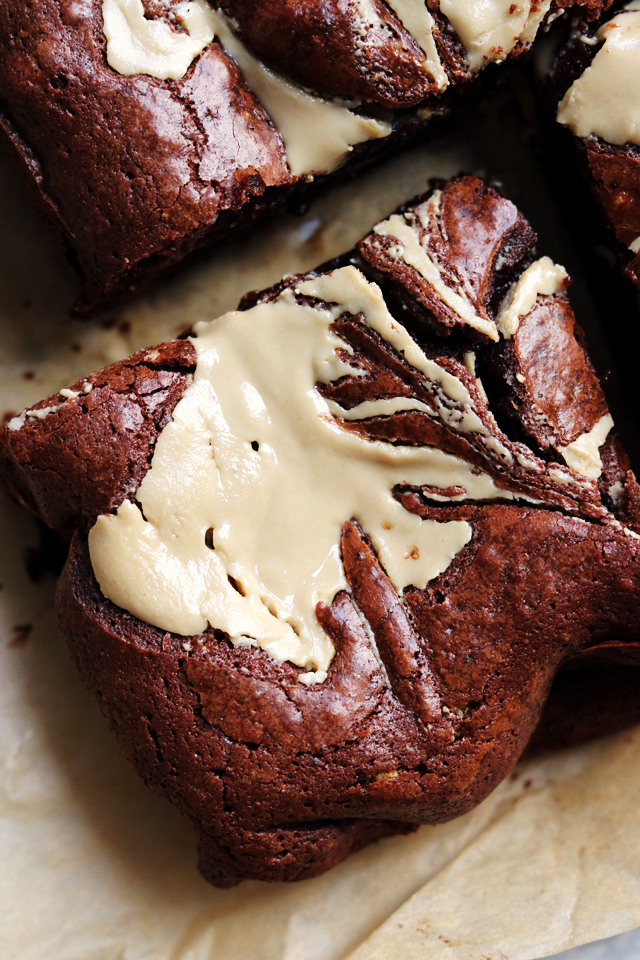 Allow me to introduce you to basically the best brownie I've ever eaten.
Just in time for Mother's Day!!!
*hint hint hint hint hint hint hint*
Seriously, if someone (ahem, HUSBAND) could make me a batch of these to keep all to myself…that would be ideal.
No other presents or grand gestures required.
BUT this is 2019 and we're independent women who can't be waiting around for a man to intuit that we want him to read this blog and make brownies for us.
NO!
When we want something done we better just do it ourselves. Especially because there's a chance that if our significant others make the brownies, it's very likely that they'll expect to partake in the eating of the brownies. And that, my friends, is just unacceptable.
Take it from someone who made the mistake of sharing these with her loved ones and coworkers….DO NOT DO IT. Hide in a closet or bathroom or wherever and eat them yourself.
You will not regret it.
So what's so special about these??
They're gooey and fudgy and deep dark chocolatey and laced with halva and a tahini swirl – that's what.
If you've never had halva – NOW IS THE TIME. It's basically sesame fudge…kind of like the inside of a Reese's peanut butter cup but with tahini. I bought it at a little market around the corner from my apartment but you can find it online or in your local Middle Eastern/Indian supermarket.
Another bonus of this recipe is that it can be made by hand!! No mixer required. Ideal when you live in a tiny space and you don't want the sound of the stand mixer to wake your kid up while you're sneak-making these at night. I speak from experience.
Tahini and Halva Brownies
These tahini and halva brownies are insanely rich with a gooey chocolate filling that is mixed with nutty halva chunks and a tahini swirl on top.
Ingredients
1 cup + 1½ tbsp unsalted butter
9 oz dark chocolate, coarsely chopped
4 large eggs
1⅓ cups sugar
¾ cup + 3 tbsp flour
⅓ cup Dutch-processed cocoa powder
½ tsp salt
7 oz halva, broken into small chunks
⅓ cup tahini
Instructions
Heat oven to 400F. Grease a 9-inch square baking pan and line with parchment paper, then grease again. Set aside.
Heat the butter and chocolate in the microwave or over a pot of simmering water until melted. Whisk to combine until the sauce is thick and shiny. Set aside to cool.
Meanwhile, combine the eggs and sugar in a large bowl. Whisk until pale and creamy, about 5 minutes by hand or 3 minutes with an electric mixer. Add in the chocolate mixture and fold together with a spatula until just combined.
Sift together the flour, cocoa powder, and salt. Add into the bowl with the batter and fold into the chocolate mixture. Gently stir in the pieces of halva, then scrape the batter into the prepared baking pan smoothing it out into an even layer.
Dollop the tahini on top and use a chopstick or skewer to marble it into the batter.
Place in the oven and bake for 23 minutes, or until the middle is still slightly wobbly and gooey inside. Allow to cool in the pan, then cut into 16 pieces and serve.