Special occasion spinach, artichoke, and brie omelets that are perfect for any meal of the day!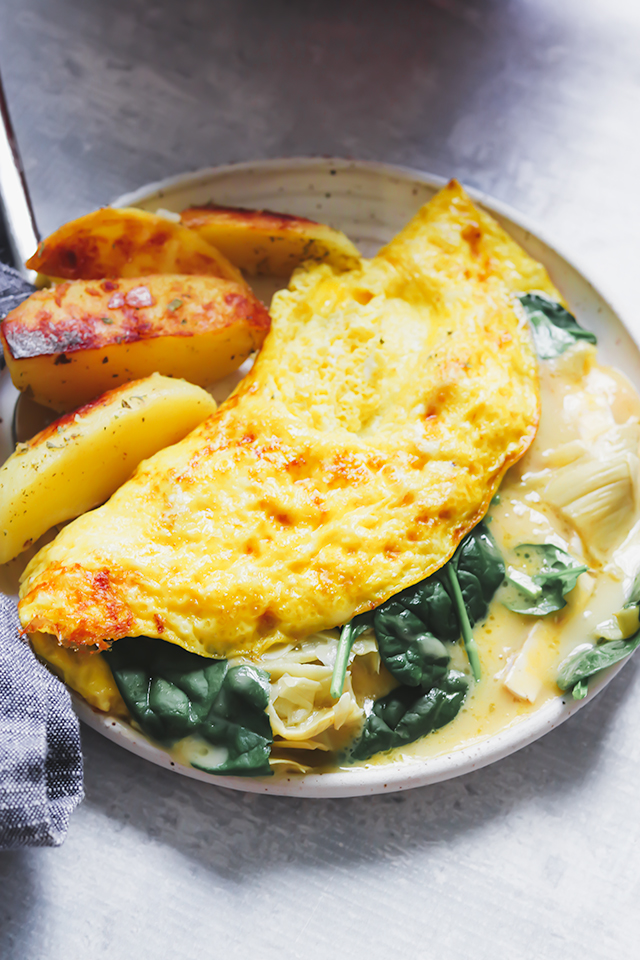 Last one into the pool of melted brie's a rotten egg!
Pun so, so very intended. I just couldn't help myself.
No rotten eggs allowed here though, just fluffed up omelet-style eggs that are basically a vehicle for eating the most glorious omelet filling known to man. 
And the best part is, this might also be the easiest omelet filling ever! There's no need to cook any of the components beforehand, no cheese grating that needs to be done.
It's so simple but also a combination of some of life's best things. I love that.
The only prep that is required here is to drain and then roughly chop a jar of marinated artichokes, and to thinly slice the brie. I choose to leave my rinds on because they don't bother me and I can't bear the thought of losing even a millimeter of brie to the garbage can. You do you!
Also keep in mind as you're prepping that as written the recipe makes only one omelet, but is easily scaled up for more eaters. I recommend just chopping the whole jar of artichokes while you're at it because they will keep well in the fridge and it will save you time when you find yourself running to make this for a quick lunch or dinner in a day or so.
(Ask me how I know.)
To cook the omelets, a tablespoon of butter is melted in a nonstick skillet. Eggs are whisked together with a bit of milk and a pinch of salt and black pepper, then poured into the greased skillet.
They are allowed to cook unbothered for around four minutes, or just until the eggs start to set. Then, half of the egg mixture is topped with the filling components! I recommend layering them with the cheese on the bottom because next they will cook for another few minutes with a cover on top of the skillet. If the cheese is on top, it will inevitably stick to the pan cover and cause a significant amount of duress as you try to scrape it off. Trust.
Finally, the uncovered half of the omelet is flipped over onto the filling and allowed to cook for just a minute more. Slide it onto a serving plate and eat!
We served ours with simple roasted potatoes (as pictured), which were perfect for dipping into the melted brie that had oozed out around the edges. Buttered toast, biscuits, or hash browns would be perfect for this as well!
Spinach, Artichoke, and Brie Omelets
Special occasion spinach, artichoke, and brie omelets that are perfect for any meal of the day!
Ingredients
3 large eggs
¼ cup whole milk
pinch of salt and black pepper
1 tbsp butter
¼ cup marinated artichokes, diced
handful of baby spinach
2 oz brie, thinly sliced
Instructions
In a medium bowl, whisk together the eggs, milk, salt, and black pepper. Set aside.
Melt the butter in a 10- to 12-inch skillet over medium heat. Add the eggs and cook for about 4 minutes, or until starting to set. Top half of the eggs with the brie, artichokes, and spinach. Cover the skillet and cook for 2-3 minutes, or until the cheese is melted. Fold the naked side of the omelet over the filling and cook for 1 more minute.
Slide the omelet onto a plate and serve immediately.