Chargrilled Peach and Green Bean Salad – a simple salad made of pan-charred green beans, super sweet ripe summer peaches, goat cheese, and a lemon honey dressing.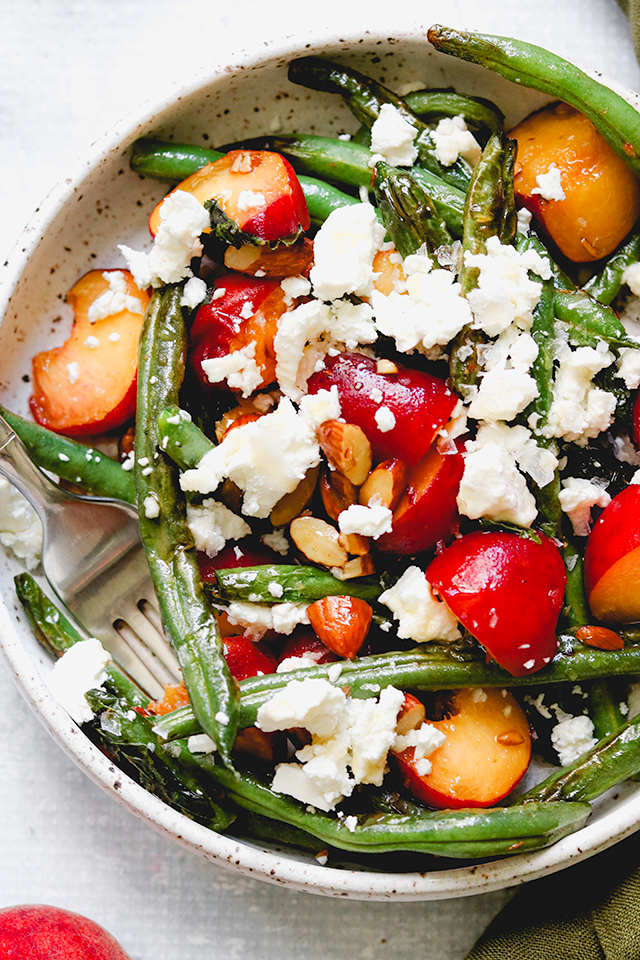 We ate our first truly amazing summer peaches last week.
It was vaguely life-changing and a reminder of why I love summer eating so much! Who needs a formal dinner or dessert when you can eat seasonal fruits and vegetables in their simplest, unadulterated form.
Just hand me a platter of fruit, bread, and cheese and I'm good.
As dreamy as that sounds, I am occasionally tempted into making an actual recipe with summer produce and, in the case of this chargrilled peach and green bean salad, I am so so happy that I did. While it does require you to turn on your stovetop (or grill!) it is still incredibly simple and way more delicious than the sum of its parts would have you believe.
The original recipe is from Ottolenghi's Flavor cookbook and I first made it last summer when I was ambitiously trying to cook my way through the entire cookbook. While a little thing called pregnancy got in the way of me achieving that goal, this was one of the recipes I was able to get to before the nausea and complex carb cravings completely took over my life. 
At first glance, this recipe doesn't seem all too exciting. A salad of green beans and peaches? Kind of weird and maybe not too special, or at least that's what I thought going into it.
But oh, how wrong I was. 
Something magical happens when you mix the smoky, charred green beans with summer's sweetest peaches and then top them off with a lemon honey drizzle, goat cheese, salted almonds, and fresh mint. The combination of flavors and textures come together to form what is essentially a perfect bite. There is no other way to describe it.
It's sweet, salty, and literally dripping with the taste of summer.
While Ottolenghi's original recipe has you grill the peaches along with the green beans, I opted to leave them fresh and uncooked. With a perfect peach, a less is more approach is definitely the way to go, but if your fruit is on the less sweet side then a little time in the grill pan will help to bring out a more intense flavor.
If you can't get your hands on really great peaches, then feel free to substitute them with any stone fruit. Nectarines, plums, and even apricots would work well in their place. 
Chargrilled Peach and Green Bean Salad
Chargrilled Peach and Green Bean Salad - a simple salad made of pan-charred green beans, super sweet ripe summer peaches, goat cheese, and a simple lemon honey dressing.
Ingredients
1 lb green beans, trimmed
3 tbsp olive oil
flaked sea salt
2-3 ripe peaches, pitted and cut into ¼-inch thick slices
¼ cup mint leaves, roughly torn
2 tsp lemon juice
black pepper
4 oz goat cheese, crumbled
2 tbsp roasted and salted almonds, chopped
2 tsp honey
Instructions
Toss the green beans with 2 tbsp of the oil and ½ tsp salt in a large bowl.
Heat a well-greased grill pan or cast-iron skillet over high heat. Once hot, add the green beans to the pan and cook for 3-4 minutes on each side or until well charred. Transfer back to the bowl and cover with a plate to allow them to steam until they reach the desired degree of doneness.
Toss the green beans and peach slices together with the remaining oil, lemon juice, a pinch of salt, and black pepper. Spread on a serving plate and top with the goat cheese, almonds, and a drizzle of honey. Serve immediately.