Juicy sweet blueberry vanilla cream hand pies with the flakiest of crusts and fruitiest of fillings.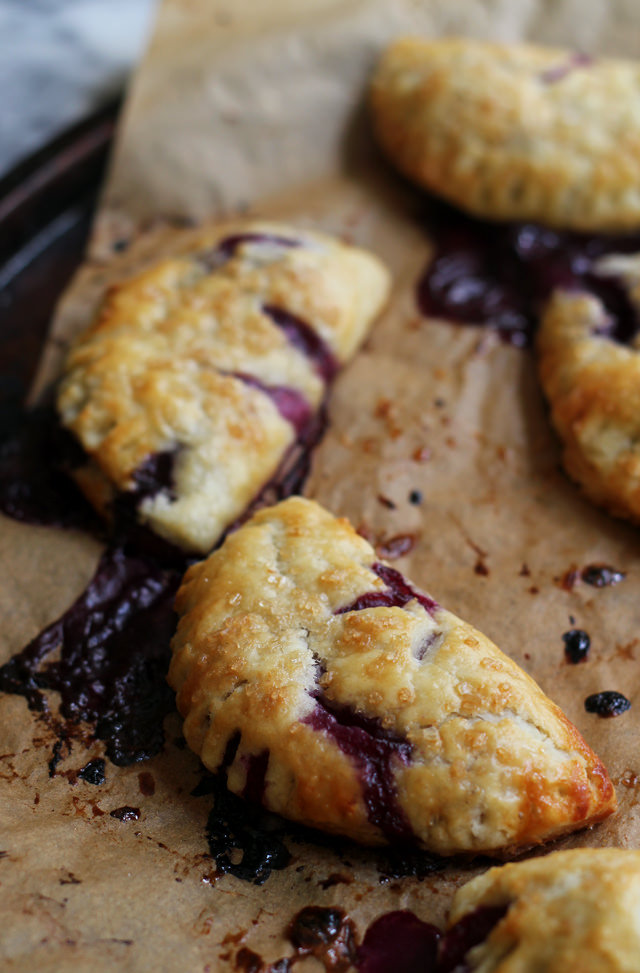 The other day I was waxing poetic about blueberries (we're kind of having a moment) when the.boy interrupted me mid "Why Blueberries Are The Be-All And End-All of All Things And Why Don't We Have Them At Every Meal?!?" rant and was like, "You are going to have the weirdest pregnancy cravings."
Who? Me?
The girl who never succumbs to any food impulses ever ever ever?!
Impossible.
And then he continued with, "You are totally going to wake up in the middle of the night demanding that I go to the store for rhubarb. Or bulgur."
To which I sighed and said, "Mmmm rhubaaarrrbbbb."
Hmm. Maybe he has a point.
Speaking of pregnancy cravings…my friend Christina of Dessert For Two is having a baby girl!! In just a few weeks!!!!
(Can you tell I'm doing cartwheels right now.)
So a few of her blog friends and I are throwing her a VIRTUAL BABY SHOWER to celebrate!!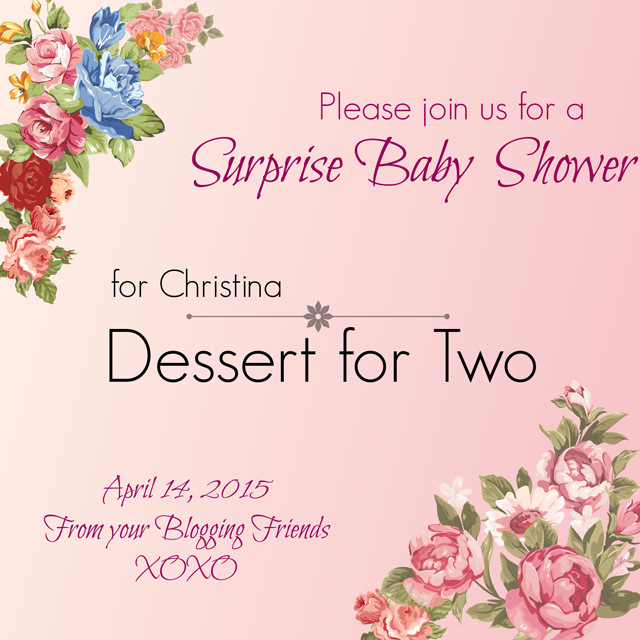 I had the honor of meeting Christina in real life a few years ago at a conference in California, though my first memory of her actually goes back a few weeks before that when she offered to let me and my friend Lauren stay with her the day before the conference so we could all hang out. Without ever having met us. Crazy, maybe, but that's just the kind of person she is!! She's sweet and adorable and will give you the shirt off her back if you need it, but she also tells it like it is and is really one of the most unabashedly herself people that I know. Which I love about her.
So, without further adieu, congrats Christina!!! You are going to be THE BEST MOM. That's pretty much a fact.
Come see what everyone else made to celebrate!!
Fizzy Grapefruit Margaritas from Well Plated
Earl Grey Cake with Vanilla Bean Buttercream from Country Cleaver
Mini Bourbon and Bacon Tater Tot Casseroles from Climbing Grier Mountain
Maple-Chia Overnight Oatmeal from Feed Me Phoebe
Lemon Cake for Two from Keep It Sweet Desserts
Mini Raspberry Pavlovas from The Baker Chick
Almond Berry Cake Parfaits for Two from Edible Perspective
Peanut Butter Bourbon Blondies from The Frosted Vegan
Mixed Berry Mascarpone Scones from Bluebonnet Baker
Greek Yogurt Funfetti Cupcakes for Two from The Housewife in Training Files
Bourbon Barbeque Sliders with Bleu Cheese from Saucy Pear
Steak Fajita Tacos for Two from The Sweetphi Blog
Mango Madeleines from Stetted
Citrus Salad with Mint, Honey, and Lime from Rachel Cooks
Parfaits for Two from Order in the Kitchen
Peanut Butter Chocolate Mouse with Coconut Whipped Cream from Joyful Healthy Eats
French Breakfast Puffs from Stephie Cooks
Banana Pudding Cheesecake from The Domestic Rebel
About these hand pies.
They're, OF COURSE, stuffed with the Almighty Blueberry, but also a schmear of vanilla pastry cream so each bite is flaky, buttery, creamy, and juicy. If serving to a large group of people, I highly recommend double fisting in the likely event that one of your guests (cough my brother cough) will make off with the bulk of them, leaving you wishing for seconds. And/or thirds.
(Okay, sixths. DON'T TELL.)
Blueberry Vanilla Cream Hand Pies
Juicy sweet blueberry vanilla cream hand pies with the flakiest of crusts and fruitiest of fillings.
Ingredients
For the pie crust
2½ cups all purpose flour
2 tsp sugar
1 tsp salt
2½ sticks unsalted butter, cubed and chilled
¼-1/3 cup cold water
For the vanilla cream
¾ cup whole milk
¼ cup sugar
1 tbsp light brown sugar
1 tsp vanilla bean paste
¼ cup heavy cream
2 large egg yolks
2 tbsp cornstarch
2 tbsp unsalted butter, cut into small chunks
For the pie
3 cups blueberries, rinsed and dried
1 egg, beaten
sugar, for dusting
Instructions
For the pie crust, put the flour, sugar, and salt in the bowl of a food processor. Pulse once or twice to combine. Drop the butter through the feed tube and pulse until the mixture resembles wet sand. Slowly add water, 1 tbsp at a time, pulsing after each, until the dough starts to come together.
Remove the dough from the food processor and form into 2 equal disks. Wrap each in plastic wrap and refrigerate for at least 2 hours.
While dough is chilling, make the vanilla cream. Combine the milk, sugar, brown sugar, and vanilla bean paste in a medium saucepan. Bring to a simmer over medium-low heat, stirring constantly. Turn off the heat.
In a separate bowl, whisk together the heavy cream, egg yolks, and cornstarch. Slowly stream in the hot milk mixture, whisking constantly. Pour the vanilla cream back into the pan and cook over medium-low heat until thickened, whisking constantly. Remove from the heat and stir in the butter.
Pour cream into a medium bowl. Cover with plastic wrap, pushing it against the cream so that it doesn't form a skin. Refrigerate until cold, about 2 hours.
When you're ready to bake the hand pies, heat oven to 350F. Line two baking sheets with parchment paper.
Remove one disk of dough from the refrigerator and place on a cool, floured surface. Roll the dough out to ⅛-inch thick.
Using a 4-inch ring mold, cut out rounds and place on one of the lined baking sheets. Reserve the scraps. Refrigerate cut out circles until ready to use. Repeat with the second disk of dough. If you have fewer than 15 rounds, refrigerate the dough scraps until firm and cut out more rounds.
Remove the first sheet of dough from the refrigerator. Spoon 1 tbsp of vanilla cream onto it, leaving a border. Add 4 to 6 blueberries onto one of of one round. Using a pastry brush, brush the beaten egg around the edges of the dough. Lift the side that doesn't have any blueberries over to meet the blueberry side so that the two edges meet. Gently press the edges together and use a fork to crimp and seal them. Repeat with remaining rounds. Refrigerate for 15 minutes.
Brush the top and edge of each pie with the beaten egg and dust with coarse sugar. Slash the top of each pie with a sharp knife to create a vent.
Bake for 20 minutes. Rotate pans and bake for an additional 15 minutes, or until the pies are golden brown and oozing. Cool completely before serving.
Notes
Recipe from
Sweet
 Blueberry mania!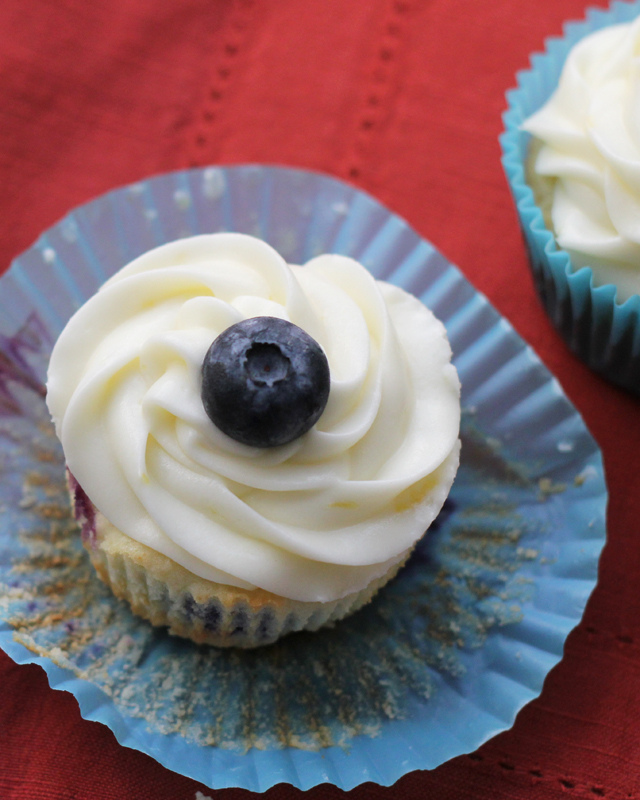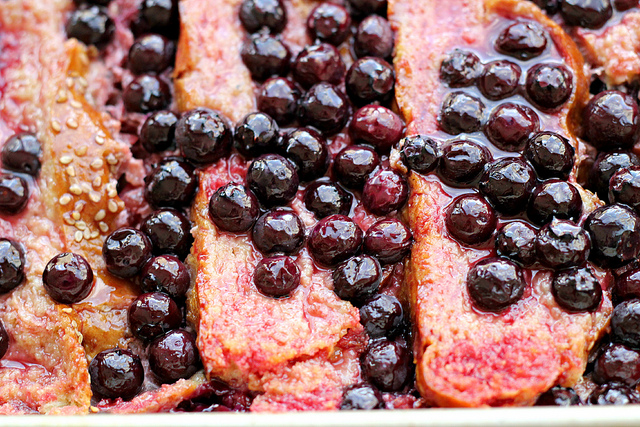 Rhubarb, Blueberry, and Ginger Brioche Bread Pudding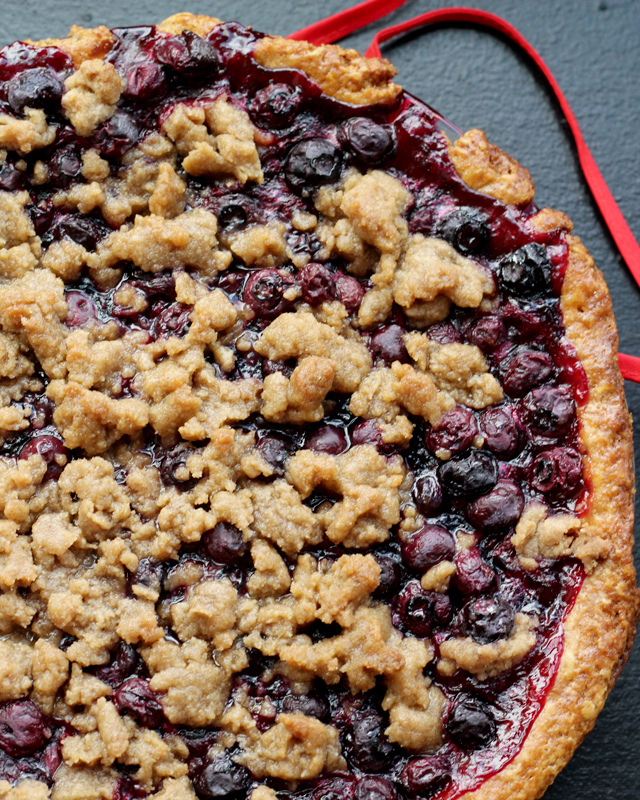 From Around the Web:
Blueberry Muffin Ice Cream from The Kitchy Kitchen
Blueberry Almond Tart from Love & Olive Oil
Mini Berry Galettes from Hip Foodie Mom
Blueberry Lemon Sticky Buns from Delights of Culinaria
Blueberry Cobbler Biscuits from The Candid Appetite