Super easy black bean, poblano, and smoked mozzarella quesadillas – sure to please everyone in the family and great for weeknight cooking.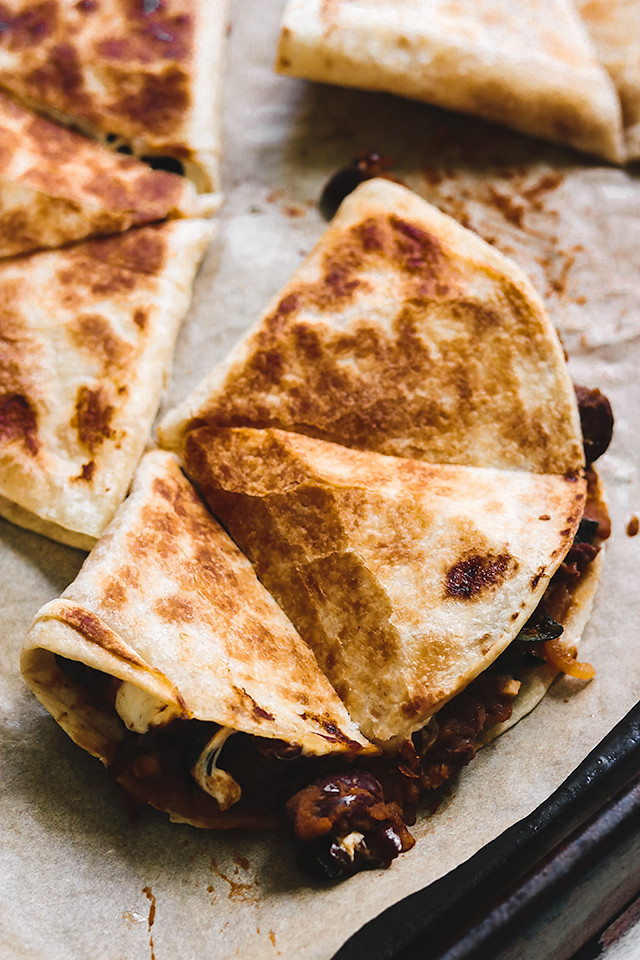 QUESADILLAS to the dinner rescue!!!
Sometimes you just have to pander to the peanut gallery, and in this case I am zero percent sorry about it.
My personal peanut gallery includes a toddler who eats exactly three things – pizza, PB&J, and cheese quesadillas (aka cheese tacos, as she so endearingly calls them).
That child who eats nothing devoured one of these – beans, poblanos, and all. It was impressive. And unprecedented.
Also surprising is just how easily these come together!
Yes, you have to roast the poblano peppers. It is one of my least favorite kitchen tasks, but what can you do? If you're at all short on time, then I would recommend doing this in advance so that when it's time to cook they're all blackened and ready to go.
The rest of the filling comes together quick snap after a saute on the stovetop. It's a touch smoky, super hearty from the mashed beans, and all around delicious.
Assemble the quesadillas by layering on the bean mixture and shredded smoked mozzarella (new to me as a quesadilla filling, but I love it's savory umami flavor) and then BAKE them.
That is probably the most genius part of this recipe because you can assemble a large batch and then cook them all at the same time. No standing by the stove flipping quesadillas for what feels like hours.
This is love, for sure.
Black Bean, Poblano, and Smoked Mozzarella Quesadillas
Super easy black bean, poblano, and smoked mozzarella quesadillas - sure to please everyone in the family and great for weeknight cooking.
Ingredients
4 poblano peppers
2 tbsp olive oil, plus more as needed
1 onion, sliced
1 tsp kosher salt, plus more to taste
2 tbsp tomato paste
4 garlic cloves
2 tsp ancho chili powder
3 cups cooked black or pinto beans, rinsed and drained
8 large flour tortillas
1 lb smoked mozzarella, shredded
Instructions
Heat the broiler to high. Roast the poblanos under the broiler, turning them often, until they are charred all over, about 8 minutes. Place in a large bowl and cover with plastic wrap so that the poblanos can steam, about 15 minutes. Remove the poblano skins, remove the stems and seeds, and slice the pepper flesh into thin strips. Set aside.
Meanwhile, heat a large skillet over medium heat. Add 2 tbsp of the olive oil. Add the onion and ½ tsp salt. Saute until the onion is starting to brown, about 8-10 minutes. Add in the tomato paste, garlic, and chili powder. Saute for 1-2 minutes. Add in the beans, roasted poblanos, 1 cup of water, and the remaining ½ tsp salt. Use a potato masher or fork to mash about half of the beans. Simmer until the liquid has evaporated and the mixture has thickened, about 7 minutes.
Heat oven to 400F.
Brush one side of the tortillas with olive oil and place them on a baking sheet, oil side-down. Spread ½ cup of the bean mixture over half of each tortilla. Top with the shredded cheese and fold the empty half of the tortilla over the bean mixture. Repeat with remaining tortillas.
Place in the oven and roast until browned and crispy, about 5 minutes. Serve immediately.