These spinach and pinto bean enchiladas are stuffed with handfuls of cotija cheese and topped with an easy homemade enchilada sauce. So delicious!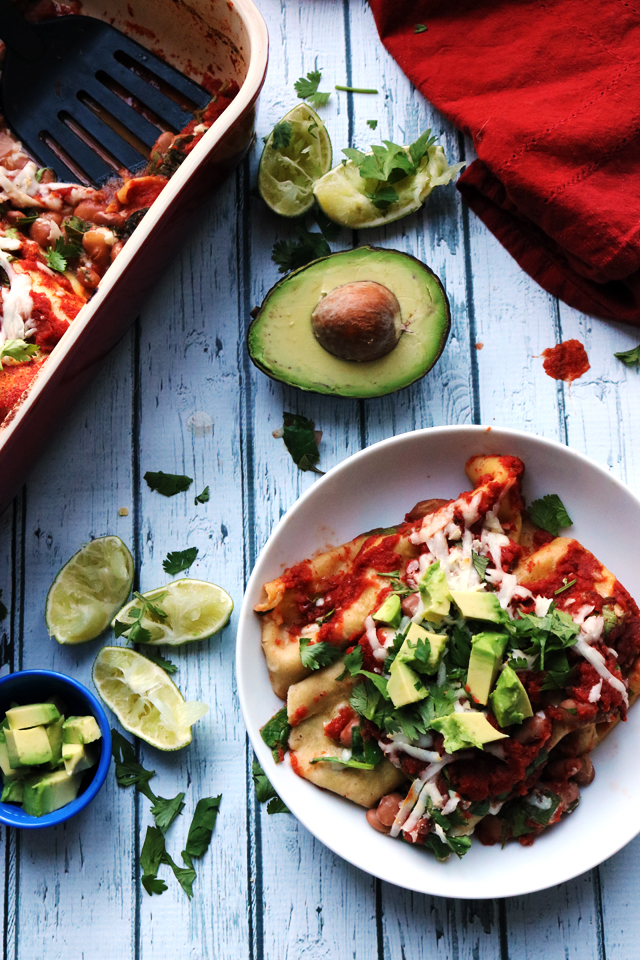 I would like to be able to say that I gave birth to a good eater, but the truth is that 95% of what I attempt to serve to Remy gets thrown onto the floor in protest unless it's mango or strawberries.
And she's not even in the terrible two's yet!
Thank god for breastmilk or I swear this kid would attempt to subsist on air alone.
The "experts" all say to not worry – that kids will never starve themselves and will eventually eat when they're hungry. Even so, I'm always shocked when Remy eats more than three bites of something I've put in front of her before she partakes in her new favorite "move", which consists of swiping everything off her high chair tray in one fell swoop.
One thing we did discover recently, though, is that this kid loves her Mexican food. Like, obsessive love.
It all started when we took her to Rosa Mexicano for brunch and she basically attacked the guacamole bowl. And now she eats avocado every day, which makes me happy because at least I know she's getting some calories and good-for-her-brain fat.
And now, I can also add enchiladas to the list of Remy-approved-foods! Never mind that she looked at me like I was feeding her poison the first night we had them, because the second night she ate HALF AN ENCHILADA.
Total #MomWin. We have to take them where we can get 'em.
I can totally understand why she went for these, because they are SO SO SO good.
And absurdly easy. I'm all about that.
The enchilada sauce is 100% homemade and basically made in a blender, so it's super quick and it's not filled with all sorts of weirdo shelf stable chemicals. Love that.
The filling is awesome because it doesn't require any pre-cooking, so you basically just toss it together in a bowl, stuff the tortillas, and then into the oven they go. The whole meal can be done in under a half hour if you've made the enchilada sauce ahead of time and just under an hour if you haven't (though most of that is hands-off oven time).
Weeknight- and child-approved. It just doesn't get any better than that.
Spinach and Pinto Bean Enchiladas with Cotija Cheese
These spinach and pinto bean enchiladas are stuffed with handfuls of cotija cheese and topped with an easy homemade enchilada sauce. So delicious!
Ingredients
For the enchilada sauce
28 oz canned whole peeled tomatoes
1 cup diced red onion
1 clove garlic
1 tsp chili powder
1 tsp cumin
½ tsp coriander
½ tsp oregano
½ tsp smoked paprika
½ tsp salt
For the enchiladas
2.5 oz baby spinach, finely chopped
1½ cups pinto beans
½ cup minced red onion
8 oz cotija cheese, grated, divided
juice of 1 lime
¼ tsp salt, plus more to taste
12 corn tortillas
avocado and minced cilantro for topping
Instructions
To make the enchilada sauce, combine all of the ingredients in a blender. Puree until smooth. Transfer to a pot on the stove and bring to a boil over high heat. Reduce heat to low and simmer for 10-15 minutes, or until thickened.
Meanwhile, heat oven to 375F.
In a large bowl, toss together the spinach, pinto beans, red onion, three quarters of the cotija cheese, lime juice, and salt. Season to taste and set aside.
Warm tortillas either by charring them over the stovetop or in the microwave. Set aside.
To prepare the enchiladas, spread about 1 cup of sauce over the bottom of a 9x13-inch baking pan. Scoop ⅓-1/2 cup of the enchilada filling into the center of each tortilla. Roll gently and place seam side-down in the prepared pan. Repeat with remaining tortillas. If there is any filling left over, sprinkle it over the top.
Top with the remaining enchilada sauce and the remaining cheese.
Place in the oven and bake until lightly browned and bubbling, about 20-25 minutes. Let cool slightly in the pan. Top with cubed avocado and cilantro leaves before serving.