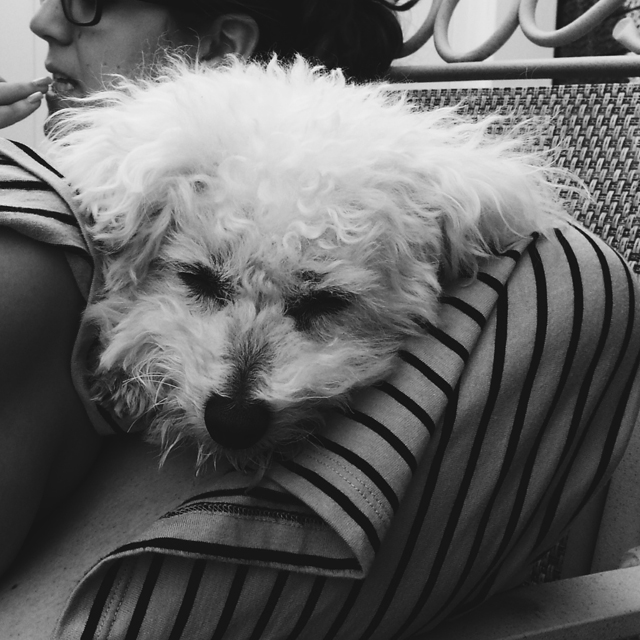 1. It's been too long since I showed you gratuitous photos of my mom's dog. So….here you go!
2. She is such a mush. (And I love it.)
3. Last night the.boy and I went to a concert! ON A WEEKNIGHT. I don't even know us anymore. #livinonthewildside
4. We went to see The Who, which is his favorite band, and I have never seen him so into music. He was rockin' the air guitar like WHOA. It was cute.
5. Annnnnndddd they gave us STRAWS to drink our beers. I've never seen anything like it. But….it was kind of good?
6. The.Boy and I are at such a loss at what to watch on tv now that all of our favorite shows are done for the season or done for good (cough #imissyoumadmen cough). WE NEED RECOMMENDATIONS!! We started watching Veep just for something to do but I don't know if it will really last. HELP.
7. We have this insect trapper blue light thing that plugs into a wall outlet, mostly for catching little gnats that seem to love living in our apartment all year long. I generally ignore it, but yesterday I happen to glance into it and it had caught THE WORLD'S BIGGEST FLY. I almost fainted at the thought that it had been in my apartment (in my bedroom, no less!) and I had no idea.
8. It shall henceforth be known as Teenage Mutant Ninja Fly. And if I see another one in here, we are moving.
9. Yes, the.boy thinks I'm hiiilaaarrriiouuuss. (<–NOT.)