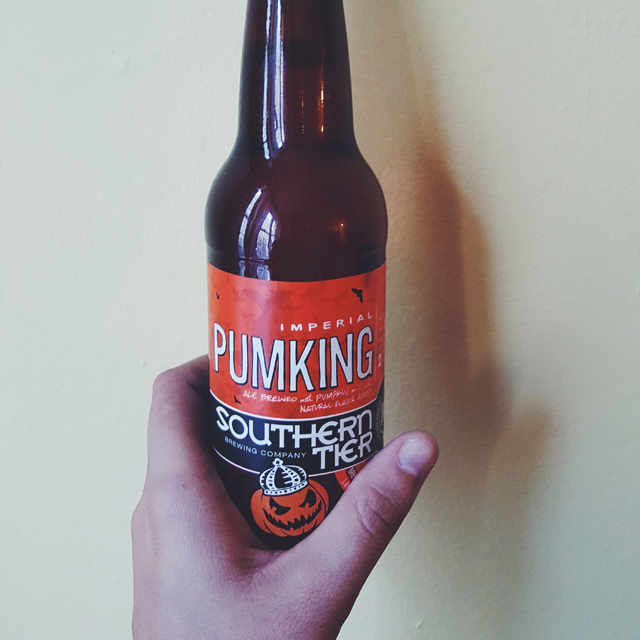 1. Yeeeeaaaahhhh. I went there. #SorryNotSorry.
2. In my defense, I've wanted to try this brand of pumpkin beer since FOREVER but could never find it. Then I spotted it at Whole Foods on Friday and had to seize the opportunity. It was worth it.
3. So, like I mentioned on Monday, the.boy's grandmother is in the hospital. She broke her femur (thigh bone) on Friday, had surgery to fix it on Sunday night, and is now in the ICU because her blood pressure refuses to be stable. If everyone could keep her in their thoughts, I would be eternally grateful!
4. My local Starbucks was HIT BY A CAR on Monday!! Like, a car actually ran off the road, over the bike lane, onto the sidewalk, and then into the glass. I am still awaiting news on how exactly this happened, but what I know for sure is that it disrupted my midday coffee consumption. On a Monday. Total crisis.
5. This tongue-in-cheek article on being a food blogger. Funny…but very true.
6. I have been craving pie like a crazy person, but especially this. And this. And this.
7. We never got to chat about the debate last week!!! Did you guys have a favorite?! Personally, I was not overly impressed by anyone and was definitely less than impressed by quite a few. But maybe that's to be expected when there are 600 candidates on the stage? You just can't love 'em all.
8. For those interested parties, we are still smoothie-ing and going strong! I actually got the.boy to admit that he feels better since he's been having a smoothie for breakfast every day. #WINNING. This week, I am remaking some of our favorites from the past two weeks instead of getting a new box delivered to us. And stuffing extra kale into all of them. Because that's how I roll.
9. On a related note, does anyone have a favorite brand of acai powder?? I have been looking everywhere for it and am probably just going to have to order it on Amazon but have no idea which one  to get.
10. #firstworldproblems