A plum blueberry balsamic pie made with delicious summer stone fruit and the flakiest all-butter crust.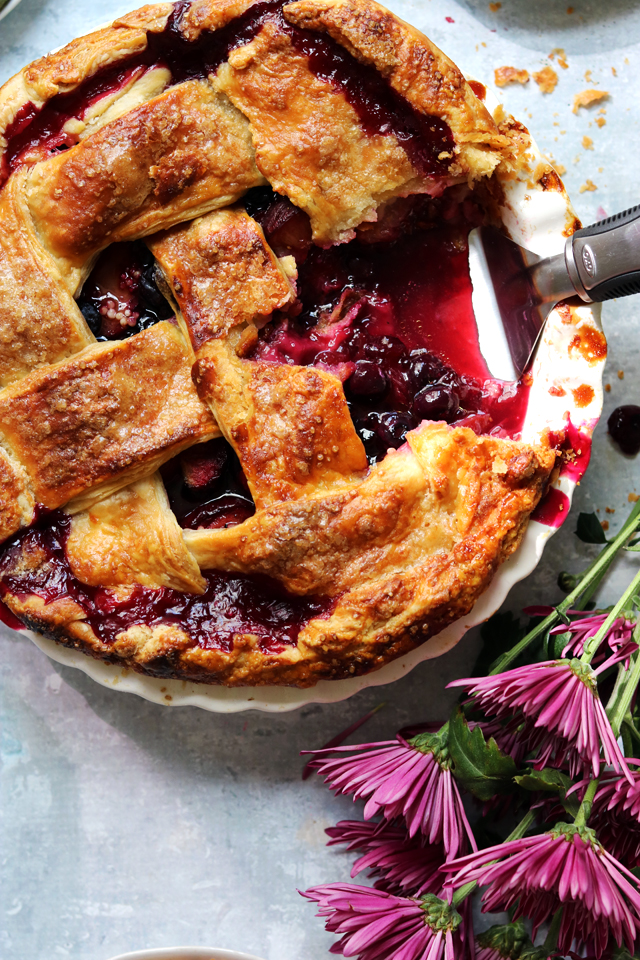 Another day, another pie!
My DNA is basically fifty percent pie dough now and I'm not even mad about it, TBH.
After that it's probably a quarter stone fruit. I really just can't stop with it – buying/eating/baking – I have so many stone fruit needs!!
If I'm snacking, I reach for the white nectarines. If you're never had one – you MUST! They're so gloriously sweet with kind of a floral flavor to them.
If I'm pie-ing…it's all about the peaches or the plums. They're easy to pit and so wonderfully sweet tart that baking for hours just turns them into a nectar of the gods.
We already made peach pie this summer, so now it's time to let plums share a little bit of the spotlight.
Plums are forever confusing to my husband. He's always like, WHAT IS THIS?!?
I think it's because I actually usually buy pluots instead. They're just a little more tart and have this glorious pink color inside. For some reason I can only ever find plums with white insides and they just don't make for as vibrant a pie filling. #firstworldproblems
It must run in the family because my father-in-law was also really confused the other day when I brought over a salad with pluots as one of the main mix-ins. "IS THIS AN APPLE??", he asked.
Yep, like father, like son.
Anyway, last week in my quest to eat as many pies as possible this summer, I went ahead and made the plum (errrrr pluot) blueberry balsamic pie from the Sister Pie cookbook.
A M A Z I N G.
If you have one more pie left in you this summer, then you MUST MUST MUST try this.
The balsamic flavor is subtle but it turns the plum/blueberry combo into the most delicious sweet/tart/tangy syrup that would be perfection with a scoop of vanilla ice cream. We, sadly, didn't have any so we just had to eat the pie as is.
Don't feel too bad for us.
Plum Blueberry Balsamic Pie
A plum blueberry balsamic pie made with delicious summer stone fruit and the flakiest all-butter crust.
Ingredients
For the crust
2½ cups all purpose flour
1 tsp sugar
1 tsp kosher salt
1 cup unsalted European-style butter, cut into ½-inch cubes
½ cup ice
1 cup ice water
2 tbsp apple cider vinegar
For the filling
¼ cup turbinado sugar
¼ cup packed dark brown sugar
2 tsp balsamic vinegar
⅛ tsp freshly ground black pepper
¼ tsp kosher salt
1¼ lb blueberries
1¾ lb plums or pluots, pitted and sliced
¼ cup tapioca pearls
2 tbsp unsalted butter, cubed and chilled
1 large egg, beaten
For the sugar-sugar mixture
1 tbsp granulated sugar
1 tbsp turbinado sugar
Instructions
For the crust
Whisk together the flour, sugar, and salt in a large bowl. Add the cold butter cubes and toss so that they are coated with the flour. Using a pastry blender, cut the butter into the flour until the largest butter pieces are the size of peas. The rest of the mixture should look and feel like Parmesan cheese.
Place the ice in a liquid measuring cup. Add ice water until it reaches the 1 cup mark, then stir in the apple cider vinegar.
Add the ice water-vinegar mixture to the pie crust mixture by the tablespoon, mixing with your hands, until the dough comes together. Remove it from the bowl and cut it into two equal pieces. Pat each piece into a 2-inch thick disc, wrap in plastic wrap, and refrigerate for at least 2 hours or overnight.
Once chilled, roll each disc of dough into a 13-inch round on a floured surface. Fit one into a pie plate, letting the extra dough hang over the edge. Place in the refrigerator. For the second disc of dough, cut into at least 6 strips of dough, each about 2 inches wide. Place on a baking sheet, wrap with plastic wrap, and transfer to the fridge until you're ready to assemble the pie.
For the filling
In a large bowl, stir together the sugars, balsamic vinegar, black pepper, and salt until they form a wet paste. Add in the blueberries, plums, and tapioca. Toss until well mixed.
Remove the unbaked crust and lattice strips from the fridge. Pour the filling into the pie crust into as even a layer as possible. Place the butter cubes on top.
Arrange the lattice strips on top of the pie and crimp as desired. Place in the freezer for 15 minutes.
Meanwhile heat oven to 450F. Line a baking sheet with parchment paper.
Remove the pie from the freezer, place on the parchment-lined baking sheet, and brush with the beaten egg.
Whisk together both the granulated and turbinado sugar to make the sugar-sugar mix. Sprinkle on top of the crust.
Bake for 15-20 minutes or until the crust is starting to brown. Decrease the oven temperature to 350F. Bake for another 60-90 minutes or until the juices in the center of the pie are bubbling.
Remove to a wire rack to cool to room temperature. Slice and serve.