Addictively sweet and spicy roasted sweet potatoes with hot honey browned butter.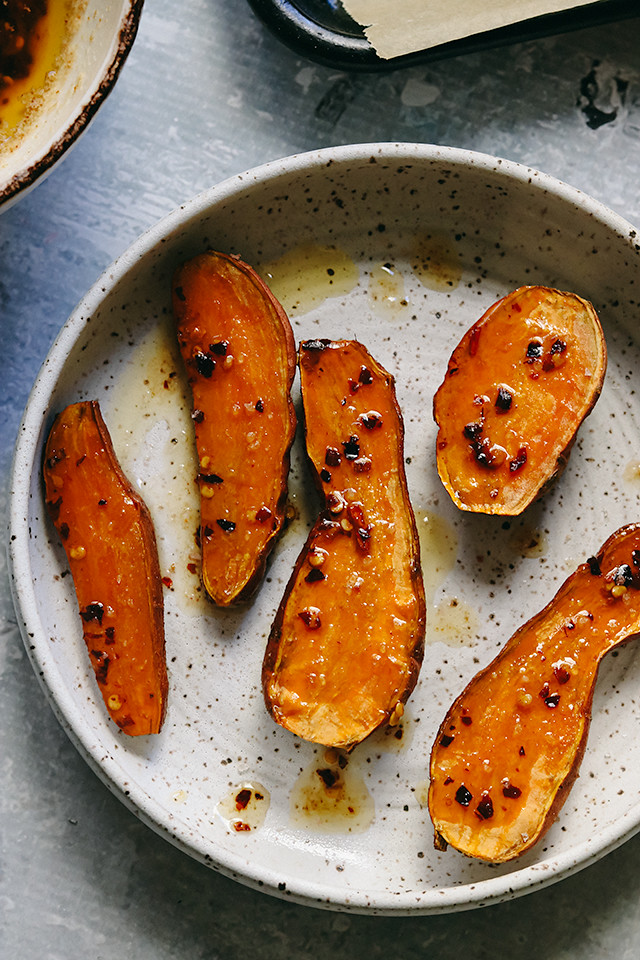 We'll just call these sweet potatoes fashionably late for Thanksgiving (by, err, a week) BUT just in time for the rest of your life!!
Which is good because I feel like we have a lot of long winter nights up ahead of us and hot honey browned butter is exactly the thing we need to pour all over the rest of 2020 to make it nice.
The first thing I have to say about this is that it is barely even a recipe.
It starts with roasted sweet potatoes (I used the cutest little fingerlings that I could get my hands on), but if all you have is mashed sweet taters or a bag of frozen sweet potato fries?? Still good.
Even roasted winter squash or carrots would work here, so just pick an orange-fleshed vegetable, pop it in the oven, and run with it.
Next is the hot honey browned butter, which goes a little bit like this:
brown butter.
add honey, red pepper flakes, and a dash of apple cider vinegar. salt and peppa to taste.
stir.
pour all over YOUR WHOLE LIFE.
It's sweet and rich with just a hint of tang and hotness, and honestly after trying it we may never be eating sweet potatoes any other way again.
Roasted Sweet Potatoes with Hot Honey Browned Butter
Addictively sweet and spicy roasted sweet potatoes with hot honey browned butter.
Ingredients
20 oz fingerling sweet potatoes, scrubbed
6 tbsp unsalted butter
2 tbsp honey
1 tbsp apple cider vinegar
1 tsp red pepper flakes
kosher salt and freshly ground black pepper
flaky sea salt
Instructions
Heat oven to 425F.
Cut sweet potatoes in half and place on a parchment-lined baking sheet, cut side up. Roast until tender, 30-40 minutes, depending on the size of your potatoes.
While the sweet potatoes are roasting, melt the butter in a small pot over medium heat. Cook until it starts to brown, swirling the pot occasionally. Once starting to brown, remove from the heat and stir in the honey, vinegar, and red pepper flakes. Season to taste with salt and black pepper.
Once potatoes are done, spread them on a serving platter and drizzle the brown butter mixture over them. Sprinkle with flaky sea salt and serve.