Spicy skillet black beans served with a sweet nectarine salsa and yellow coconut rice – a great complete vegetarian weeknight meal!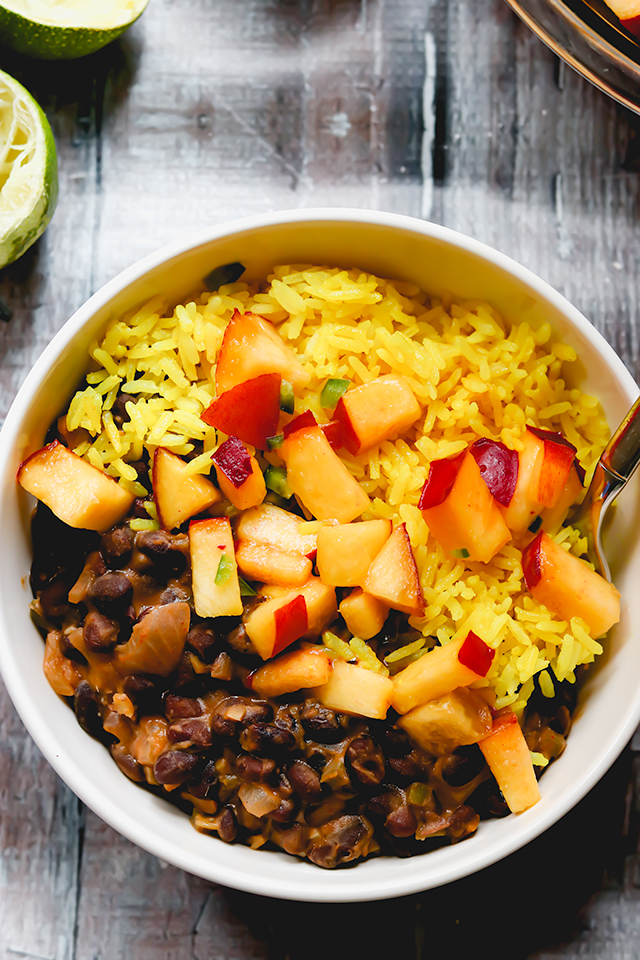 Going super basic on this Meatless Monday with a jazzed up rice and beans!!
Some days you just really need something simple, you know?
But also: family-friendly, full of pantry staples, and with enough pizzazz that you'll actually be happy to eat it for more than one night in a row.
This recipe checks alllllllll the boxes. 
It starts with a simple fruit salsa that is so adaptable to whatever season you're in. I chose to make it with nectarines because it's August and we need to make the most of stone fruit season while the getting's good, but mangoes, strawberries, pineapple, or even apples would be great options. Whichever fruit you land on, make your salsa first so that the ingredients will have time to get to know each other and really meld together.
To make the yellow rice, you'll start by sauteing your rice with turmeric and salt in a little bit of oil. This helps to toast the rice, which gives it a flavor boost and prevents the kernels from sticking to each other during cooking. It will also bloom the turmeric, which unlocks its full flavor potential and gets rid of any underlying bitterness that it may have. The rice is then simmered in a mix of water and coconut milk until it's perfectly tender, with a little bit of sweet creaminess. 
The skillet black beans are similarly simple and will come together in the time it takes for the rice to cook.
You can use canned or dried black beans for this recipe, depending on what you have in your pantry. You'll need three cans or about half a pound of dried black beans that have been cooked until tender. I try to cook a pound of dried beans every week to keep in the fridge for easy meals. Usually, I soak them overnight and then cook them up in the Instant Pot or electric pressure cooker the next day. It couldn't be easier and is a great way to get ahead on meal prep without exerting any extra energy.
The beans are drained of their cooking liquid, mixed with some sauteed aromatics, and then simmered with coconut milk, lime juice, and red curry paste. The red curry paste gives them an unexpected burst of flavor that makes the meal really pop. How much curry paste you'll need really depends on your taste buds and the strength of the brand you use. I used the Thai Kitchen brand and 2 tsp was perfect for us. Because I like my curry with a hint of sweetness, I also added in some brown sugar to taste. 
All of the components come together to make a nutritious and comforting bowl of food – my favorite kind of meal!
Skillet Black Beans with Nectarine Salsa and Yellow Rice
Spicy skillet black beans served with a sweet nectarine salsa and yellow coconut rice - a great complete vegetarian weeknight meal!
Ingredients
For the nectarine salsa
2 cups diced nectarine
2 tbsp fresh lime juice
½ jalapeno, minced
½ tsp kosher salt
For the yellow rice
1½ cups white jasmine rice
1 tsp ground turmeric
½ tsp kosher salt
1 tsp vegetable oil
1½ cups water
¾ cup coconut milk
For the black beans
2 shallots, minced
2 large garlic cloves, minced
1 tbsp grated fresh ginger
2 tbsp olive oil
4.5 cups drained cooked black beans
2 tsp red curry paste
2 tbsp fresh lime juice
¾ cup coconut milk
brown sugar, to taste
salt, to taste
Instructions
For the nectarine salsa
Combine the nectarines, lime juice, jalapeno, and salt together in a bowl. Set aside to allow the flavors to come together while you prepare the rice and beans.
For the rice
Heat the oil in a medium saucepan over medium-high heat. Add the rice, turmeric, and salt. Saute it for 1-2 minutes, stirring constantly. Add in the water and the coconut milk. Bring to a boil. Cover and reduce heat to low. Simmer for 15-20 minutes, or until the rice is tender and the liquid has evaporated. Turn off the heat and let rest, covered, for 10 minutes. Fluff with a fork before serving.
For the beans
While the rice is cooking, heat the olive oil in a large skillet over medium heat. Add the shallots, garlic, and ginger. Saute for 3-4 minutes, or until the shallots are starting to brown. Add in the beans, curry paste, lime juice, and coconut milk. Stir to combine.
Bring to a boil and then reduce to a simmer. Cook for 10-15 minutes, or until slightly thickened. Season to taste with brown sugar, more curry paste, or salt.
Divide the rice among serving bowls. Top with the beans and a spoonful of the nectarine salsa.