A rich and simple tomato and brown butter sauce is the perfect accompaniment to any pasta, but especially ravioli!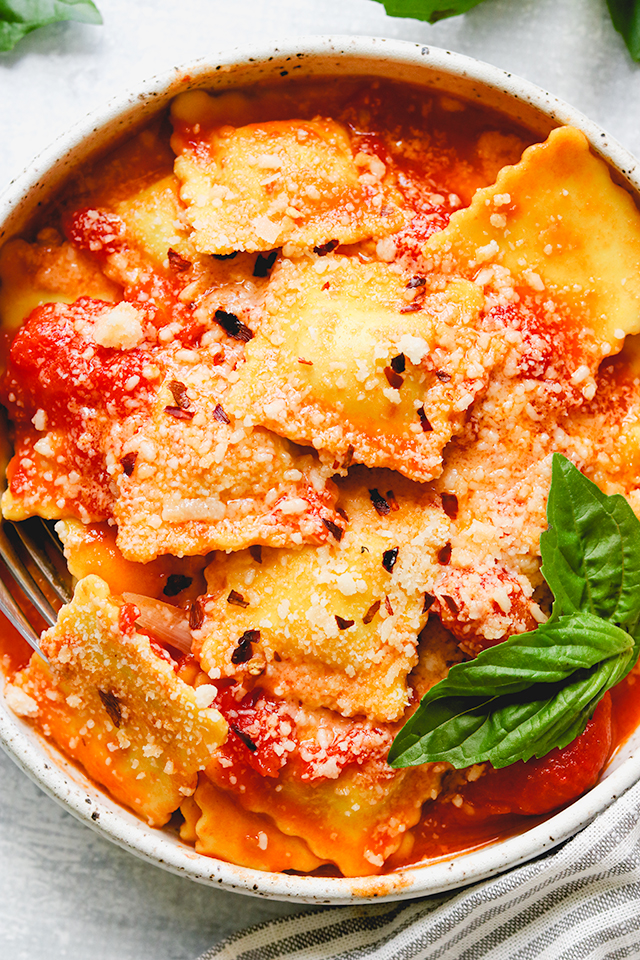 Don't you just want to dive right in there?
Wade through some tomato brown butter seas and and eat your way through ravioli mountains. I know I sure do.
I wish you could have seen the look of total skepticism that appeared on my husband's face when I told him this was what we were having for lunch a few weeks ago. "Are you sure you're not putting kale or swiss chard in this?" he asked, peering over my shoulder at the pot of bubbling tomato sauce in an attempt to catch me in a lie.
Followed by his insistence on taking my temperature when I assured him that there would be no green or otherwise "suspicious" ingredients.
And then finally his relief when we sat down at the table to eat and he realized that I had delivered on my promise of "simple pasta with red sauce".
I've made it at least three times since and honestly it's a really humbling experience to realize that your family would rather eat a super simple meal like this than literally anything else. Why do I even cook anything else? Still not sure on that one.
The absolute star of this dish is the tomato and brown butter sauce. It's made with only five ingredients, two of which are a pinch of sugar and a pinch of salt, yet tastes so rich and complex that you'll be truly amazed there's not more to it.
This recipe is based on Marcella Hazan's infamous tomato sauce with onion and butter, but amped up with brown butter aka liquid gold. My personal life motto is why put melted butter in a dish when you could use brown butter instead and it has never served me wrong. The brown butter adds a nutty sultriness that compliments the sharp acidity of the tomatoes perfectly. I also add a pinch of sugar to my sauce to tone down the tomatoes a bit more, which is especially helpful when you're using canned tomatoes as opposed to fresh.
To cook this sauce, you'll just combine all of the ingredients together in a pot and let them simmer away for 45 minutes. Since this does require some waiting time, I recommend making a huge batch on the weekend and freezing any leftovers. You will never be sad to have them waiting for you after a long day.
I made this dish with ravioli because it is my daughter's absolute favorite pasta (and let's face it – mine too), but really any pasta shape will work well here. 
Top it off with some parmesan cheese and red pepper flakes before serving and you really have my family's idea of a perfect meal.
Tomato and Brown Butter Ravioli
A rich and simple tomato and brown butter sauce is the perfect accompaniment to any pasta, but especially ravioli.
Ingredients
8 tbsp unsalted butter
2 (28 oz) cans whole peeled tomatoes
2 onions, peeled and halved
pinch of sugar
salt, to taste
2 (22 oz) packages frozen ravioli
parmesan cheese, to garnish (optional)
Instructions
In a medium skillet, melt the butter over medium heat. Continue to cook it until it starts to brown and smell nutty and fragrant. Remove from the heat immediately.
Add the tomatoes and their juices to a large pot, crushing the tomatoes with your hands as you add them. Stir in the onion and brown butter, along with a pinch of sugar and a pinch or two of salt.
Bring to a simmer over medium heat. Cook, uncovered, for 45 minutes, stirring occasionally to ensure no browning bits get stuck to the bottom of the pan.
Season again to taste with salt. Remove from the onions from the sauce and discard.
Cook the ravioli according to package directions. Drain and toss with the tomato sauce. Serve topped with parmesan cheese to garnish.
Notes
An Eats Well With Others Original