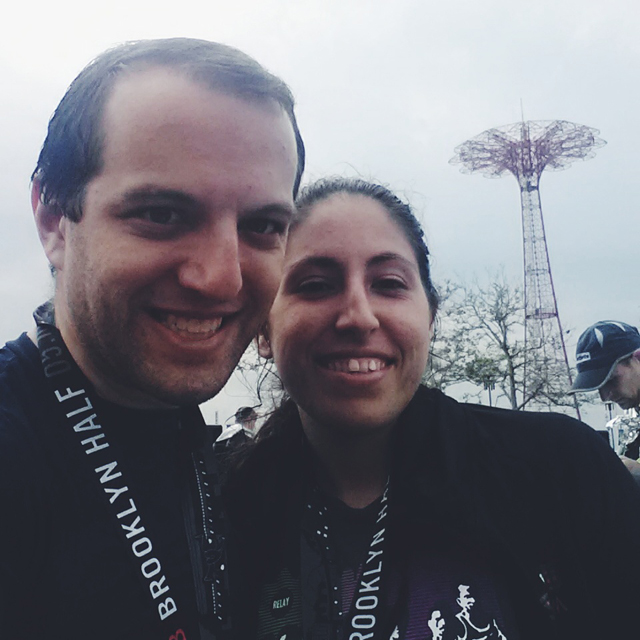 1. I definitely think we have a certain post half marathon glow, don't you?
2. Or….that's sweat. Yeah, probably just sweat.
3. So about the race. IT WAS HARD. This is my third year doing it and even though I knew I could finish it, there were definitely times when I didn't believe it. It was super humid and for probably the first half, I felt like I was having trouble breathing and/or was nauseous. The.Boy was a trooper and stuck with me up until the last mile (when it was clear I was not going to try to crawl my way to the finish). We finished about a minute apart from each other, with final times of 1:57 and 1:58, respectively.
4. Would I do it again? Probably. I'm a glutton for punishment.
5. Last night I had the BEST late night meal with one of my blog friends who was in town (Erin of Well Plated) at Gramercy Tavern. Every bite was just…wow. And every minute of nonstop conversation was also…wow.
6. This was actually my first Danny Meyer  restaurant experience, which is a little shameful given that he's pretty much an institution in NYC! I mean, SHAKE SHACK. Are you amazed I've never been there? SAME.
7. What were are thoughts on the Mad Men finale?? I'm still not sure how I feel. I think I wanted a little more closure for Don, but I'm SO glad we got some for Joan and Peggy. They deserve it!
8. This cake is SO spring. I just want to hug it.
9. FOUR WEEKS. The honeymoon countdown starts now.
10. Actually, one of my coworkers asked me if I had started packing already and I looked at her like she was crazy. Do people actually pack a month in advance? Am I missing out on something?