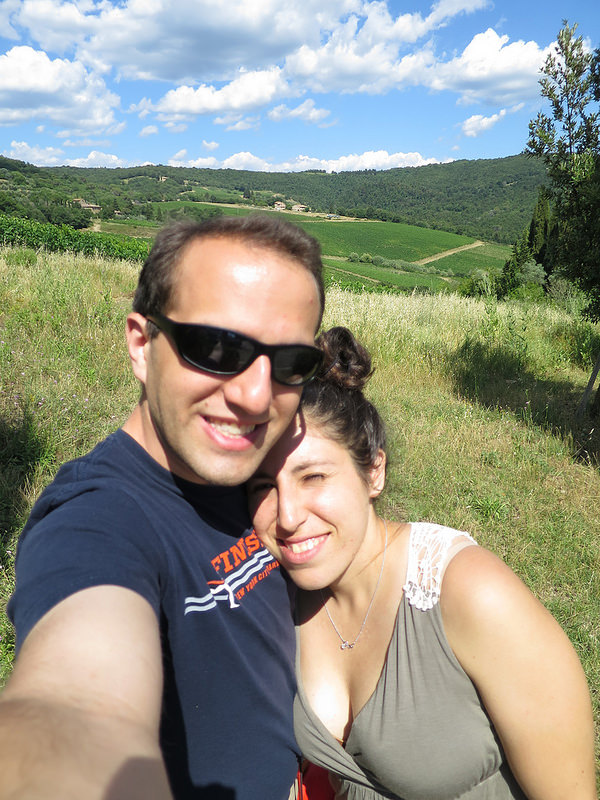 Annnnnddd we're back!
Let me reorient us. We were renting a car and hightailing it out of Florence so that we could spent four lazy days lounging around Tuscany.
G L O R I O U S.
Also, can we be clear that I did not do even one second of driving? In my defense, I have probably driven less than twenty times in my life and only once in the past six years. I know they SAY it's like riding a bike, but somehow I don't think relearning on tiny Italy two way streets with crazy drivers was the way to go.
So I "let" the.boy drive. I'm so nice.
On the way from Florence to our hotel outside of Cortona in Tuscany, we stopped at the Osteria di Passignano for lunch along the way. Lauren recommended it as a MUST EAT in Italy..and she was right. Best meal we had all trip, hands down.
I mean, that bread basket alone…
As an amuse bouche, we were served a sort of deconstructed panzanella made with basil bread. Amazing.
I got the vegetarian platter for lunch. My favorite part was obviously the parmesan flan (top left), but the tempura veggies were a close second (top right).
And this was the view from our hotel's restaurant. I'm still not sure how I managed to come home after looking at this for four days straight.
On our second day in Tuscany, we took a full day wine tour with Tuscan Magic. As it turned out, we were the only ones on the tour that day (!!) so our guide, Stefano, actually picked us up and dropped us off at our hotel..which meant we could drink as much as we wanted without having to worry about driving!
WIN.
Our tour started off in Montepulciano, were we went to a local wine and cheese shop where they made wine in the basement. There were also (not pictured) torture devices in the basement, as it used to be a dungeon of sorts. Classy.
Next up, Pienza! Supposedly, this was designed to be the perfect town.
The fact that it also has so much good cheese is just coincidence.
We had to.
Stefano was a great tour guide and was totally cool with stopping in the middle of the road along the way so we could hop out and take some pictures. This scenery was the most gorgeous I have ever ever ever seen. There is nowhere else like it.
Our last stop was at a winery in Montalcino. I have to admit, I was not very much of a wine drinker before we went to Italy..but I am now! It's all just so good there, it's hard not to be. And the wine there is cheaper than water.
Not kidding.
The next morning, the.boy and I headed out bright and early for a lunch at a pretty famous winery in Montalcino – Castello Banfi!
Drinking before noon is required when you're on vacation.
This was another truly amazing meal. We had a five course lunch that started with some heavenly fried crepes…
…and ended with this lovely chocolate semifreddo. Man, I just love plated desserts. They just make me so happy!
From Tuscany, we headed to…..ROME.
I really loved almost every second in Rome. SO.MUCH.HISTORY. I think I was awestruck almost the entire time.
On our first full day, we went on a tour of the ancient fora, which included the Coliseum. It was an absurdly hot day (high 90s), but even in the heat, we were so captivated. Apparently in Rome, anytime anyone wants to build a new building, they have to first hire an archaeologist because as they're digging they will almost certainly find some ancient ruins underneath the building's current architecture. How crazy is that?!
Unfortunately, the Trevi Fountain was being renovated, so I had to throw a coin in the Trevi "kiddie pool" instead.
On the recommendation of one of my twitter followers, we ended up having dinner one night at a restaurant that had a woman rolling pasta RIGHT IN FRONT OF US. Nothing short of amazing. And delicious.
Technically you're not supposed to take pictures of the Sistine Chapel…but the.boy did anyway. (Don't tell.)
Our last night in Rome ended with a food tour of the Trastevere region, which is known for its restaurants and various food shops. I would highly recommend this tour, hosted by Eating Italy. We happened to have a really great group for the tour that night, which I'm sure added to the fun, but our tour guide was interesting and everything we ate – from burrata to freshly made cookies to porchetta (the.boy ate it) to freshly made pasta to gelato – was fabulous. Definitely the perfect end to our trip!