A savory tomato cobbler topped with cheddar buttermilk biscuits and filled with chipotle-roasted cherry tomatoes, fresh sweet corn, and delectable caramelized onions – it is sure to be the hit of whatever party you bring it to!
Disclosure: This post was sponsored by Anolon. As always, my thoughts and opinions are my own. Thank you for supporting the brands that keep me inspired in the kitchen.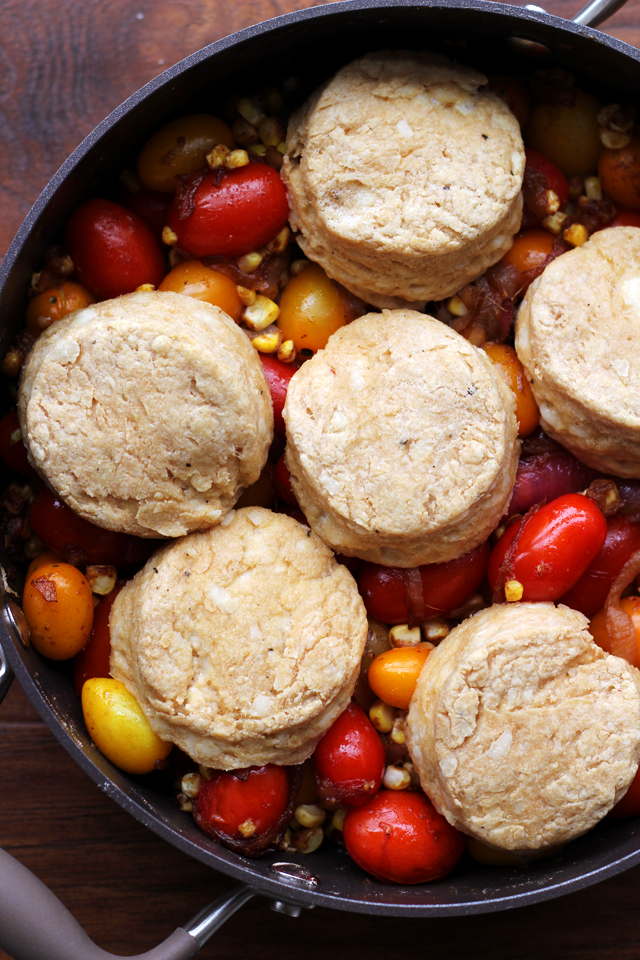 As a very wise boy band from the UK once said, "You can't buy me love."
However, you are more than welcome to try to bribe it out of me with a piping hot savory tomato cobbler that's littered with juicy bits of sweet corn, caramelized onions, and a cheesy biscuit topping.
As it turns out, I am easily influenced manipulated by good food. Who'dda thunk it?
What we're really talking about is NEIGHBOR PROBLEMS.
I, personally, don't have them but one of my coworkers has a woman who lives down the hall from her who is offended by the high-pitched voices of two year olds and makes it a point to come over to inform my coworker of this whenever she has her nieces and nephews over on the weekends.
As if two year olds were actually silence-able outside of stuffing them with Benadryl and putting them down for a nap.
Delusions of grandeur. That's what those are.
This woman obviously needs a hobby, or for someone to come a-knocking on her door with a large pan of this cobbler and a note that says "peace be with you". Partly because she'll be so preoccupied with shoving it into her mouth as quickly as possible that she won't even be paying attention to any noises coming from down the hall, and partly because you just can't stay mad at someone who brings you still-warm cobbler.
That's basically a life rule.
At least in my world.
So when Anolon asked me to participate in their #GoCook campaign and create a recipe that would be perfect for toting along to a neighborhood potluck, I immediately thought of this scenario. And thus, this cobbler was born.
Cherry tomatoes taste like candy right now, so even though this is technically a savory cobbler, it definitely has some sweet notes that deepen and accumulate as the tomatoes, corn, and caramelized onions roast and kind of melt into each other after a stint in the oven. Topped off with buttery, cheesy biscuits, you end up with a hit of savory in every bite while still maintaining the sweet fresh flavors of summer. For the recipe, head on over to Anolon's site: SPICY FIESTA TOMATO COBBLER.
I made this cobbler in Anolon's Advanced Bronze Nonstick 3.5-Quart Covered Chef's Casserole, which can go from stove to oven, and is oven safe up to 400F. It was great for cooking, heated evenly, and maintained it's heat long after it was removed from the oven, which is perfect if you're bringing it to a summer potluck. And the nonstick surface made it super easy to clean, which is always a plus when you don't own a dishwasher. Ahem.
Even from just cooking with this one pan, I can tell that Anolon's Advanced Bronze line is quality stuff. If you're in the market for a new set, for the whole month of August, you can get an extra 20% off open stock items at Bed Bath & Beyond. In addition, Anolon has offered to GIVEAWAY an Advanced Bronze 11-Piece Cookware Set to one of my readers!  See below for details.